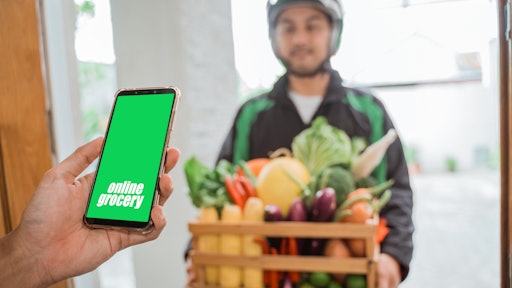 AdobeStock_346469883
E-grocery is expecting significant continued growth into 2021, a trend affecting grocers of all sizes. Food providers are seeking smart ways to maximize profits in the New Normal through an increased reliance on technology to support consumer demands for more personalization, ease of use and food safety from "store to door."
While customers tend to be loyal to their preferred brick-and-mortar store, they are more fickle when it comes to e-grocery providers. Providing a seamless home delivery experience through safe, autonomous means via customizable technology can keep customers happy and help increase revenue.
A recent study by Mercatus and Incisiv reported that online grocery buying will be more than 20% of total grocery sales, about $250 billion – a 60% increase over pre-pandemic growth estimates. And, an Oracle Grocery Retail survey reported that more than half of the respondents shopped online for groceries in 2020. Most of these shoppers said they plan to continue to buy groceries online post-pandemic because of the convenience, safety and their increased confidence in quality.
Consumers want contactless delivery, but they do not like paying delivery fees or having to arrange their schedules to accommodate designated drop-off windows. Shoppers are also resistant to buying perishable items or produce, but they are gradually buying more fresh food and meat. Ensuring quality control of perishable items is a key issue that requires innovative solutions to capitalize on consumer demand.
Currently grocers are managing delivery through third parties or their own workforce, and that critical last step of getting the goods on the front porch remains fraught with problems. Boxes or bags of food left at the door are liable to theft and spoilage. "Porch pirates" are a serious threat with more than one-third of Americans reporting that they've had deliveries stolen from their front door.
To secure unattended groceries and lessen the chances of theft, many homeowners have turned to front door webcams, but this can only provide visual confirmation the goods were stolen. Police rarely pursue the grainy images captured by these devices.
A safer solution is the combination of hardware and software in the form of lockboxes that connect to a mobile app. Some options are also temperature-controlled to not only keep deliveries safe, but also ensure food and medications maintain an ideal temperature while waiting on the front porch.
It is these sturdy, lockable containers that leverage the latest in Internet of Things (IoT) connectivity and mobile applications are the key to making grocery delivery work for consumers. The grocers that are able to work with these devices, or even offer them as a way to ensure customer loyalty, will come out ahead in the new world of delivery.
With consumers increasingly eager to buy groceries online, food providers need to elevate their technological offerings to assure that everything the customer buys arrives safely and on time. Investing in new technologies is imperative to stores' long-term viability, and will propel sales as the shoppers continue their transition online for their food supplies.