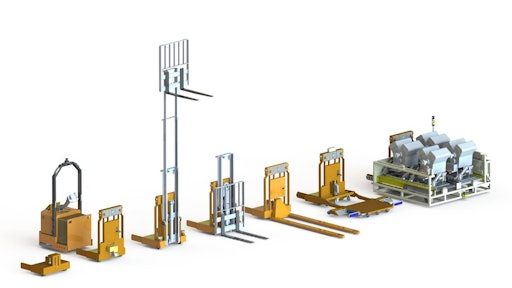 Robots shipped to North American companies in record numbers last year, with more non-automotive companies installing robots than ever before, according to statistics from the Robotic Industries Association (RIA). At least 35,880 units were shipped in 2018, a 7 percent increase over 2017, with 16,702 shipments to non-automotive companies, up 41 percent.
Reasons for Growth in Food Manufacturing and Logistics
New and expanding food manufacturing plants combined with significant labor shortages are driving the need for efficient automation solutions.
Friesen Foods Inc. is constructing a food processing campus on a 3,018-acre site in Cascade County, Montana. The project scope includes construction of multiple buildings containing a combined 1.2 million square feet of building space; and purchase and installation of conveyors, and stunning, cutting, cleaning, deboning, smoking, packaging and odor control equipment and systems. Construction is expected to begin in second quarter of 2019. Friesen Foods will use the facility to process beef, pork, poultry and milk and produce cheese and spirits.
Bev-Graph Packaging International is constructing a bottled beverage plant in Alpha, New Jersey. The project scope includes construction of a 100,000 square foot building; and purchase and installation of automated conveyors and mixing, filling and packaging equipment and systems. Bev-Graph Packaging International will use the plant to produce flavored mineral water in soft, recyclable packaging, and recyclable/biodegradable-aluminum for its subsidiary Kokomo Beverages.
These are just two examples of new facilities in the food and beverage sector. Because these and hundreds of other facilities are being designed from scratch, the imperatives of regulatory compliance, best practices, and overall safety are being considered. Automation equipment and logistics interaction is both an ROI consideration as well as a potential food safety hazard avoidance.
Automation Designed to Eliminate Food Safety Hazards
Every piece of equipment is seen as a potential environmental food safety hazard. The more pieces of equipment the more potential hazards. Failures in cleaning and maintenance all jeopardize environmental compliance with the Food Safety Modernization Act (FSMA).
Since FSMA was signed into law in 2011, the shifting focus from reaction to prevention has caused food processors to anticipate potential contamination in facilities and final products. FSMA verbiage cites preventive controls may include sanitation procedures, environmental monitoring of pathogen controls, allergen control and current Good Manufacturing Practices (cGMPs).
Within the Hazard Analysis and Risk-Based Preventive Controls section of the rules, FSMA states the facility will be responsible for monitoring the effectiveness of the aforementioned preventive controls to verify that the controls are adequately addressing identified hazards. Objectively assessing the hazards in the processing environment is a required exercise for any food processor.
Too often the focus of these potential environmental hazards is limited to the manufacturing environment which may include adulteration of product from the environment (bacteria, food residues) and allergen cross-contamination.
The severity and likelihood of the risk will determine the depth and breadth of the preventive controls and verification monitoring program. For aged facilities with older equipment, probability of risk is higher than for new facilities with hygienically designed equipment.
Environmental monitoring alone is not a control, but a verification of controls such as hygienic design, employee hygiene, cGMPs and Sanitation Standard Operating Procedures (SSOPs). cGMPs and SSOPs are fundamental requirements of a solid food safety program.
More than 80 percent of U.S. food manufacturing plants operating today were built more than 20 years ago. This means the equipment from conveyors to pallet jacks, from tuggers to high-bay lift trucks, can represent an environmental hazard.
If all these pieces of equipment are in the food production and processing environment, they represent a myriad of potential hazards. This means more maintenance is needed, more labor, more training, more certification. All of which comes with a steep price tag.
According to the Bureau of Labor Statistics, the fully loaded cost of a fork truck operator in a food manufacturing facility averages $44,276 in the United States in 2018. That did not include the training mandated by OSHA. OSHA requires that every forklift operator be trained and certified to operate the powered industrial truck in the workplace, and that the operator's performance be evaluated on the provisions of 1910.178(l)(3) every three years; that is the only operating "license" required.
Making matters even worse, the storage square footage required for differing operational modes may include tuggers, unit load conveyor decks, car movers, pallet stackers, pallet trucks and high-bay lift trucks. Food production plants, even those that are currently being designed, must consider that square footage is a premium; reduced storage space would represent a significant cost-saving in food plants if one piece of equipment could perform multiple functions.
With reconfigurable multi-purpose equipment, the high cost and audit-ready rigor of sanitation and maintenance requirements would be immediately reduced. If this reconfigurable equipment could operate autonomously, the high costs of labor, certification and training would be reduced or eliminated.
By combining and redesigning many of the traditional material handling systems into a common base series of modular motor, sensor, steering, safety, and communication features, the Max N10 Mobile Robot Platform is the first of its kind "Configurable Modular Robotic Autonomous Guided Vehicle." Made in the USA, the Max N10 has a series of modular attachments that allow the user to obtain the most economical capital efficiencies without compromising the environment safety and requirements in the food manufacturing plant.
No longer does a food plant manager need to purchase complete systems for differing operational modes. A single unit functions as a tugger, unit load conveyor deck, car mover, pallet stacker, pallet truck and high-bay lift truck. The common base can be reconfigured in short order to remove one modular attachment and mate the base with a different mode modular attachment to suit a different material handling application.
The reduction in labor, training, maintenance and storage adds up quickly; the return on investment (ROI) of this new, Configurable Modular Robotic Autonomous Guided Vehicle, is under one year and never compromises the safety, quality, or integrity of the food manufacturing process or food product.