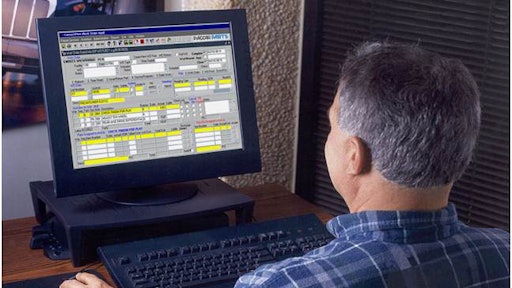 Maintenance software has always been a critically important tool for controlling costs and keeping equipment on the road. It's even more important now that the Federal Motor Carrier Safety Administration's Compliance, Safety, Accountability (CSA) program requires state and federal roadside inspectors to look closely at a company's maintenance records and driver inspection reports.
Industry-leading maintenance management systems such as Connect CMMS are helping maintenance professionals maximize mechanic productivity, optimize parts inventories, and improve CSA compliance. And these companies not only stand a better chance of meeting federal standards -- they also stand to gain a competitive advantage by reducing costs and boosting profitability.
Dozens of system providers offer maintenance management systems with what can be a befuddling choice of system features. If you're in the market for a computerized managed maintenance system look for these 15 must-have features:
Manages PM Schedules to Maximize Equipment Uptime. Equipment downtime is costly and, in many cases, could have been prevented. Look for equipment maintenance systems that allow users to easily create maintenance schedules so that shop supervisors and fleet managers can coordinate repairs and routine maintenance. The system should then automatically notify managers, dispatchers and drivers or operators when individual pieces of equipment are due for required preventive maintenance. An effective system will deliver those maintenance reminders via multiple conduits such as system-generated emails, management reports, and as reminders displayed on the mechanics' or technicians' work orders. These features ensure that preventive maintenance is completed on schedule so that equipment can quickly get back to work. Studies consistently show that for every $1 invested in preventive maintenance, breakdown costs are reduced by $4.
Manages and Tracks Parts Costs. Controlling parts acquisition costs is critical to controlling equipment maintenance costs. A maintenance management system should make it easy to eliminate duplicate orders, track special parts orders, or compare a part's current cost to either prior purchases or a standard cost. A robust system will offer multiple searchable data points – allowing managers to see who created the purchase order and which supplier was used so that they can identify and correct any potential issues before their companies are billed. If the maintenance management system is sold by a parts supplier, the parts supplier may offer special rebates for purchases made through that system.
Manages Parts Inventory Accurately. Year after year, surveys show that poor control of part inventory is the major 'pain point' for fleets and independent service garages. A well-designed inventory control function helps shops maintain accurate physical inventories. Once shops complete an accurate physical parts count, users can maintain that accuracy by tracking when parts arrive and when they are taken out of inventory and issued to specific work orders. Through the use of tethered or portable bar code scanners and a bar code label printer, shops can further automate this process. Inventory aging reports gives the parts manager a list of items that have not moved from the shelves in a specified date range, and provides the sales history with the value of the affected inventory.
Provides an Automated Parts Reorder Process. The systems should offer a variety of ways to control inventory. Periodic parts orders based on min-max inventory settings allow the shop to maintain an adequate supply of parts important to the company's everyday operations. An automated parts replenishment feature will automatically reorder critical parts to ensure that these parts remain in stock. When a part is issued to a work order, the auto-replenishment system should automatically place an order with the prime supplier to bring the stock back to the pre-determined level. To control the procurement process for non-stocking parts, the system should also have the capability to require approval for parts orders when the number of parts in inventory reaches a certain level. The system should also be capable of suggesting a reorder quantity based on historical usage.
Analyzes and Tracks Costs by VMRS Codes. The system should come preloaded with the American Trucking Associations' Vehicle Maintenance Reporting Standards (VMRS) codes. This allows fleets to quickly compare and analyze the cost of repairs by using repair type, such as brakes, engine or air conditioning. The system's reporting tool should allow for comparisons among different vehicle brands, vehicle models, and life-cycle maintenance costs -- allowing management to make better informed equipment purchasing decisions.
Provides Equipment Cost Tracking Reports. Look for a fleet maintenance management program that offers reports and interactive screens. For example, Connect's interactive screens allow managers to get more details by simply selecting various filters or pertinent criteria like date ranges, VMRS codes, WO Reason codes etc. or by double clicking on the data to drill down into the entries.
Provides Frequent Automated Updates to Mileage Readings. Manually collecting and keyboarding mileage updates to a system is an impediment to both accuracy and cost control. In a world where machines now talk to machines in every aspect of commerce – your maintenance system should too. For example, Connect can communicate directly with the servers of leading fleet or fuel management systems via a secure web connection. This function can vastly improve the accuracy of mileage-dependent reports, such as "maintenance due" and "cost per mile," because it eliminates the need to manually enter mileage data and provides more timely updates. These updates give a shop greater flexibility in scheduling maintenance for the company's vehicles. It also helps fleets avoid costly downtime since preventive maintenance services and mandatory inspections are kept current. Mileage tracking modules can retrieve vehicle mileage readings from fleet management systems from providers such as PeopleNet, Qualcomm, XRS and FleetLynx,
Captures Mechanics Time Quickly and Accurately. As the old saying goes, if you can't measure it, you can't manage it. Certainly this is the case with shop labor as many companies using Connect have found that they can increase labor productivity by 20 percent or more through the use of a real-time mechanic time scanning capability. This system feature allows service technicians to scan onto work orders and then compare actual job times with estimated completion times. Since the work orders are scanned instead of manually entered into the system, managers can more accurately monitor productivity and address issues that slow shop operations. This feature allows managers to monitor shop work at a macro level, while looking for exceptions. The system then allows managers to 'drill down' and examine those exceptions on a micro level — job-by-job or time entry-by-time entry.
Offers an Easy-to-Use Program Interface for Technicians. Many fleets look to eliminate paperwork in the shop by equipping technicians with computer tablets to manage parts and labor on work orders. Connect offers an intuitive program for technicians called ConnectTech, which is compatible with a wide range of hardware -- from standard PCs to Apple's iPad to Microsoft Surface, Dell Venue and Lenovo Miix 2 8 Touchscreen Tablets.
Is Capable of Invoicing Service at Set Contract Prices. For independent shops and fleet maintenance facilities that do contract work for other fleets and operators, flexible, integrated invoicing capability is a critical tool for maximizing shop profitability. The system should allow the shop to set different labor rates based on the negotiated contract with each customer. It should be easy to set rates by facility, equipment types or customer. For part markups, the system should use formulas based on the price range of parts or specific groups of parts. The system should also allow users to override parts prices for specific customers. Connect uses a powerful five-level hierarchy to determine the customer's specific price for a part.
Interfaces to Your Accounting and Dispatch Systems. Manual entry of data from one system is expensive and it will also cause your Dispatch, Maintenance and Accounting teams to be forever 'out of sync.' For truck fleets and equipment operators, the transfer of data should be done using system interfaces that eliminate the costs and delays associated with double entries. System interoperability allows for communication directly to dispatchers about preventive maintenance schedules and for efficient and timely driver and operator notifications. With CMMS systems like Connect, single entry is easily accomplished with leading suppliers of dispatching and accounting software such as McLeod Software, as well as a number of accounting systems such as Quickbooks, Sage 50 Accounting U.S. Edition (Peachtree), Sage 50 Accounting Canadian Edition (Simply Accounting), Sage 100 ERP (MAS 90), Sage 300 ERP (ACCPAC) Microsoft Dynamics GP (Great Plains), and Microsoft Dynamics NAV (Navision).
Provides Affordable Scalability. Fleet maintenance software should be affordably scalable, allowing users to add functions that make sense for their maintenance shops. Before making a purchase decision, it's important to forecast the total net cost of the system as you add equipment and users to handle increased business volumes. Ask your prospective system provider to quote you at both current and future business levels.
Provides Customized Support, with the Ability to Self-Serve. The costs of training and support are sometimes an expensive surprise for repair shops. Many system providers charge per-use fees for their support. These fees can add up quickly -- especially when providers charge flat fees on every call and email for support. Quality customer support should be more than just resetting passwords and usernames. Users should find it easy to get instructions on how to make effective use of the system to improve business operations and to keep equipment working. Easily accessible and affordable training and support will ensure the system is put to good use even when there is turnover in your shop. In addition to phone and email support, look for self-service tools such as a searchable knowledge base, videos, and tutorials.
Cloud Solutions are In, On Site Solutions are Out. 'Cloud Systems' or 'Software as a Solution (SaaS) Systems' offer tremendous advantages over old-school on-premises solutions. To get started with a cloud solution all you need is a web browser and Internet access -- eliminating the need for expensive hardware and complex I.T. infrastructure. Cloud solutions also offer incredible flexibility as they can be accessed from anywhere in the world. Cloud users are able to access their data and work more efficiently from anywhere, making life easy for users that work across multiple locations or from home. In addition, your cloud software provider will manage software updates and upgrades for you -- eliminating the need to download and install software patches.
Built by Industry Experts with Financial Viability. Procuring and implementing a system and then training your people to use it is a big investment of your time and money. You should feel confident your provider knows both the technology and the business of managing a maintenance shop. You should know if the provider is in it for 'the long haul.' Be sure to research the provider's history and financial condition before making a long-term commitment.
Selecting the right fleet maintenance management program with the right features for your company's operation is key to maximizing uptime and profitability. By using effective tools to manage mechanic productivity, optimize parts inventories, and improve CSA compliance, your shop operation gains a competitive advantage. Your shop will also become more responsive to the needs of your customers – helping them maximize revenue and meet federal standards.
Connect CMMS offers more details in a CMMS buyer's checklist available at www.connectcmms.com/buyersguide
The CMMS Buying Process
Many providers of fleet maintenance programs offer interactive demos on their web sites to help managers compare and select a system. Programs like PACCAR Connect, (www.connectcmms.com) go a step further by offering a personalized in-depth demonstration tailored to your business requirements.
Generally, program providers offer several options ranging from a basic system designed for fleets of 20 or more vehicles, or repair shops with three or more service technicians, to an enterprise system designed for large companies. Besides most of the functions and add-on features mentioned, enterprise systems may include the ability to support multiple business units, real-time shop activity monitoring, and the ability for mechanics to scan in work orders.
Once they have narrowed their options, fleet managers or shop supervisors should then contact providers for additional consultation on pricing. The cost of a fleet maintenance management program really depends on a variety of things, including what functions your operation needs, the number of mechanics and technicians in your maintenance shop, and number of trucks or pieces of equipment in your fleet or operation. Selecting the right fleet maintenance management program with the right features for your company's operation is key to realizing the system's full potential.