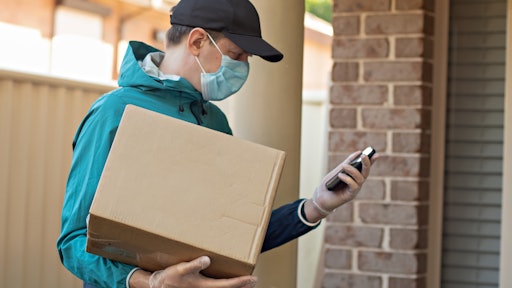 Anyline Inc.
Human beings are a social species, but the threat of the Coronavirus disease (COVID-19) pandemic has compelled many to isolate, whether by personal desire or local legislation. This lifestyle change has inspired consumers worldwide to have everyday necessities--from food to medicine to office supplies--delivered to their homes.
According to the Wall Street Journal, UPS' average daily shipping volume rose 21% in Q2 of 2020 with a 65% increase in shipments to homes, which is faster than the company has ever recorded. Shipping volume is expected to continue as the pandemic does.
At the same time, as we seek to "social distance," we have become wary of physical contact. This year, a few hundred epidemiologists and infectious disease experts interviewed by The New York Times said it would likely be a year before they would feel comfortable hugging or shaking the hand of a friend.
The combined desire for shipping and physical distance has led to an increased demand for contactless parcel delivery, a method particularly valuable for high-risk populations. The method is presently an established workflow for most post-delivery enterprises, which are using contactless delivery more than ever. Bloomberg recently reported that in response to the Coronavirus pandemic, FedEx and UPS have dropped the normal signature and identification rules for most package deliveries in order to protect customers and workers.
While this process works in many cases, as it fulfils customer desire for no physical contact, it does not work in all cases for it ultimately does not deliver against a rising consumer desire for identity confirmation. In fact, a recent Anyline survey found that three out of four people agree that high-value packages like medication or perishables should require identity confirmation by the delivery organization. In addition, seven out of 10 survey respondents indicated that restricted packages (e.g., alcohol) should require identity confirmation of the recipient.
Contactless delivery challenges during COVID-19
One of the greatest and most costly present challenges for post and parcel businesses during COVID-19 is creating a low-cost contactless delivery that works for delivery drivers and recipients alike.
Simply dropping off a package on a shopper's doorstep does not ultimately meet consumer desire for contactless delivery. Many of the packages being delivered during the COVID-19 pandemic are perishable and time-sensitive items like food or medication; not requiring identification goes against consumer sentiment.
In addition, Forbes reports that post and parcel delivery enterprises who are using relaxed normal signature and identification rules provide an open opportunity for fraudsters to claim they did not receive the goods. Without signature, delivery enterprises cannot provide proof of delivery.
For packages that do require identity confirmation--such as prescription drugs, alcoholic drinks or expensive items--many merchants request a delivery driver to provide a touchscreen of a handheld device for the recipient to sign and request customers physically hand over a driver's license or other valid ID to verify the recipient information matches the package. Given CDC guidelines regarding social distancing, this standard workflow is a challenge for both drivers and recipients.
How to provide contactless delivery consumers desire
Fortunately, post and parcel companies can create contactless delivery processes that meet consumer desire, maintain regulatory compliance, efficiently capture information and ensure physical safety of drivers and recipients.
Most delivery drivers are already practiced in using traditional scanning devices to scan barcodes on packages in order to confirm a package was delivered. While some traditional barcode scanners can capture photographic proof that a package was dropped off at its destination, these scanners are often unable to capture a recipient signature or identification at a safe distance.
New technology advances these tools, allowing smartphones to feature barcode- and optical character recognition (OCR)-enabled mobile apps, which use the smartphone camera to scan everything from barcodes to identification while capturing signatures. Using this process, a driver can simply scan a recipient's ID, get their signature and record proof of package delivery (through a barcode scan and/or photo), all at a safe distance and without any physical contact.
These new contactless delivery initiatives can empower drivers to bring their own device if they prefer, a policy that can make drivers feel safer while decreasing overhead cost for parcel businesses.
Contactless delivery is here to stay
Not only is contactless proof of parcel delivery safe, efficient and affordable, but it's also here to stay. In the Anyline survey mentioned earlier, three out of four consumers reported that having an unacceptable delivery experience affects their decision to continue doing business with the delivery company or enterprise from whom they acquired the item.
As many of the new consumer habits developed this year continue on post-pandemic, providing the contactless delivery consumers desire becomes a key component of offering a great overall customer experience. The companies that deliver will be those who drive loyalty for years to come.