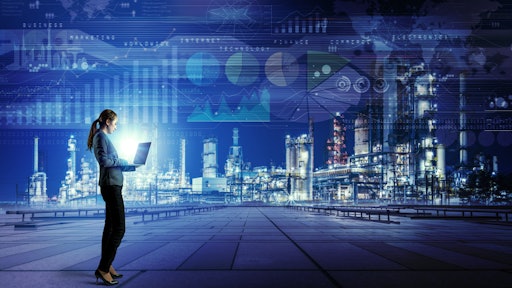 metamorworks - stock.adobe.com
The effects of the pandemic continue to throw today's supply chains into a constant state of upheaval. When customers encounter empty shelves, expired food or otherwise compromised goods, they tend to blame both the retailer and manufacturer in almost equal measure. For this reason, all the players involved in the food supply chain have a vested interest in optimizing the shipping and fulfillment process.
Consumers are losing patience
It can be hard enough for a major brand or retailer to withstand a supply chain crisis; for a smaller company, it could be a make-or-break issue. Zebra's 14th Annual Global Shopper Study revealed that 71% of shoppers left stores without items they came to buy and nearly half say it was due to out of stocks. McKinsey & Company further reported that a mere 13% of shoppers waited for the item to come back in stock, while 39% switched brands or products and 32% switched retailers.
The challenge for small businesses
But, the news is not all negative; this is also a moment of transformation as companies of all sizes leverage technology to prepare for future demands.
Small businesses in the grocery and foodservice categories, in particular, are subject to an extra level of urgency, as they must meet specific and pressing needs around shipping and handling to comply with food safety mandates. Fortunately, the same technology investments made to remain compliant can also help prevent waste and minimize the potential of spoilage, which strengthens the food supply chain and helps protect consumers' well-being while also helping protect each company's bottom line and reputation.
Though meeting food safety, quality and consistency requirements may feel incredibly challenging for small and medium-sized businesses (SMBs), there are a variety of off-the-shelf tools they can easily leverage to heighten supply chain visibility, traceability and efficiency. Importantly, these tools also help boost productivity and improve frontline workers' experiences. When workers are invested in the business, they are more apt to watch for issues that could degrade product quality or the customer experience.
Solutions within reach
Many SMBs assume that cutting-edge supply chain technology such as radio frequency identification (RFID) or temperature sensors are out of their reach. However, the fact is that many solutions are now more accessible and easier to implement than ever before. What's more, technology is increasingly necessary to keep up with a rapidly evolving landscape, and SMBs can no longer afford to avoid investing in technology. Companies responsible for producing, storing, distributing or selling perishable goods, especially consumables like food and beverages, must be able to keep eyes on those goods 24/7. No one wants to walk into the warehouse the next morning and realize that an entire pallet of eggs was left out by the loading dock door overnight.
The easiest way for food supply chain companies to accurately track, trace and rotate every item is to add an RFID tag in packaging and distribution. The cost of tags has significantly decreased in recent years, and RFID systems – often thought of as expensive and impractical for SMBs – have become more affordable. Handheld RFID sleds can now be attached to a mobile device as an accessory that enables easy tag reads. Users can also configure the devices to automatically send captured data to the cloud for further analysis and reporting, eliminating expensive on-premise servers.
Digitalizing the supply chain, especially shipping, can be as simple as adding barcoded labels to all packages to allow for a quick scan at each touchpoint. Just know that it will be impossible to scan items in the middle of a pallet without breaking down that pallet. That's where RFID has its advantages. In fact, Zebra's Food Safety Supply Chain Vision Study found that 41% of industry decision-makers say RFID improves food traceability within the supply chain, more than any other technology.
Plus, the tools used to improve compliance and track-and-trace capabilities also make it easier for warehouse workers to pick, pack and load orders. A quick barcode scan or RFID tag read – using a suitably equipped mobile computer – can help a worker ensure the right packages or pallets end up on the right truck. Workers at the receiving dock on the other end can use the same technology to more accurately intake shipments and get them to the right place in the shortest amount of time, which could be a warehouse or grocery store shelf.
Added visibility and traceability also aids in preventing food waste and contamination, though it's important to use the right solutions.
RFID tags and barcodes can help workers confirm that counterfeit items didn't make their way into the supply chain by confirming the authenticity of each item. They can also help workers properly rotate inventory based on first in/first out (FIFO) policies or more quickly identify items that are approaching their expiration date and need to be discounted to move faster. There are dozens of data fields that can be stored and retrieved via RFID and barcode scanning.
However, investments in more innovative technologies are needed to help monitor the shelf life and temperature of cold chain products or shipments moving through the supply chain. Temperature sensing labels, electronic data loggers and cold storage monitors can all help workers confirm temperature stability. If something gets too hot or cold, they will know so they can decide whether it should be pulled. In some cases, these cold chain sensing technologies can identify the specific point at which the product might have become compromised.
For manufacturers, the data collected can inform future distribution strategies. Just as importantly, the data collected and shared by these combined technologies can help everyone in the supply chain feel confident that the food and beverage items served up on retail shelves or restaurant plates have been properly handled from the first mile through the last.
Overcoming labor shortages and improving the employee experience
As in other categories, food and beverage SMBs – from growers and manufacturers to third-party logistics providers and grocers – continue to face significant labor shortages. Technology can help attract and retain talent when workers are most needed, as the mechanization of specific tasks can free workers to focus on higher-value jobs and responsibilities. According to Zebra's Warehouse Vision Study, 39% of decision makers agree that adding an automation component to workers' routines creates the optimal balance for warehouse operations.
Next-generation enterprise-class mobile devices enable workers to complete tasks faster and with a greater degree of accuracy thanks to the automated assignment of tasks and step-by-step guidance that can be delivered via apps. These devices can positively impact front-line workers in positions that require repetitive actions or pen-and-paper processes. With more digital natives entering the workforce, employers of all kinds will likely face pressure to offer a similar level of technology that their employees are accustomed to utilizing in their own everyday lives.
Building an efficient shipping ecosystem
SMBs, whether food manufacturers or retailers, often rely on a network of shipping partners to get goods into the hands of their customers. As supply chains get more complicated and consumer demand increases, the shipping process can become disjointed, leading to issues down the road. A reliable shipping partner that is equally committed to supply chain visibility helps give SMBs more control over customer sentiment and loyalty.
For manufacturers, it is vital to choose third-party shipping providers that share the same priorities regarding technology and traceability. Grocers and online food retailers should embrace digitalization as well, improving the inventory management process in terms of speed and accuracy. Technology can enable the creation of a high-functioning ecosystem where all parties can readily track the origin and destination of a product in real time and what happens at every location in between.