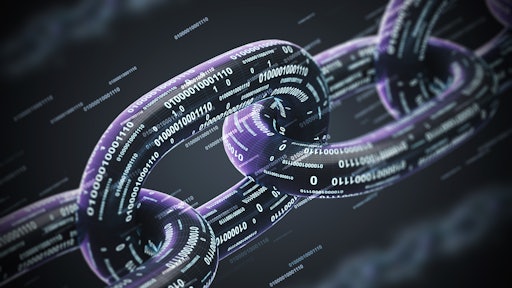 AdobeStock_193545415 blockchain
The supply chain industry has witnessed a paradigm shift over recent years. Once relegated to the background, the industry is now considered an intrinsic part of the overall business strategy, thanks to the adoption of technology.
Emerging technologies like artificial intelligence (AI), Internet of Things (IoT) and many others have brought to the fore the impact supply chain can have on businesses in improving operational efficiency.
The current disruption
With technology making inroads into the supply chain industry and disrupting the status quo, it has made things far more streamlined and simplified. Blockchain is one such technology that has become integral for the sector, owing to the visibility and security of data it provides. In addition, the use of blockchain for settling payments has also become more common with cryptocurrencies gaining wider acceptance.
The food supply chain is one of the earliest adopters of technological advancements in the industry owing to specific challenges like low shelf life. For instance, cold chains have benefited from the use of IoT for ensuring temperature maintenance throughout the supply chain. Automation has been getting adopted on the service-side of supply chain management, replacing repetitive tasks, such as compliance document generation and sharing with global stakeholders by leveraging software.
Emerging trends to watch for
For many years, the supply chain industry (like many others) has been moving toward automation. This has been one of the primary concerns for many, as it has been feared that automation might kill jobs. However, it has actually optimized the existing workflow, allowing human labor to be employed for more meaningful tasks. In that regard, autonomous mobile robots (AMRs) have been the latest breakthrough. The use of robotics can eliminate the need for manual labor for heavy-lifting tasks. The human workforce will be instead shifted towards supervising the AMRs.
Artificial intelligence and machine learning
AI and machine learning (ML) are being rapidly adopted by all verticals today, and the supply chain is no exception. Using AI and ML has offered tangible benefits, like reduction in manual labor to companies. As a result, tasks like data collection, creating reports and planning can be relegated to the software. AI can also perform data analytics to offer actionable insights, thus saving time and effort. The combination of the two has led to more informed decision making.
Blockchain is not a new trend by any measure. The hype around blockchain might have dampened after the volatility shown by cryptocurrencies last year, but the technology itself is going strong in many industries. It has emerged a gamechanger in the supply chain industry due to the traceability and visibility of data it offers across the network. The distributed ledger ensures that updated information is offered to all parties, all the while being completely secure. Blockchain-based cryptocurrency can also facilitate easy cross-border payments.
Layering and integration of technologies
The earlier belief that "you can only choose one technology" has been dismantled in the previous decade. It has now been understood that combining different technologies provides a more holistic growth opportunity for businesses. The supply chain industry is one of the prime hotspots of this belief. Layering of technology, such as combining legacy technology with blockchain, is therefore the way forward. It is important to note that technologies that can be easily integrated with others are adopted more quickly.
Right now, there is a greater push for making warehouses "smarter." This includes using IoT and RFID for better transmission of data and avoiding any blindspots. Through geotagging and GPS, shipments can be tracked at all times. Moreover, the digitization of important documents makes the process faster and more secure. Various steps in the supply chain can also be automated using for instance, smart contracts, to automatically process payments using various triggers (QR code scan, NFC scan or even a temperature or geolocation trigger from an IoT device). Inventory optimization allows companies to gauge demand in a better way and match supply with it.
Click here to hear more about automation in warehousing:
Predicting supply chain in 2030
Even as we speak, the supply chain industry is undergoing a tremendous change. Many of the trends we have discussed above are already an integral part of supply chain operations while many others are vying to become one. But, with technologies constantly evolving, how different can you expect the industry to look a decade from now?
For starters, the bulk of operations in the supply chain will be automated. The manpower for existing operations will see a significant decline as more and more operations will be optimized. However, this does not imply that the human element would become trivial. On the contrary, the roles played by humans would become more crucial than ever. Robotics would also play a more important role, with AMRs (or its evolved forms) doing the manual work from loading to pickups.
Supply chain companies and tech companies would work together more closely. This would help build solutions customized to needs that are currently considered minor. For instance, sourcing from local markets and being mindful of the impact on the ecosystem would be achieved through the use of technology.
The supply chain network will also become transparent to all the parties involved, with clearer access to updated information. Through the use of data analytics, predicting demand and other unforeseen circumstances becomes possible. This would allow for better inventory management and prevent shipment recalls.
The industrial world has always been led by innovation. As the supply chain industry adopts the new innovations and continues to evolve, it is looking at a brighter future. In an increasingly globalized world with ever-increasing demands, the supply chain industry will play a more crucial role than ever before to help businesses get a competitive edge.