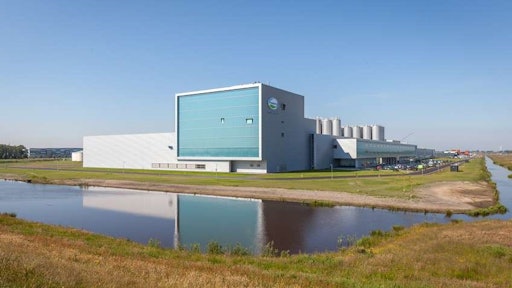 Fonterra Co-operative Group Limited
New Zealand's largest company, Fonterra Co-operative Group Limited, is a multinational dairy co-operative owned by over 10,000 New Zealand dairy farmers responsible for 25% of the country's total exports and approximately 30% of the world's total dairy exports. Extending the company's global operations, Fonterra planned to open a new dairy plant in the Netherlands. Unfortunately, due to time constraints set by Fonterra's first Netherland dairy orders, the new dairy plant would need to be completed in under 12 months – instead of the industry standard of 18-24 months. By leveraging Rockwell Automation, Fonterra not only completed the Netherlands dairy plant on schedule, but was also able to implement connected capabilities.
Fonterra's dairy plant predicament
Despite the country's small size, New Zealand's zeal for dairy is apparent. The world's eighth largest dairy producer, New Zealand is home to more cows than humans and exports 95% of the milk it produces each year. Through Fonterra's operations in over 140 countries, the company employs about 16,000 people globally and collects 22 billion liters (5.8 billion gallons) of milk annually to be used in the production of other dairy products, such as whey protein concentrate and isolates, which are common ingredients in pediatric, maternal and sports nutrition products.
After commissioning the Netherland's dairy plant, Fonterra began receiving their first orders for the region. With these orders, Fonterra quickly realized they would need a shortened timeline to complete the plant and open a fully functioning dairy plant before the end of that same year. In addition to the shortened timeline for the plant completion, Fonterra holds its own strict standards for motor control and faceplates – with interfaces to devices from other dairy providers and competing dairy processing plants. Thankfully, the Rockwell Automation standards enabled Fonterra to complete construction without compromising the dairy co-operative's levels of quality expectations.
Solving time constraints with customized single-provider connected enterprise solutions
In New Zealand, Fonterra engages Rockwell Automation (the world's largest company dedicated to industrial automation and information) to provide programmable automation controllers and SCADA solutions, while utilizing motors and motor control technology from other various suppliers. However, after exploring the company's automated solution provider options in the Netherlands and weighing the time constraint of the plant's construction timeline, Fonterra instead opted for a complete wall-to-wall solution of automation, process and motor control provided by Rockwell Automation and Beenen B.V., which would be based around the equipment, enabled by Rockwell Automation.
By engaging Rockwell Automation as the sole provider of automated process control solutions for the Netherlands dairy plant, Fonterra deployed a completely integrated control solution that also offered effective communications from the shop floor to the top floor. This means production data can be captured and analyzed to improve processes both inside and outside of the plant.
Results of connected enterprise capabilities
In close collaboration with Fonterra, Rockwell and Beenen B.V. worked to develop a completely integrated solution that would enable Fonterra's new dairy plant to not only be completed and fully functional on schedule, but also expand and enhance the dairy plant's digital capabilities beyond its initial opening.
Fonterra recognized the potential of connecting machines, supply chains and customers to establish data-driven, secure and agile manufacturing processes to meet shifting market demands in the future. By choosing the Rockwell Automation EtherNet/IP solution as the plant's primary communication protocol, the Fonterra Netherlands dairy plant can deliver insights to improve productivity, sustainability and economic performance through faster time to market, lower total cost of ownership, improved asset utilization and enterprise risk management. Further, because EtherNet/IP is built on standard Ethernet, very little time and few resources are needed to establish the connections and means of communication between machines, supply chains and customers.
Equally as vital as the technology that enables communication between the shop floor and the top floor, is the software that enables Fonterra to put that data to use. Operators can make data-driven decisions faster than before, and with greater positive effects on process optimization thanks to easily understandable data that is openly available. The Rockwell Automation line of FactoryTalk solutions for HMI, historian, manufacturing intelligence and asset management, allow Fonterra to centrally secure, manage, control, track and report automation-related asset information.
The Fonterra 25-hectare (62-acre) Netherlands dairy plant was completed on schedule within the projected 12-month timeline. Because Rockwell Automation offered a complete wall-to-wall solution of automation, process and motor control, Fonterra was able to deploy a completely integrated control solution from a single supplier right out of the gate. The plant is Fonterra's first wholly owned and operated ingredients plant in Europe, and peak production will see the facility process up to 2.7 million liters (713,000 gallons) of whey per day, with annual production figures of around 25,000 tons of lactose and 5,000 tons of protein products. Thanks to the Rockwell Automation Digital Transformation solutions, the Fonterra Netherlands dairy plant can continue to exceed industry expectations by analyzing production data to improve plant processes.