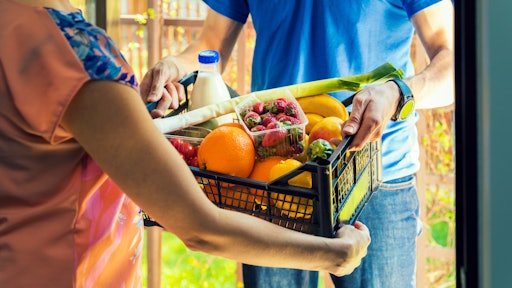 Getty Images
In the past weeks, grocers and consumer packaged goods (CPG) brands across the globe have been overwhelmed, as consumers' "New Normal" drives difficult-to-predict spikes in demand and an unprecedented strain on the retail grocery supply chain.
Among the many logistical challenges retailers and their store teams face are interruptions throughout the supply chain, not having the staff to replenish fast enough and store personnel on the frontlines guarding their own safety by adding procedures that slow productivity or taking time off due to exhaustion or to quarantine. Retailers are doing everything they can, working around the clock to keep shelves stocked while protecting their customers and employees, but the scale of demand and need to prioritize essential items means, in many cases, shelves remain empty, frustrating customers who may need to risk their safety and the safety of store employees by making additional store visits.
During this Coronavirus disease (COVID-19) crisis, it is imperative that suppliers, service professionals and retailers work closely together to meet these challenges, even as lines quickly blur when deciding whose responsibility it is to ensure shelves stay stocked. In reality, it needs to be "all hands on deck," with everyone playing a role in guaranteeing each link in the supply chain remains strong.
Retail executives have the opportunity to utilize technology and modern business models such as on-demand store support to help combat staffing and logistical challenges. In particular, on-demand platforms provide a turnkey solution for traditional grocery, drug and c-stores, big box and independent retailers, to rapidly respond to a range of supply chain challenges with the click of a button. With the ability to deploy a variable supplemental staffing model, grocers can provide their shoppers with uninterrupted access while reducing the strain on already stressed employees.
Even before these trying times, brands who employed these services have reaped the benefits by more faithfully meeting their obligations to retail partners and satisfying customer demand. These technologies provide the opportunity to compete on crowded store shelves in order to scale their businesses and become better partners for their retailers. With these changing times, the most effective promotional tool is ensuring products actually make it to the shelf, and more importantly, quickly.
With the current environment, putting most in-store demos and trade marketing on hold and cash flow challenges reducing many brands' ability to invest in paid media, merchandising and in-store support can be the most cost effective solution to ensure brands intersect with consumer demand. Any products that are in stock and on shelves are selling and on-demand platforms provide essential workforces to make sure the flow of product from the stockroom to the shelves remains constant, without further burdening overtaxed retail staff.
In a rapidly evolving retail market, with difficult-to-predict consumer behavior, brands may struggle to define their requirements when choosing a merchandising partner or platform. The specific needs of emerging brands are unique and deserve personalized service. Long contracts might not be ideal and cookie-cutter approaches rarely work because emerging brands pivot frequently and need to respond to changing market conditions with limited personnel. Brands should ask themselves what types of services they will need. Is it just restocking, or do you need data and competitive intelligence as well? Does your service offer real-time data and analytics, provide custom reports and deliver details like in-store photos, competitor analytics, expiration date verification and damaged product audits?
For store managers, how easy is it to deploy assistance should you find your team short staffed and overwhelmed? What service would help relieve the pressure and quickly respond to spikes in demand or staffing level challenges? While each platform has its own guidelines on training, make sure any personnel entering your store has undergone robust onboarding and education on the ins and outs of in-store merchandising. They are a temporary extension of your team. Their training can make them some of the most skilled and detail-oriented members of your extended team, but a lack of training can reduce efficiencies, add to stress levels and alienate consumers.
COVID-19 has brought unprecedented change to the industry and no part of the supply chain could have adequately prepared, yet the industry has done well to make necessary adjustments. However, more help is still needed. Today's technology is making transitions as smooth as possible, providing services that fulfill the immediate needs for retailers and brands. Be sure to take advantage of these resources to ensure shelves remain stocked and shoppers maintain access to everything they need to protect themselves and their families.