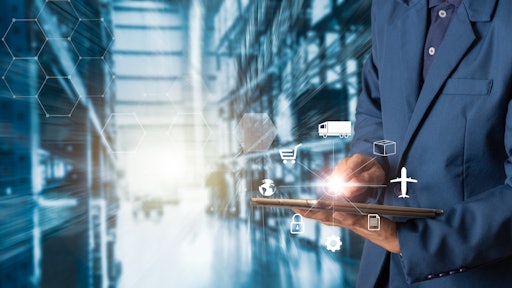 Getty Images
Think back to 1995, a year of milestones for the burgeoning World Wide Web.
The release of Windows 95 finally made browsing the internet easy; the auction-style website now known as eBay launched; and the newly founded Amazon.com made history selling its very first book online.
Fast forward to today, and e-commerce has exploded. Today, you can have nearly any item imaginable arrive on your doorstep within 24-48 hours.
As a result, consumers have grown to expect that same level of service everywhere, demanding convenience, variety, and most importantly, speed. Consumer goods companies are feeling the pressure of this trend, dubbed the "Amazon Effect."
When speed is truly a need
In some cases, delivery speed is more than just a perk to entice customers—it's a real necessity.
Fast fulfillment is critical in industries such as fresh food distribution. Grocers and retailers need to get perishable items (like produce, eggs, meats and baked goods) to store shelves as fast as possible, so they remain fresh and safe for consumption. It's more than a matter of convenience; it's a matter of health and safety.
And, in times of public crisis—like the global Coronavirus disease (COVID-19) pandemic—disrupted supply chains and panic buying mean out-of-stocks and empty shelves. In such situations, suppliers of essentials like food, toiletries and medicine need to ensure goods are rapidly restocked and available to customers that desperately need them.
What to do when the clock is ticking
The need for speed has led many manufacturers, distributors and retailers to reevaluate the capabilities of their logistics operations. Unfortunately, they often find they're behind in the race. Many are therefore looking for new innovative ways to accelerate order fulfillment.
Some companies open micro-fulfillment centers or partner with third-party logistics (3PL) providers. Others use what they already have, tapping into inventory from brick-and-mortar stores to supplement distribution centers. While these strategies can be effective, one of the best ways to boost velocity is through warehouse automation.
Automate to get back in the race
Robotic warehousing systems offer numerous advantages that help facilities gain momentum against the modern challenges of order fulfillment. These benefits include:
1. Rapid handling. Automated solutions—such as automated guided vehicles (AGVs), automated storage and retrieval (AS/RS) systems and order picking systems—can store, pick and move goods through a facility with high speed and precision. Warehouses that employ such solutions are up to six times more efficient and can achieve significantly shorter lead times than those using manual handling alone.
Notably, there are innovative solutions available today that incorporate all product storage, handling and picking operations into one flexible operation. This means that new products can be picked immediately upon arrival. Such systems are particularly beneficial to food distribution, where perishable goods must move through a facility as fast as possible to maintain product freshness.
2. Reduced labor. In manual facilities, order fulfillment is reliant on the physical endurance and speed of individual order pickers. But, with widespread labor shortages across industries, workers are often left scrambling to fill the operational gaps and get products out the door on time. The added strain not only increases the risks for picking errors, but also workplace injuries.
Automation can take over the majority of operations, and warehouse staff can be reassigned to safer supervisory positions or other value-added roles. With an automated system running 24/7, orders keep flowing out the door with complete accuracy and minimal human involvement.
3. Better space utilization. Companies today have greatly expanded their SKU catalogues to meet consumer demand for more product variations and purchasing options. But, in solving one problem, they've contributed to another—shrinking storage space. Traditional warehouse layouts consume considerable space, packed with aisle upon aisle of shelving, storage racks and workers constantly moving around to pick orders. And, with ever-expanding SKU numbers on top of that, many facilities are struggling to house it all.
High-density automated storage systems can accommodate more products while using up to 50% less space. For example, warehouses can use an overhead system where goods are stacked on the warehouse floor and picked from above by gantry robots. This layout eliminates the need for racking or aisles, while enabling faster fulfillment.
4. Peak season readiness. Every business has busy times of the year when demand spikes, production ramps up and orders come flooding in. Usually centered around the holidays, these seasonal peaks take their toll on manual warehouses. Some look to hire temporary workers just to get through it all. But in an already limited labor pool, that strategy comes with recruitment and training challenges.
Automated systems with a modular design are flexible enough to meet changes in demand. These solutions can be easily scaled up to accommodate additional inventory and handle higher order volumes. Facilities are then fully equipped for speed no matter the season.
Pioneers leading the pack
Innovative businesses ahead of the curve are now automating. These industry leaders represent real-world examples of what's achievable when order fulfillment is powered by automation.
One such frontrunner is Spanish supermarket giant Mercadona. Committed to product freshness, Mercadona automated fresh product handling in its new Guadix, Granada, distribution center. In a refrigerated zone, robots provide buffer storage and order picking in one flexible operation, handling 300 different SKUs (including fresh fruit, vegetables and meat) in some 30,000 crates.
With all product flow managed by a warehouse control system (WCS), the solution moves goods from reception through storage, picking and sorting and then finally loads the orders for delivery. In just six hours, the system prepares orders for over 1,600 store locations, resulting in the freshest selection of products possible for the supermarket's shoppers.
Remember—it's a marathon, not a sprint
If your business is considering automation, keep in mind that its more than a one-off project or "quick fix." Instead, automation represents a long-term commitment. System requirements may change with evolving facility needs or industry standards.
To ensure your facility can maintain speed both now and into the future, partner with a system supplier that provides ongoing support. Look for those that not only offer repair and replacement services, but will also:
· Monitor your equipment and conduct preventive maintenance.
· Modernize any aging equipment.
· Make upgrades based on changing business needs.
Speed of delivery is truly a competitive differentiator in the age of e-commerce, and only time will tell what challenges the next major disruptor will bring. But with an automated solution and a trusted partner, your facility will keep customers satisfied—and outpace the competition—for years to come.