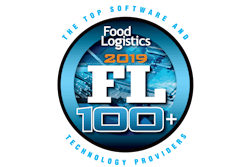 Each year, Food Logistics showcases software and technology companies that are leading the food and beverage industry in innovations. Their solutions and services provide companies the opportunity to improve productivity and gain efficiencies within their enterprise.
Now in its 16th year, the FL100+ features software and technology companies that specialize in products designed to address the unique challenges of the food and beverage supply chain. This list offers an inside look at companies whose products and services ensure efficient transportation and warehousing, minimize operational waste, facilitate safe operations and assure regulatory compliance. The list below is just a few of the standout companies.
To view the full list of winners, please click here.
Website: www.3gtms.com
Year Founded: 2013
Number of Employees: 100
Number of Food/Bev Customers: 10
Solution Brand Name(s): 3G-TM
Worth Noting: The 3Gtms Visibility Platform is a single point solution that provides full visibility into the flow of data and the tools to act on that data. Visibility has traditionally been expensive and challenging for companies because of different data sources, languages, relationships and internal/external systems to manage. The 3Gtms Visibility Platform solves this by gathering data from internal and external sources, integrating and interpreting the data, and giving customers the ability to automate exceptions and respond faster to service disruptions; provide better carrier management; improve control of trading partners and more.
Website: www.6river.com
Year Founded: 2015
Number of Employees: 135
Number of Food/Bev Customers: 8
Solution Brand Name(s): Chuck, Mobile Sort
Worth Noting: 6 River Systems' software is unique for the fulfillment automation industry. The company has built a cloud-based solution leveraging proprietary technology and Google Cloud. 6 Rivers uses cloud software to power its robots, making it easy to continually optimize its performance. Through the back end, the company can provide its customers with greater visibility into labor management and efficiency opportunities. They've added algorithms in the system that manage replenishment, congestion, minimize walking and reduce errors. 6RS integrates seamlessly with existing infrastructure and surrounds and enhances a customer's warehouse execution software (WES) and warehouse management software (WMS).
7PSolutions
Website: www.7Pgps.com
Year Founded: 2010
Number of Employees: 40
Number of Food/Bev Customers: Unknown
Solution Brand Name(s): RouteWatch
Worth Noting: 7PSolutions provides real-time GPS tracking and monitoring solutions that provide location accuracy within 2 meters of the actual location without restricting the amount of data being used or the number of users on the platform. The company provides a variety of products that allow customers to manage their supply chains under a single platform. This includes covert devices for vehicle monitoring, including climate-controlled vehicles as well as climate-controlled facilities.
Americold
Website: www.americold.com
Year Founded: 1903
Number of Employees: 13,000
Number of Food/Bev Customers: 2,500
Solution Brand Name(s): i-3PL
Worth Noting: Americold's i-3PL is its data, analytics and apps platform, viewed as a single-source supply chain management tool for its customers. The solution abstracts the complexity of 179 warehouses, over 2,500 customers and 5,000 carriers to provide a simple user experience. It provides insights for major supply chain and warehousing data. The company's application ecosystem drives consistency in its processes all across the board, which is critical to Americold's small- to medium-sized customers who rely on the technology to order inventory for their end customers.
ARMADA
Website: www.armada.net
Year Founded: 1890
Number of Employees: 550
Number of Food/Bev Customers: 330
Solution Brand Name(s): ARMADA, 24TRACC
Worth Noting: For many companies, supply chain visibility is a primary challenge that is further exacerbated by the prevailing lack of data quality across all supply chains. Armada addresses this issue through the use of custom data quality software. The solution relies on AI and machine learning techniques to suggest data anomalies and ultimately learn when data is incorrect. Once an issue has been identified, business rules and matching algorithms permit the automated correction of data before it even enters Armada's systems.
Website: www.prospero.com
Year Founded: 1997
Number of Employees: 30
Number of Food/Bev Customers: 125
Solution Brand Name(s): Prospero Outbound, Prospero Inbound, Prospero Mobi
Worth Noting: CAMS Software has been servicing the needs of grocery transportation departments for 20 years. Its products are designed from the ground-up to meet the demanding and specific requirements of large-scale grocery distribution. From routing all the way to activity-based driver payroll, the company continues to be a trusted member in grocery transportation.
Cass Information Systems Inc.
Website: www.cassinfo.com
Year Founded: 1906
Number of Employees: 1,035
Number of Food/Bev Customers: 25
Solution Brand Name(s): Freight audit, payment and business intelligence services
Worth Noting: Cass Information Systems continues to be a leading provider of freight audit, payment and business intelligence services. The company understands the complex needs of its customers' critical transportation and accounting processes. It provides customized business intelligence solutions that help create a competitive advantage through reduced costs, increased efficiency and better decision-making capability. Cass brings the most advanced technology and systems in the industry, as well as the most experienced staff to address customer-specific requirements. By performing an in-depth analysis of a company's needs, Cass enhances freight processing systems and maximizes supply chain efficiency.
Cimcorp Automation Ltd.
Website: www.cimcorp.com
Year Founded: 1975
Number of Employees: 400
Number of Food/Bev Customers: 100
Solution Brand Name(s): Cimcorp 3D Shuttle, Cimcorp Layer Pick, Cimcorp MultiPick
Worth Noting: Cimcorp's layer pick system defies the odds of products being too fragile for automated picking. The system uses a specialized vacuum and clamp gripper that can pick and place virtually any product using variable force and vacuum strength based on the SKU being handled. Cimcorp began using the technology in the beverage industry and has since enhanced the tool to handle anything from standard corrugated cases to shrink-wrapped products, bottles, tubs and open trays.
Website: www.compliancemate.com
Year Founded: 2015
Number of Employees: 49
Number of Food/Bev Customers: 3,000
Solution Brand Name(s): ComplianceMate
Worth Noting: ComplianceMate is the first eHACCP company utilizing LoRa for transmission of temperature and food safety data. Continuous monitoring with wireless temperature sensors and automated alerts can let users know when temperatures are out of range, so any problem can be fixed to protect inventory, the brand and the consumer. LoRa-based sensors can penetrate walls and buildings to a distance that Bluetooth and Wi-Fi cannot. In addition, the sensors are more energy efficient, lasting longer and using smaller batteries. Sensors can be constructed in smaller sizes for use in food storage units for continuous monitoring.
Website: www.controlant.com
Year Founded: 2007
Number of Employees: 50
Number of Food/Bev Customers: 20
Solution Brand Name(s): Controlant—Supply Chain Monitoring Solution, Facility Monitoring Solution
Worth Noting: Controlant's solution delivers real-time visibility over the end-to-end cold chain. Most data loggers are single-use and don't provide critical supply chain data in a way that facilitates proactive intervention in order to prevent product waste. It is service-based and scalable. Other data loggers must be purchased and managed by food enterprises. The company's subscription-based services enable customers to lease data loggers, gain on-demand access to its web-enabled cloud platform to view all active and historical shipment data, and access a variety of managed and professional services. In addition, Controlant's solution collects critical supply chain data, covering lanes and points of interest. The data can be shared and leveraged by stakeholders to mitigate risk and drive continuous improvement across the supply chain.
Website: www.epg.com
Year Founded: 1987
Number of Employees: 500
Number of Food/Bev Customers: 200
Solution Brand Name(s): LFS, Lydia Voice
Worth Noting: Ehrhardt Partner Group's Lydia Voice 8 is the first industry voice solution to leverage deep neural networks. The technology provides a 25% increase in voice recognition accuracy and eliminates the need for voice template training. By eliminating the need for traditional voice recognition training, picking is faster and more efficient. Meanwhile, LFS provides functionality that streamlines supply chain operations, reduces errors, improves picks and increases transparency. Capable of handling up to 1 billion picks per day in a single warehouse, the solution can be implemented in a variety of operations and provides unique user customization for flexibility and independence.
Website: www.elemica.com
Year Founded: 2000
Number of Employees: 200
Number of Food/Bev Customers: 25
Solution Brand Name(s): Elemica Buy, Elemica Sell, Elemica Quality, Elemica Move, Elemica See and Elemica Digital Supply Network
Worth Noting: The Elemica Digital Supply Network for Process Industries gives food and beverage and other FDA clients control over their global supply chains while supporting the security, auditing, storing and archiving needs of 21 CFR Part 11 compliance. The Elemica Platform and the company's supply chain applications provide information, leveraging a predictive reality check on delivery between business partners and suppliers by removing transactional barriers for faster process automation and lower cost of operations. Elemica automates processes for suppliers, customers, sourcing and logistics, driving bottom-line results, increased productivity and optimized working capital.
Website: www.ftni.com
Year Founded: 2007
Number of Employees: 22
Number of Food/Bev Customers: 41
Solution Brand Name(s): ETran Integrated Receivables Platform
Worth Noting: FTNI's integrated receivables platform ETran, helps companies accept, process and post any payment method on a single, secure, cloud-based system. The platform is used by over 40 distribution companies across the United States and Canada. ETran automates A/R processes and workflows all while helping distributors accelerate exception handling, decrease DSO and increase cash flow.
Website: www.infratab.com
Year Founded: 2002
Number of Employees: 25
Number of Food/Bev Customers: 100
Solution Brand Name(s): Infratab Freshtime RF-sensor Solutions, Infratab Freshtime Go, Infratab Freshtime Mobile, Infratab Freshtime Tag, Infratab Freshtime Cloud, Infratab Freshtime JumpStart, Infratab Freshtime Platform as a Service
Worth Noting: Infratab's Freshtime system provides users with data on shelf-life used and remaining of monitored products, along with chain of custody data, in an unalterable blockchain database. Freshtime requires no proprietary hardware, with inexpensive, reusable RFID tags programmed via the owner's PC. Tags can be read by smartphones using the Freshtime app.
Website: www.interlinktech.com
Year Founded: 1986
Number of Employees: N/A
Number of Food/Bev Customers: 40%
Solution Brand Name(s): Warehouse-LINK
Worth Noting: Interlink has a reputation for excellent customer service and software integrity and innovation. Warehouse-LINK is android compatible and accessible on virtually any mobile device—cell phone, tablet, laptop, desktop or traditional, rugged warehouse devices. Interlink's server approach is an on-premise, client-server utilizing a DB2 or SQL database. Warehouse-LINK integrates with ERP systems as well as automated material handling equipment, such as pick-to-light, conveyors, scales and more.
Website: www.lightningtechnologies.com
Year Founded: 2015
Number of Employees: 55
Number of Food/Bev Customers: 5
Solution Brand Name(s): Lightning Technologies
Worth Noting: Lightning Technologies' BLE Lightning Intelligent Modules embedded in its state-of-the-art logistics pallets provide clients with data that is critical in the selection of shipment locations and shelf-life management. The pallets help extend shelf life as well as prevent product damage all while maintaining product quality. Lightning recently partnered with Microban's embedded antimicrobial and anti-fungal additives, allowing the BLE LIM's to assist in food recall tracking and minimization as well.
MercuryGate
Year Founded: March 2000
Number of Employees: 240
Number of Food/Bev Customers: 40
Solution Brand Name(s): MercuryMyEZClaim and MercuryGate
Worth Noting: In July 2019, MercuryGate a leader in Transportation Management System (TMS) solutions acquired TranSolutions, Inc., the leading provider of transportation-centric freight claims management software. MercuryGate's powerful TMS combined with TranSolutions' freight claim management software (now branded as MercuryMyEZClaim) drives further efficiency within shipper enterprises to reduce labor and administrative costs, increase claim success rates, leverage analytics to drive modernization and improve claim turnaround.
Website: www.openskygroup.com
Year Founded: 2013
Number of Employees: 54
Number of Food/Bev Customers: 23
Solution Brand Name(s): Gold implementation partner and reseller of JDA supply chain platform
Worth Noting: Open Sky Group is a global specialist for JDA Warehouse, Labor, Workforce and Transportation Management System software. The company's greatest differentiator is its ability to rapidly implement software, resulting in clients experiencing quicker installation, reduced modifications and faster return on investment. Open Sky Group's proprietary methodology uses a combination of agile principles and processes in a disciplined manner. It's an iterative and operational approach to software implementations, which reduces costs. The company strongly supports a "no modifications" approach and refines processes as part of every project, matching processes to the software and not the other way around. Because of this, clients see more benefits.
Website: www.optricity.com
Year Founded: 2005
Number of Employees: 19
Number of Food/Bev Customers: 34
Solution Brand Name(s): OptiSlot DC, Moves Conductor, @Ease Warehouse Technologies
Worth Noting: Optricity's slotting optimization solutions are designed with the most intricate initiatives in mind. With over a third of its clients in the food and beverage industry, it has been essential for the company to watch and evolve its solutions to meet the needs of the fast-paced and ever-changing industry requirements for success. In just the last few versions of OptiSlot DC, the company has incorporated over 14 major functionality enhancements, as well as many minor software enhancements, driven by what the clients are seeing, needing, imagining and requiring.
Website: www.procatdt.com
Year Founded: 2001
Number of Employees: 18
Number of Food/Bev Customers: 175
Solution Brand Name(s): PickRight, ReceiveRight, LoadRight, ShipRight, ReturnRight, CountRight, StockRight, CodeRight, TaxRight
Worth Noting: ProCat Distribution Technologies provides scanning-based software solutions to over 200 distribution centers across the United States. The ProCat suite of solutions will enhance any distribution company's business software, meaning that companies can get the benefit of robust technology solutions without having to change their existing software. ProCat solutions supplement receiving, cycle counting, put away and replenishment, order picking and truck loading, while being easy to learn and use. ProCat has the solutions that distribution centers need to increase accuracy and productivity in their operations.
Website: www.railinc.com
Year Founded: 1999
Number of Employees: 243
Number of Food/Bev Customers: 20
Solution Brand Name(s): RailSight Track and Trace, RailSight Monitor, RailSight Demand Trace, RailSight Messaging, RailSight Reporting and Analytics
Worth Noting: Railinc's single-source portal to rail data provides food shippers with full supply chain visibility. The RailSight™ suite of applications is built on a highly flexible technical platform that integrates with systems from legacy to application programming interfaces. Shippers can choose from an unmatched depth and breadth of data that have deep industry connection and advanced IT infrastructure. Railinc is uniquely positioned to reduce delays and reduce high costs associated with manual and outdated systems/processes.
RFgen Software, a division of DataMAX Software Group Inc.
Website: www.rfgen.com
Year Founded: 1983
Number of Employees: 50
Number of Food/Bev Customers: 100-200
Solution Brand Name(s): RFgen, RFgen Mobile Unity Platform, RFgen Mobile Development Studio, RFgen Mobile Foundations
Worth Noting: RFgen is known for putting its customers first, providing the only fully guided implementation experience in the business. By combining its expert supply chain and ERP knowledge with the Mobile Unity Platform and mobile hardware, the company is able to provide a uniquely powerful, flexible ecosystem to help solve the challenges of today, tomorrow and the 21st century. By using RFgen, food companies can receive the benefits of digital process automation and costly WMS software without the complexity or expense, while also extending that functionality with food traceability and mobility. Companies that implement RFgen mobility can create traceability paths of ultra-high-quality data at 99.9% accuracy or more using real-time, up-to-date information across the enterprise.
Website: www.wamas.com
Year Founded: 1937
Number of Employees: 10,000
Number of Food/Bev Customers: 1,000
Solution Brand Name(s): WAMAS
Worth Noting: SSI SCHAEFER is an experienced and leading material handling and automation company, positioning it as a leader in warehouse management software. WAMAS is built on decades of use from some of the largest retailers, wholesalers and manufacturers in the business. The ease of scalability with different modules make WAMAS a clear choice for mid-to-large companies that want to scale as needed or add on technology as processes change. The company offers a completely customizable software package that boosts productivity, optimizes labor resources and provides real-time data on key performance indicators.
Website: www.tgiltd.com
Year Founded: 1990
Number of Employees: 34
Number of Food/Bev Customers: 400
Solution Brand Name(s): Enterprise 21 ERP
Worth Noting: Technology Group International's ERP system, Enterprise 21 ERP, is developed, sold, implemented and supported directly by the company. Its U.S.-based technical support is available 24 hours a day, 7 days a week, 365 days a year. No part of the business is outsourced to third-party companies, providing its own EDI VAN services directly to its customers. Technology Group International believes this "one solution" approach provides its customers with a strong relationship for all their software implementation, software development, training and business process consulting needs.
Testo North America
Website: www.testo.com
Year Founded: 1957
Number of Employees: 2,700
Number of Food/Bev Customers: 100,000
Solution Brand Name(s): Testo Saveris Restaurant, Testo Saveris Retail Chain
Worth Noting: For over 60 years, Testo has developed innovative measuring solutions for the food and pharmaceutical industries. The Testo Saveris platforms have been developed to support companies' quality management initiatives and protect their brand reputation. Each solution combines innovative measurement technology with intuitively operated software and individualized services.
Website: www.raymondcorp.com
Year Founded: 1922
Number of Employees: 1,787
Number of Food/Bev Customers: N/A
Solution Brand Name(s): iWAREHOUSE
Worth Noting: The iWAREHOUSE fleet management system has expanded to encompass an IoT 4.0 platform to help customers manage warehouse needs. Originally used for tracking vehicle and operator performance, the iWAREHOUSE 4.0 platform enables customers to feed data to or receive data from other warehouse information sources, providing specific and data-driven recommendations to users. With this approach, telematics functionality becomes an integral component of warehouse management. Users of the iWAREHOUSE system have complete visualization of existing fleet and operator data to run better and manage smarter.
Website: www.transportation.trimble.com
Year Founded: 1978
Number of Employees: 1,800
Number of Food/Bev Customers: 35
Solution Brand Name(s): Trimble
Worth Noting: Trimble recently debuted its SmartDelivery solution, which combines electronic proof of delivery, routing and fleet mobility technology to help customers provide cost-effective delivery services. Trimble SmartDelivery utilizes single-sign-on capabilities to take drivers from start to finish on their routes. With Trimble SmartDelivery, fleets can achieve enhanced visibility with an end-to-end solution that enables fleets and drivers to reach new levels of connectivity and efficiency while reducing delivery costs and increasing accuracy, all through one seamless driver workflow.
Website: www.velocitialliance.com
Year Founded: 2001
Number of Employees: 10
Number of Food/Bev Customers: 22
Solution Brand Name(s): PiecePick, SmokePick, CloudPick, CloudLogic
Worth Noting: Velociti Alliance North America has grown by over 50% in the last two years, making it the nation's fastest growing supplier of distribution center optimization solutions. The company's software lowers the labor component without sacrificing quality, making the overall flow of product to and from the warehouse more visible.
Website: www.vikingcold.com
Year Founded: 2011
Number of Employees: 20
Number of Food/Bev Customers: 25
Solution Brand Name(s): Thermal Energy Storage System
Worth Noting: Viking Cold Solutions' thermal energy storage technology not only reduces energy consumption, but also food waste. The technology can maintain stable temperatures up to three times longer than facilities without thermal energy storage during periods without refrigeration. For many larger facilities, this can mean multiple days of backup temperature stability and food preservation. The efficiency of the system allows utilities and power providers to make incentives available that pay for technologies such as Viking Cold Solutions' software to help customers use less energy and prevent major food losses.
Website: www.voxware.com
Year Founded: 1993
Number of Employees: 45
Number of Food/Bev Customers: 26
Solution Brand Name(s): Voxware Voice Management Suite, VoxPilot, Voxware Augmented Reality
Worth Noting: Automation in the distribution center will remain a major trend for all industries in the coming years. Companies must invest in technology if they want to remain competitive. Through automation, Voxware is able to increase efficiency and productivity at companies while creating a better overall customer experience. The company's product offering has evolved, with companies now seeing the real value of voice across the entire distribution center. Most customers are using multi-modal voice solutions for multiple workflows to automate their entire distribution operations. By combining Voxware's voice technology with its enterprise analytics, the numbers reportedly go through the roof.
Companies in this article