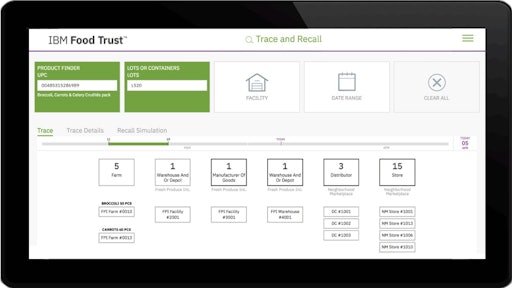 The concept of blockchain is no mystery for most supply chain professionals. With several high-profile pilots occurring in the food and beverage space alone, it's more of a question of execution. How do you transition from a pilot to a real-world application? The answer, as some companies have realized, is more complicated due to system compatibilities, governance and other issues. However, this doesn't mean blockchain is out of reach.
IBM Food Trust, for example, provides food and beverage companies with the interface to integrate blockchain into their operations and among supply chain partners, with capabilities even beyond the digital ledger. Nigel Gopie, global marketing lead for IBM Food Trust, says despite digitization and better data utilization, the same challenges permeate supply chains—poor data visibility, inefficient processes and underwhelming process optimization. In short, there's a lack of true demand management occurring and businesses are suffering by their inability to serve customers effectively.
Beauty of Blockchain
Enter blockchain. Gopie believes blockchain is often too compartmentalized as a solution because of the hype and its niche utilization. What many in supply chain fail to see is how the technology can serve as a catalyst for data visibility and process automation.
"Blockchain's greatest asset is its application as a data sharing platform in a multi-stakeholder environment. And while blockchain is critical to transforming food safety, the data can benefit other supply chain initiatives as well," says Gopie. "Most people don't realize that only 20 percent of the world's data is searchable, while the other 80 percent is locked within organizational silos. Blockchain allows us to unlock those data sets to better connect supply partners and customers for greater insights."
IBM Food Trust
To address growing supply chain complexity and build stronger trust in the food industry, IBM Food Trust is comprised of different modules that address a suite of solutions: 1) food safety, 2) food fraud, 3) food freshness, 4) sustainability, 5) brand story, 6) reduce waste and 7) supply chain efficiencies. Whether it's connecting farmers to consumers or focusing on food waste in the supply stream, Food Trust bridges those initiatives and associated data with blockchain core functions.
The result are solutions to some of supply chain's biggest challenges. Gopie points to an alarming statistic where one-third of food produced is wasted—with about 50 percent of that thrown out by consumer households and the other half wasted in the supply chain. Thus, the Food Trust collaborates with food producers, such as Golden State Foods, using blockchain, Internet of Things and data analytics to monitor food freshness and waste of the company's beef throughout its supply chain life cycle.
"The initiative with Golden State Foods is about ensuring fresher product reaches consumers and reducing waste for a more optimized supply chain," says Gopie. "For other Food Trust members, it's about brand differentiation, food safety or a combination of modules."
Where Food Trust shines is its scalability. While the largest food enterprises are represented as members, small private companies now have access to blockchain technology and a structured approach to solving supply chain pain points. To differentiate themselves from the larger players in the industry, small companies are employing innovative strategies to bring transparency and education to consumers.
"Many smaller companies serve as touch points in food supply chains. Through the use of blockchain and QR codes on product, a farmer or retailer can unite the first and last mile through imagery and video to communicate their brand story with consumers," says Gopie. "Within a QR code, there could be an interview with the farmer who owns the orchard or specific details about the product composition—all through rich multimedia information that grows the consumer affinity for that particular brand."
Regardless of modular focus or mode of information sharing, Gopie says IBM employs a governance model that puts data ownership into the hands of participants who can quickly change access or data permission controls to share information.
"What we have through Food Trust is a large ecosystem where everyone, competitors alike, is here to lift each other and learn to better manage the supply chain," says Gopie. "Blockchain is a team sport. And the players come together not only to improve their business but the way we think about food for the consumer."