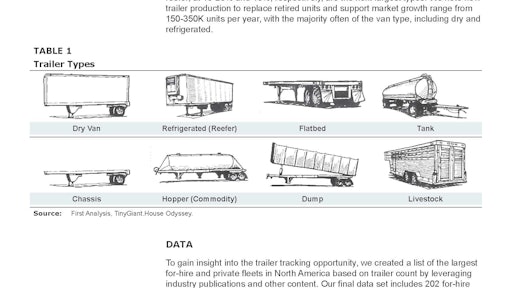 Are you tired of worrying about where your assets are? Have they been unknowingly moved, stolen or otherwise forgotten or misplaced? Has an environmentally-sensitive asset's temperature or climate changed to an undesirable condition? Have you tried many different solutions to no substantial avail? If so, you are not alone. Thousands of people and companies have tried and tested hundreds of solutions without sufficient functionality or results.
Asset tracking solutions have historically not held up to the market promise; while a few have delivered some of what is needed, a complete end-to-end or one-size-fits-all solution that is available to the masses has yet to be recognized and widely adopted.
Part of the problem is that everyone has a different set of standards, requirements, needs and wants. Some want to monitor an asset's location or temperature. Some want to monitor motion or g-shock events. Others want to know the humidity level within an assets location. And some, of course, want all of the above—and more.
The be-all-end-all solution would be a one-size-fits-all product that does all of the above regardless of the vertical industry, size and scope of the deployment, global geography, and the physical environment in which the solution must reside in order to track the asset, for example, inside a bee hive, within an RV, on a pallet tracking the goods it is carrying, or perhaps inside a high-value tool box at a remote and insecure location.
The scenarios are many and the pool of adequate solutions is few. But do not fret. If a buyer takes into consideration a few key and critical points and works diligently in their research to find the holy grail, there are options out there that have all the necessary functionalities in a small and sturdy encasement, work in most geographies globally, and do so quickly and cost-effectively, while generating a rapid return on investment and even recurring revenue streams.
To get to the best result and start enjoying greater peace-of-mind, there are five key points to consider when evaluating asset tracking solutions: how to best track the asset(s) in question, the challenges, the technology, the certification process, and, most importantly, who to partner and work with.
Ripe for the Picking
The opportunity and need for a quality, end-to-end asset tracking solution is enormous and continues to grow. According to a July 2017 report by Joe Madden, principal analyst at Mobile Experts, titled, Asset Tracking IoT Device Forecast, which covers the agriculture, healthcare, transportation/logistics, industrial, retail and consumer spaces, there is currently an asset tracking install base of 115,779,900 units being monitored, which is expected to more than double and grow to 243,052,170 by 2020 and 369,849,487 by 2022. And these numbers are likely conservative.
To paint a picture of what the above-mentioned numbers look like in a real-life scenario, let's look into one very important vertical market, the North American trailer tracking market. According to First Analysis, the sector features 6 million commercially registered trailers spread among for-hire fleets and private companies. For-hire motor carriers transport goods owned by others for compensation in contrast to companies (e.g., Wal-Mart, Sherwin-Williams) that handle the transport of products incidental only to their own core business using internal capacity.
About 4 million trailers are on the road in active service, with the remainder standing idle and being used for various purposes including goods storage. The types of trailers for-hire and that private vehicles pull depend largely on the items to be transported. Table 1 highlights the different kinds of trailers readily observable on the road. Some of the most common include dry van (enclosed units that secure goods from theft and the elements), reefer (refrigerated units for maintaining the temperature of cold goods), flatbed (open-topped units for carrying large items like heavy equipment), tank (sealed units for hauling liquids/chemicals), and chassis (platforms upon which intermodal units can be placed). Dry van, at roughly 65 percent, represents the largest portion of active units; flatbed and reefer, at 15-20 percent and 10 percent, respectively, are the next largest types. We note new trailer production to replace retired units and support market growth range from 150,000 to 350,000 units per year, with the majority often of the van type, including dry and refrigerated.
Shrinking Challenges
With a ripe market that is only expected to grow exponentially, the need for better solutions with better technology are at the forefront in the minds of manufacturers, third-party logistics providers and companies of all sizes. But as with every opportunity, market and technology, there are challenges and decisions to be made.
The good news, however, is that the list of challenges is getting shorter and the technology is getting stronger. The biggest challenge to mass adoption of any one solution has been a combination of four different factors: battery life, accessibility to consumable data (or real information that is displayed in a manner in which people can use it to make better business decisions), total cost, and connectivity to a reliable network on a broad and remote scale.
For assets that do not have power, new technology has made it so we can track assets with the same reliability and timing as a powered asset tracker. In addition, more modern asset tracking solutions are smaller and can be manufactured at a fraction of the cost of older battery-operated devices. Today, devices can be as small as 4-inch by 5-inch and work on four AA batteries. When used in conjunction with a low-power technology such as LTE M, battery life can be as long as 5 to 7 years.
But what good is battery power if you don't have good connectivity? Connectivity is king, and the options are plenty—but the value from some is scarce. There are asset tracking solutions available that employ everything from Bluetooth and Wi-Fi to LoRa and Sigfox, and more. But there is only one cellular, and LTE M is the best technology when it comes to cellular and tracking remote assets because it offers the broadest range, lowest power consumption (within cellular), works indoors, plays well with other technologies such as RFID, and it is widely adopted and generally accepted by the majority of the global population.
Analyzing the Data
So now that we have a defined market opportunity, a clear definition of what a solution should look like, how it should work, and the technology needed to make it work the way it is supposed to and when, what do we do with the data we are gathering? How do we access it? How do we disseminate it? What does it look like? And most importantly, how do we use it to increase revenues and better our businesses?
All very good questions that can now be answered and displayed in a crisp, clean, graphical manner that is easily understood and enjoyed by both engineers and laymen alike.
There are not many, but some of today's leading asset tracking solutions come with comprehensive dashboards that offer real-time views into the exact location, motion, temperature and other data the devices are monitoring. And, it is all beautifully displayed across easy-to-navigate software interfaces.
So what does all of this mean? It means that there are solutions available that are highly configurable to meet just about any asset tracking need, but they are not all created equally. Buyers will be keen to invest in a solution that has already gone through the very expensive and time consuming process of gaining carrier certifications, but the most important consideration should be your partner. As IoT-based technology or product companies, your provider should understand the complexities of recommending the right technology and designing it for your specific application. If you plan to white-label or resell the solutions, strategically, they should also help you decide how to make these enabling innovations available to the broader market for companies to incorporate into their offerings and/or enterprises.
Find a complete solution that can be deployed in weeks not years. A product that has been designed for longevity using the latest 4G cellular technology (there is no shutdown projected for 4G), and one that gives you the option to purchase turnkey with full managed service or to perhaps bring your own cellular and application. And don't forget, your provider must offer scalable IoT infrastructure that is capable of growing with your company. As a bonus, it also would be good to find a partner that is willing to help promote your solution with creative joint marketing campaigns.
Not only are your customers and partners interested in finding the best asset tracking solution, the technology is available now. What are you waiting for?
Peter Nilsson is chief marketing officer for NimbeLink. Nilsson has more than 25 years of supply chain and IoT experience working with industry leaders like Ariba, Choice Logistics, Cingular Wireless, Servigistics and Telit, among others.