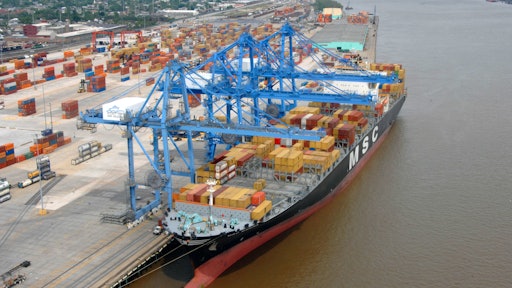 Earlier this year, Food Logistics' sister publication, Supply & Demand Chain Executive, partnered on a global industry survey focusing on the technology challenges facing the ocean shipping supply chain.
Technology firms Navis and XVELA sponsored the research, which was based on a survey of 200 executives and professionals from the ocean supply chain, as well as in-depth interviews with industry thought leaders.
The topic is very timely. While ocean carriers, terminal operators and ports are currently making impressive strides to implement technology solutions designed to improve visibility and cargo handling, the maritime shipping sector has generally lagged in the adoption of innovative supply chain technologies.
According to McKinsey & Company, there is roughly $17 billion worth of waste in port and carrier business processes alone. When the wider ecosystem is taken into account the inefficiencies—and opportunities for improvement—are even greater.
Just how significant are these opportunities? BPI Network, which worked with Navis and XVELA, the sponsors of the research, states: "Stakeholders across the supply chain see huge opportunities to improve efficiencies and customer servicer through better collaboration and data integration. When asked to rate the percentage of potential improvement that could be achieved across a wide range of ocean supply chain processes, surveyed executives estimate the room for improvement in each area is as high as 66 percent and no less than 55 percent."
In addition, "Some 57 percent of executives say poor coordination between partners and others in the supply chain is one of the biggest challenges they face. Another 50 percent point to a lack of transparency and visibility across the supply chain as a top challenge."
Beneficial cargo owners (BCOs) aren't getting the customer service they deserve either, which severely hinders their ability to plan and execute the onward transportation (by rail or truck) of the cargo once it's available at the ocean terminal.
The survey found that approximately 90 percent of shippers and consignees report that visibility needs to be improved in the ocean supply chain. About 85 percent describe the industry as either "slow to change" (70 percent) or "far behind the curve" (15 percent) when it comes to innovation and next generation technology adoption.
Mark Wootton, CIO of Yilport Holding, told researchers that, "What we see is that the end customer, the one who is actually exporting or importing the goods, is kind of left out of the loop. They don't get the visibility they need of where the cargo is between point A and B and when it's going to ship. What's really needed is to find a way to bring them into the loop—actually give them better visibility, traceability and notifications, like you get with a FedEx or DHL-type service."
One industry executive warned that customer service cannot be ignored. Already, "In the U.S., customers are turning to NVOs because these freight-forwarders are able to provide at least a modicum of service improvement," which poses a competitive threat to the shipping lines.
Of course, every business threat is an opportunity, and in that regard the maritime shipping sector is staring at a golden opportunity to embrace the power of technology and the transformation it can deliver.
The complete survey, "Competitive Gain In the Ocean Supply Chain," is available here.