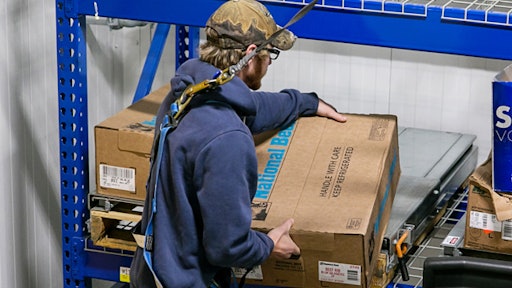 Logistics decision-makers have more tools available to improve efficiency.
Technology providers continue to introduce new tools to enable supply chain companies to respond to customer needs more efficiently. Many of the innovations that are now entering the market are in transportation management.
The following is an overview of newer technology tools for the food and beverage supply chain.
Route4Me Enhances Dynamic Route Optimization
Route4Me Inc.'s new version of its route optimization engine improves the speed of its dynamic route optimization algorithm—a type of optimization that simultaneously generates optimally sequenced multi-step driving routes for drivers originating from many depots.
The platform creates higher density routes, with more drops and/or pickups per hour, permitting businesses to employ or subcontract routes to fewer drivers. This is critical when working with a pool of drivers that changes as demand fluctuates. Businesses that have a large number of orders need constant route re-evaluation because of on-demand orders.
Real-time route re-evaluation incorporates real-world problematic situations into the route planning and route execution lifecycle. Vehicle failures, customer cancellations, late freight, road closures, weather and traffic all cause optimized routes to become obsolete very quickly. Route4Me's platform permits companies to overcome these problems with features such as over-the-air route updates, GPS-based planned versus actual tracking, route deviation detection, dynamic geofencing and real-time route sequence re-optimization.
C3 Solutions Reinvents Yard Management
C3 Solutions, a provider of yard management and dock scheduling solutions, announced C3 Yard, the newest component of its software-as-a-service (SaaS) logistics optimization product suite—C3 Hub.
C3 Yard is offered in conjunction with C3's best-of-breed dock appointment scheduling module (C3 Reservations). With this expansion, C3 Hub's product suite provides a single, powerful and flexible solution empowering companies of all sizes to manage their entire logistics lifecycle—from planning to final execution, including fully automated communications and complete visibility for all parties—every step of the way.
Traditionally, companies that implemented yard management systems (YMS) had large, high-volume operations and required an enterprise-level application that was integrated into all aspects of its supply chain. Smaller operations could not justify an enterprise YMS solution and had to settle with stand-alone systems. C3 Yard allows customers to manage yard operations at the enterprise level.
CAMS Focuses on Outbound Grocery
Grocery wholesalers and retailers typically use private or dedicated fleets for their outbound transportation operations, and a blend of contract carriers plus their own fleet for inbound (backhaul) operations. While grocery distribution needs a different kind of transportation management system (TMS) for inbound versus outbound, the outbound side also introduces several unique challenges, notes Brian Taylor, president of CAMS Software Corporation.
Because virtually everything outbound in grocery is a round trip, it introduces the need for automated backhaul and salvage optimization. Large fleets typically have collective bargaining agreements that frequently introduce unique dispatch and payroll challenges, such as idiosyncratic driver bids and activity-based compensation contracts.
The perishable nature of the cargo requires accelerated turnaround times from order cutoff to delivery, often 10 to 18 hours. The luxury of running multiple optimizations as variables change throughout the day is not practical. Grocery distribution is an entirely different animal, and these outbound challenges are not addressed by the typical shipper- or carrier-based TMS, Taylor notes.
Loadsmart Online Platform Simplifies Freight Management
Loadsmart's online platform, loadsmart.com, provides instant booking, a curated carrier network, real-time tracking and the best rates available for moving truckload freight.
"We're providing produce shippers with a more streamlined and intelligent approach to booking trucks without having to give up the personal service, market knowledge and relationships they expect from a full-service freight broker," says Ricardo Salgado, Loadsmart's CEO. "Most businesses spend hours sending emails and updating spreadsheets when managing their freight. With Loadsmart, it takes less than five minutes to book a shipment, and customers can track and manage everything online."
Shippers can quickly schedule a truck, track freight from pickup to delivery, manage electronic bills of lading, and process payments from any web-enabled desktop or mobile device. Loadsmart's proprietary algorithm matches the shipment with the best available carrier based on requirements such as price, transit time and need for temperature control.
Driver Performance Program Empowers Fleets to Act on Telematics Data
Spireon Inc.'s driver performance program and mobile app can improve driver behavior and fleet performance. Individual drivers and teams compete for rewards and recognition during a competition season, and can view their rankings and scores on their smartphones through the mobile app. Additionally, fleet managers have full access to driver performance data to provide performance recommendations and coaching, as well as generate detailed reports.
The program's gamification format is proven to drive real business results. Customer pilot programs delivered significant increases in driver productivity, efficiency and on-time deliveries, all key factors that contribute to improve a company's bottom line.
While many of the program features are designed to improve driver behavior, the true benefit of the program is increased business profitability. Organizations that deployed Spireon's solution saw up to a 50 percent drop in accidents by helping drivers identify and improve on risky behaviors, including speeding and aggressive driving, such as hard braking and acceleration. Customers also saw cost savings through fuel purchase reductions of up to 15 percent and up to 50 percent in idle time reduction.
MercuryGate Launches Global Omnichannel Freight Procurement
MercuryGate International Inc.'s MercuryProcure, an advanced freight sourcing and procurement solution, allows users to manage requests for proposals for all transportation modes with a single system. Available for a monthly subscription, MercuryProcure integrates with other MercuryGate products, allowing users to leverage the power of carrier rating, report on carrier performance and use real-time shipment data to project accurate costs as they make transportation purchasing decisions.
MercuryProcure was designed for ease of use for both shippers/3PLs and carriers responding to requests. Users have the ability to provide rich lane metrics to carriers, as well as their standing in the current bid process.
TMW Systems Improves Fleet Planning, Maintenance and Efficiency
TMW Systems Inc. offers three solutions to improve fleet planning, maintenance and efficiency.
TMW's Appian DirectRoute is final-mile optimization software that helps companies lower transportation costs, control field operations, and improve customer service through more efficient route planning and management. Appian customers experience an 8 to 15 percent reduction in total distribution costs using the route optimization, staffing and real-time vehicle tracking features.
The Asset Maintenance System helps automate product maintenance and service scheduling by syncing it with dispatch to minimize out-of-route miles and service downtime, while protecting safety, compliance and inspection records. It can also be utilized as a trailer cleanout application for compliance with Food Safety Modernization Act (FSMA) and Sanitary Transportation of Human and Animal Food sanitization regulations.
The TMS gives complete visibility into fleet costs and resources. By automating routine processes and alerts to potential situations before they become a problem, the TMS is particularly useful for documenting information about previous loads.
Paragon Software Systems Meets Growing Demand for Last-Mile Fulfillment
Paragon Software Systems Inc. expanded its Paragon HDX solution to include a number of last-mile fulfillment modules. The software system allows retailers to maximize the performance of their omnichannel fulfillment operations, whether they are using their own fleet, carriers or a mixed fleet. The ability to manage and track order fulfillment through a single system provides better visibility of the delivery process to retailers and consumers alike. This allows retailers to reduce costs and increase first-time delivery success.
Paragon HDX goes beyond simply offering route optimization and configurable time windows by providing retailers with better control over all aspects of last-mile order fulfillment. This modular approach enables the system to be used as an end-to-end solution or to fill the gaps in retailers' existing omnichannel fulfillment systems. Paragon customers can take advantage of a comprehensive offering that covers everything from multi-channel order integration and capacity management to customer communication to consignment tracking and day-of-delivery management.
Transfix Raises the Bar for Truck Brokerage Apps
Food Logistics recently checked in with Ed Stockman, director of sales for Transfix, to find out how the technology company is faring one year after the launch of its Uber-like app that connects truckers with freight.
The trucking industry is primed for an app like the one offered by Transfix, says Stockman. "Trucking and logistics have been massively underserved by technology for years," he explains. "Many companies still use very manual processes throughout the supply chain and to operate their trucking fleets. The accelerating velocity of technological innovation in the world outside of the supply chain, the dramatically reduced cost of technological infrastructure and the proliferation of smart phones make trucking ripe for dramatic change."
Transfix customers are seeing a wide range of benefits and improvements in their supply chains, adds Stockman. "This includes financial savings, real-time visibility and management by exception, and incredibly robust data, analytics and reporting capabilities."
Stockman acknowledges that there are other apps out there, yet "Tranfix's growth has been explosive," he says. "We are the market leader in on-demand/mobile-based truckload solutions. Our growth is not a function of our competition. We grow by continuing to provide excellent service to our current customers, and by continuing to win the hearts and minds of new customers."
Kewill and INTTRA Deliver Freight Forwarding Software for VGM Data
Kewill Inc., a provider of software for supply chain execution, teamed up with INTTRA, an ocean shipping electronic marketplace, to deliver the first freight forwarding software capable of helping shippers and forwarders comply with the new Safety of Life at Sea (SOLAS) container weight verification requirement that took effect on July 1. By combining Kewill Global Forwarding and INTTRA's eVGM solution, shippers and forwarders can now validate the verified gross mass (VGM) of their containers and transmit that data electronically to their carriers.
"Thanks to our partnership with INTTRA, customers who use Kewill Global Forwarding can easily comply with the new SOLAS regulations," says Jim Hoefflin, Kewill president and chief operating officer. "The tight integration between our products will allow companies to simplify and streamline their ocean shipments, which will lower operational costs and guarantee that their cargo gets to where it needs to go on time."
"The requirements for full-service freight forwarding software in the ocean shipping industry are expanding to include submitting VGM [data] and Kewill is leading the way," says Inna Kuznetsova, INTTRA's president and chief operating officer. "Our integrated INTTRA eVGM solution will provide Kewill customers with the industry's most flexible, efficient and comprehensive VGM compliance service, which will create minimum disruption to existing business processes."
The International Maritime Organization's (IMO's) new container weight regulations are meant to help vessel operators and terminals ensure ships are properly balanced in weight. The regulations require all containers to be weighed and verified before being loaded onto a vessel. The Ocean Carrier Equipment Management Association (OCEMA), an association of 18 major carriers, reaffirmed the IMO rule.
Rehrig Pacific Company Releases RVision Logistics Platform
Rehrig Pacific Company's RVision platform provides actionable business intelligence to help customers maximize the return on investment on their reusable transport packaging assets through improved productivity gains, better asset utilization and consumer engagement.
Products powered by RVision can provide real-time visibility and traceability, increase velocity to market, mitigate risk through faster response times, identify supply chain bottlenecks, reduce asset loss, improve asset utilization and reduce waste.
As a part of RVision testing and validation, Rehrig Pacific tagged nearly 300,000 assets for PepsiCo with RFID technology. More than 1 million trips were recorded through the company's distribution territory in the southeastern United States and across seven production facilities. Increased visibility, awareness and data resulted in a reduction of asset repurchase rates by 25 percent, year over year. Better than expected velocity revealed that Pepsi's reusable assets are a better financial alternative to one- way, less sustainable packaging options.
"The reduction wouldn't have been possible without the data and feedback provided by RVision's RFID tracking platform," says Kaley Parkinson, director of applied technology and business development for Rehrig Pacific Company.
Food Redistributor Gathers Cubic Data to Build Accurate Pallet Configurations
Honor Foods, a redistributor, needed to collect accurate dimensioning data quickly to save time and increase productivity. The company solved many challenges with the cubic data from the CubiScan 100 from Quantronix Inc. First, it captures accurate dimensions and weights for all its packaging types. Second, with this important dimensional information, the company is able to build accurate pallet configurations during the picking process. All outbound trailers are now cubed more efficiently, which led to increased transportation profits. Solid and consistent cube data is becoming more and more important for every product in a distribution center, especially when shipping over 100,000 cases and receiving over 90,000 cases each week.
To continue providing distinguished customer service, Honor Foods wanted to find a way to streamline multiple aspects of its distribution process. In order to maximize profits and warehouse efficiencies, Honor Foods' goal for dimensioning was to measure all current SKUs, then check all new items at the time of receiving, as well as 25 random items per week to reconfirm the integrity of their inventory master file. Distributors can no longer afford to measure items manually with a tape measure or ship trucks full of air.
According to Joseph Windfelder, director of information technology at Honor Foods, collecting accurate cube data from the CubiScan 100 helped the company improve efficiency in all operations, from slotting to picking and transportation. "Making sure we have good, solid and consistent length, width, height and gross weight data with every product item," Joseph points out, is one of his daily objectives. There is no more guesswork when building pallets, whether it is for storage or shipping. The mobility of the measuring device enables it to measure objects in all areas of the warehouse, including the dry, refrigerated and frozen storage zones, as well as the receiving dock.
Grocery and Convenience Store Wholesaler Improves Pallet Picking
Capital Candy Company Inc., a grocery and convenience store wholesaler, faced the need for a safer, faster pallet picking solution when heavy slabs of meat and other perishable items bogged down pallet pickers. To help transform standard pallet storage into dynamic pallet storage, UNEX Manufacturing Inc. invented Pick-Plank, an easy-to-use order-picking device designed to improve productivity, space utilization and ergonomics on the pick floor.
"After installing Pick-Plank, in one aisle alone, we gained room for 24 additional pallets of product," says Jim Thibeault, operations manager at Capital Candy. "We also reduced the amount of reaching and bending required to pick the bulkier items in the coolers, and improved rotation of perishable SKUs. Pick-Plank was a big hit with our pickers.
"With Pick-Plank on our pallets, we're seeing significantly higher productivity," he continues. "The ergonomic benefits are also a real advantage. The product pulls from the front, so the picker doesn't have to reach in 48 inches, drag the cases forward and bump his head along the way."
The order picking device attaches easily and quickly. "You set it on the pallet, use a couple of bolts and it's installed in about five minutes," says Thibeault.
Once the worker picks the items closest to the aisle, the picker simply disengages a latch and, in one smooth motion, slides the back half of the pallet to the front position, making all products on the pallet accessible from the aisle.
Traditionally, when a pallet is empty, it is removed from the area and restocked. But with Pick-Plank, a material handler can easily restock the pallet within the pallet rack and experience the same ergonomic advantages that Pick-Plank offers during picking.
One of the biggest benefits of Pick-Plank is that the device allows Capital Candy to stack more product onto the pallet and reduces the need for empty overhead space. To withstand the toughest warehouse conditions, Pick-Plank is made of galvanized steel and rides on steel roller bearings. The device can handle 1,500 units of product per pallet. The maximum pull required is 30 pounds or 3 percent of the product pallet load.
The unit can attach to any standard 40-inch by 48-inch pallet with lag screws, which are provided, or the unit can be purchased pre-installed on a heavy-duty, block-style pallet. UNEX can configure Pick-Plank with a right-handed or left-handed pull mechanism.
InfinityQS Enterprise Quality Management Software Drives Improvement
InfinityQS International's enterprise quality management software, ProFicient, is designed to improve product quality, decrease costs and make smarter business decisions.
Powered by a statistical process control engine, InfinityQS ProFicient proactively monitors, analyzes, and reports on data and processes in real time from disparate data sources across the globe. This creates a complete view of manufacturing operations—from the plant floor through multi-tiers of suppliers. ProFicient on Demand, a cloud-based deployment of the software, streamlines global data collection and analysis with a unified data archive.
Its real-time alerts enable corrective actions to prevent recalls, like the recent Dole spinach recall for possible Salmonella contamination and the extensive cumin recalls due to undeclared peanut proteins.
The resulting manufacturing intelligence promotes continuous improvement and optimizes overall operations. Moreover, ProFicient helps food manufacturers comply with the FSMA by providing farm-to-fork traceability and ensuring accurate documentation for audits.
"Globally, food and beverage manufacturers are facing increased pressure to improve quality, maintain compliance and traceability, and increase productivity," according to Michael Lyle, president and CEO. "At the same time, supply chains are stretching further around the world, and consumers are more involved in advocating for safety precautions and healthier foods and beverages. To address priorities for each stakeholder, manufacturers from the C-suite to the plant floor must embrace available tools and technology, and adopt best practices to deploy advanced systems to their fullest extent."
Compact Smart Camera Provides PC-Level Performance
Cognex Corporation's In-Sight Micro 8000 Series delivers vision tool performance at PC speeds in the form factor of a traditional GigE Vision camera.
These 8000 Series models are set up with In-Sight Explorer software. This software combines the EasyBuilder setup with the power and flexibility of spreadsheet view for greater control.
In addition to PatMax Redline technology, the In-Sight Micro 8000 Series runs these vision tools at speeds that previously required a high-performance PC. All of this comes in a package no larger than an industrial image-capture-only camera.
The In-Sight Micro 8000 Series measures just 31 by 31 by 63 millimeters and includes Power over Ethernet, minimizing cabling, and making these vision systems ideal for integrating into tight spaces on robots and hard-to-reach machinery. They can be deployed almost anywhere on the production line for guidance, inspection, gauging and industrial identification applications.
Symphony GOLD Enhances Retail Fresh Item Management
Symphony GOLD, a provider of a unified software platform for retail, enhanced its Fresh Item Management solution, adding the ability to optimize the ordering and management of recipe ingredients through the entire supply chain, from farm to table. The new capabilities are aimed at convenience food restaurant chains and retailers that are increasingly allocating store space to the preparation of fresh food, either to consume on site or to
take away.
The new Fresh Item Management modules are based on Symphony GOLD's inventory management and replenishment engine to forecast the consumption of specific recipes in each outlet, ensuring that demand is met while keeping food waste to an absolute minimum.
The extended capabilities of GOLD Fresh Item Management help providers to forecast accurately, while allowing for variations in consumer consumption habits, seasonal availability of ingredients, and evolving food regulations and requirements. All components of both standard recipes and made-to-order items are fully trackable. Inventory and replenishment, cost analysis, nutritional information, food safety and forecasting are all linked directly to the entire supply chain via the GOLD platform.
Additional Fresh Item Management functionality includes:
• Recipe management—workflow and authorization. Recipes can be assigned to individual kitchens across the organization for designated production levels.
• Production and inventory management—ingredients and finished goods. Individual ingredients and completed goods can be tracked to ensure that overall inventory levels are optimized for forecasted sales, and that each location is producing the correct amount of finished goods to reduce shortages and waste.
Hovis Selects TrueCommerce for EDI Managed Service to Drive Efficiency
Hovis Ltd., one of the UK's leading baking and flour milling businesses, outsourced its electronic data interchange (EDI) requirements to TrueCommerce, a HighJump company, to reduce costs and onboarding times by using the TrueCommerce OneTime service.
Hovis was utilizing multiple legacy EDI solutions to meet the trading requirements of its key customers for a number of years.
However, when onboarding and development costs continued to rise, and setting up an additional connection took over three months, Hovis made the decision to look for a new provider. In addition to controlling rising costs and increasing onboarding times, Hovis wanted to consolidate onto a single platform to simplify its EDI footprint.
Specialty Bakery Rises Above the Competition with NetSuite ERP
Specialty Bakery, a supplier of frozen bakery goods, evaluated several software vendors to run its entire core business, including sales, purchasing, order management, supply chain execution, manufacturing, warehouse management and financials. The company chose NetSuite for its cloud-based financials, enterprise resource planning (ERP) and omnichannel commerce software suites.
With NetSuite, Specialty Bakery opened a state-of-the-art, 225,000-square-foot commercial bakery in Indianapolis, Indiana, where employees use shop floor mobile devices for real-time access to inventory, order, and shipping data for better quality control and execution.
"We use NetSuite to run the business—it's the cornerstone of our information technology strategy," says Specialty Bakery CEO Ahmad Hamade. "When we looked at NetSuite, we were wowed by its capabilities from a manufacturing perspective."
Hamade adds, "Our strategy from the beginning was to ensure that our investments were highly scalable and NetSuite aligns very well with that. We believe that we built a flagship solution with NetSuite that provides real value to our customers in terms of driving efficiencies and speed-to-market solutions."
Companies in this article