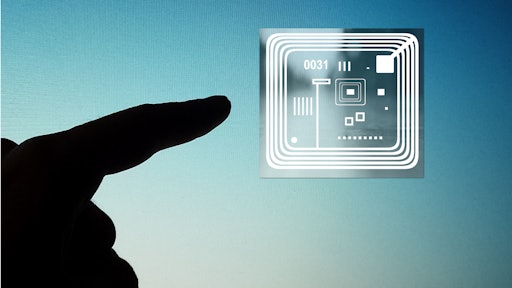 Ever since Dole Foods experienced an E.Coli outbreak that sickened 200 people nearly a decade ago, radio frequency identification (RFID) technology has emerged as a promising tool in the food supply chain. Dole Foods launched an RFID tracking initiative in 2006 to improve traceability and product safety. The company used RFID and GPS to track vegetables from harvest through processing, packaging, and delivery to stores.
While RFID began as a tracking tool for inventory and assets, the emergence of real-time networks has since enabled RFID data to deliver insights in areas such as product status reports and inefficiencies in the supply chain. RFID enables faster and more comprehensive views into potential inventory problems, allowing companies to take pre-emptive action and reduce the need for costly expedited freight. As a data capture technology, RFID also promises more accurate inventory tracking, faster inventory picking, reduced out-of-stocks, and less shrinkage.
According to the Material Handling Institute's 2015 annual industry report, logistics companies are using RFID today to achieve near 100 percent accuracy in shipping, receiving, orders, and inventory accuracy, 30 percent faster order processing, and 30 percent reduction in labor costs.
While some large players like PepsiCo and Walmart have embraced RFID, the food chain in general has been slow to adopt it, mainly on account of cost. In addition to the deployment cost, many say bar codes, which are pervasive throughout the supply chain, have proven effective in monitoring inventory and asset data.
The case for RFID improves
But there are signs that the tide is turning. Heightened safety concerns are causing many players to reconsider RFID due to the improved accuracy it provides for tracking products and assets. The rising omni-channel also creates a greater need for visibility of inventory throughout the supply chain..
The case for RFID has also become stronger in recent years due to increased reliability of RFID systems and a reduction in costs. According to SICK, a Minneapolis, Minn.-based manufacturer of automatic identification solutions, the cost of RFID tags has dropped from $1.00 or more several years ago to less than $0.10 apiece.
As RFID becomes more cost justifiable, companies can implement it in stages. A retailer or wholesaler might choose to use RFID for tracking perishable products and continue to rely on bar codes for capturing data on extended shelf life products. "It's never going to be just RFID," notes Tom O'Boyle, director of RFID for Barcoding Inc., the Baltimore, Md.-based provider of data capture solutions. "There will be a combination of data collection methods depending on how you identify things."
PepsiCo

Gets Better Data On Assets

Last year, PepsiCo's North American Beverage Unit purchased 200,000 Rehrig Pacific shells equipped with RFID tags and tested them at seven plants in the southeast corridor, according to a Rehrig Pacific white paper. This allowed the company to get reliable data on their assets and develop an improvement plan.

"We now know how many shells went out and how many came back," says Mark Howl, supply chain director S&D, for PepsiCo. "This gave us a snapshot of where we stand at any point in time and a better idea of what is really taking place."

PepsiCo uses a combination of strategies to cut losses. It trained delivery drivers to understand that tracking shells is an intrinsic part of their responsibilities and to make sure that what goes out comes back. The company also educated grocers to be good stewards of assets – from proper storage of empties to being more aware of who's picking them up.

Using both RFID and GPS tracking on even a test scale provides reporting, visibility and actionable items that can be leveraged in the fight to control losses. Recovered data identifies the trail of accountability so that uncooperative players are called out and put on notice to
change behavior.
RFID Improves Yard Management Systems
East Coast Warehouse & Distribution, a provider of temperature-controlled logistics located on the Port of New York/New Jersey, recently launched a cloud-based yard management system to help manage imports and exports for its food and beverage customers, and U.S. Customs & Border Protection Centralized Examination Station and container freight station services.
RFID readers and GPS sensors mounted on spotter trucks track magnetic RFID tags placed on containers moving in and out of the warehouse. This gives both employees and customers visibility into the status of the containers – whether they are in transit, have arrived at the facility, are in process of being unloaded, unloaded or have been emptied and checked out.
The cloud-based advanced yard management system automates yard operations including check-in, yard moves and checkout, and provides automatic asset tracking to ensure a continuously updated yard situation. Electronic tasking, reefer checking and spotter monitoring increase efficiency and yard safety.
East Coast Warehouse & Distribution uses a yard management solution provided by Alameda, Calif.-based PINC Solutions.
"Having instant visibility into container locations will boost our operating efficiencies, help reduce errors, risk and exposure, and allow customers to have a clear window into our operations," says Jamie Overley, CEO of East Coast Warehouse & Distribution. "We believe this will be a successful partnership with positive results for our organization and that of our customers."
"We integrated our advanced YMS to the existing TMS and WMS in order to further streamline shipment management and yard operations at this large facility," says Matt Yearling, PINC's CEO.
In the meantime, technology does not stand still. RFID tags can record temperatures and freshness in real time, making the technology even more relevant to the food supply chain. According to some industry observers who did not want to be named, Walmart has begun testing freshness monitoring with RFID in addition to tracking crates.
Champagne Processor Gains Supply Chain Visibility
Mumm, a champagne producer owned by Pernod Ricard, wanted to improve traceability of champagne crates throughout production. The company wanted a solution to allow radio frequency waves to pass through metal crates and withstand the cellar's climatic conditions. Kurt Mensch, principal RFID product manager for Honeywell, says a benefit of automation for RFID tags is they are more durable than bar codes.
Mumm stores up to 500 bottles in crates in cellars in Reims, France. The bottles are stored for three years for proper bubble formation and aging, then undergo riddling and disgorgement to remove sediment. A change in batch number during an intermediate stage could make it hard to know the contents of a particular crate.
Honeywell and Acteos, a France-based supply chain software provider, designed a solution to manage the traceability of wire crates between disgorging and labelling, the last two stages of production. The system consists of handheld readers, fixed readers and encapsulated, moisture-resistant RFID tags.
Once a crate is filled, it passes in front of a fixed RFID portal that reads the tag's information. The information corresponds to the crate's identification number throughout production. Readers positioned along the production and conveying process capture the data and enter it into the traceability management system.
Crate traceability allows for defective batches to be identified so they are not sent back to the production process. The system identifies all defective batches. Since the crate can be associated with its contents, the batches can be secured. Should an operator make a routing error for a crate, the tag read will automatically alert the supply chain management system.
Mumm can automatically monitor stock movement in its enterprise resource planning system using the Acteos solution.
Hy-Vee Manages Complete Cold Chain
Hy-Vee, the Des Moines, Ia.-based supermarket chain, has used TempTRIP RFID temperature tags to deploy the first complete retail cold chain management system from perishable suppliers to their DC, then from the DCs to all 235–plus stores in the past two years. The TempTRIP tags on the packages record the time and temperature readings at set intervals throughout shipping and receiving. As deliveries enter the DCs, the tags pass RFID readers on dock doors where the data on the tag is uploaded to TempTRIP's cloud-based system. A result is displayed locally on the reader, and the tag is reset and ready for reuse on another shipment.
With data integration into the TempTRIP system, Hy-Vee evaluates temperature readings on a product-specific basis which allows Hy-Vee to provide feedback to drivers, carriers and suppliers. The data provides a complete temperature record throughout transport.
Phaedra Culjak, COO at Broomfield, Colo.-based TempTRIP, says the system has delivered a 20 percent savings over the data loggers Hy-Vee was previously using.
The more important benefit, Culjak says, is utilizing temperature and other data, along with business intelligence tools, predictive analysis and trends over time to provide ongoing improvements.
Real-Time Freshness And Temperature Readings
Oxnard, Calif.-based Infratab Inc. has developed RFID tags that can record freshness readings in addition to temperature readings. Terry Myers, CEO, says the company's Freshtime tags can monitor fluctuations of temperature and freshness during a transport. While Infratab has primarily targeted the produce industry, the company has been expanding into seafood, where the need to monitor freshness is even more important.
Monitoring shelf life of seafood is harder than produce since it is much harder to assess shelf life visually, Myers says.
Fishing boats haul in fish for several days at a time. The fish caught on the first day do not have the same shelf life as those caught on the last day. By placing RFID tags, the party receiving the delivery can know the shelf life of the fish by batch. A fish wholesaler might choose to sell the fish with the shortest shelf life to local customers.
Icicle Seafoods in Seattle, Wash. recently tested Infratab's Freshtime system to monitor salmon freshness and will be expanding the project to halibut. The biggest challenge has been tracing the condition of the fish from a land-based station, the first stop in the supply chain, says Brandii Holmdahl, Icicle Seafoods' quality operations manager. The RFID tag provides an accurate record of what temperature the fish has been exposed to and for how long. "We see the full impact of what happens when you leave fish at a certain temperature," she says. "By making it easier to measure it makes it more critical to respond to it."
The fishermen attach an RFID tag to one fish in a 900-pound batch of fish held in a tote. The batch consists of fish caught in the same haul The tag has information including where the fish was caught. From that point on, the Freshtime software will record what temperature the batch was at and for how long. The RFID tag holds information in a computer chip embedded in a label that wraps around the fish, secured to the fish by a rubber band.
Holmdahl says there are factors that can impact the temperature and freshness the fish travels at, such as the weather and the amount of ice in the truck or at the wholesale facility. This software gives Icicle Seafood a way to evaluate carriers' handling of the fish. "Freshness always varies," she says.
"This technology is at the forefront for developing tighter parameters to gauge those kind of characteristics," Holmdahl says.
Historically, fish wholesalers used sensory evaluation methods that were subjective.
Infratab sees a lot of promise for RFID freshness and temperature monitoring in shellfish. Oysters, clams and lobsters each have their own freshness requirements, Myers says.
Optimizing Lift Trucks In The Warehouse
RFID is also finding a use as a navigation tool for lift trucks in the warehouse.
The Jungheinrich Warehouse Navigation system allows lift trucks to identify aisle locations and distances in the warehouse, optimizing the lift truck's activity in the warehouse. RFID transponders positioned at specific locations communicate with the RFID reader/writer in the lift truck, enabling the lift truck to identify aisle locations and distances.
The navigation system can program the lift truck to reach specific pallet positions by selecting the most efficient combination of traveling and lifting.
The navigation system also integrates with WMS systems, allowing the system to send orders to a lift truck operator. The operator can then travel to the designated pallet position, where the operator can store or retrieve a pallet.
Customers can realize up to 25 percent productivity improvement in addition to reduced traveling and handling costs, improved order picking and stacking accuracy, says Perry Ardito, general manager of warehouse products at Mitsubishi Caterpillar Forklift America Inc. (MCFA).
Other benefits include improved operational flexibility, enhanced flexibility of warehouse layout, pinpointing the fastest route to a destination, and improved throughput, he adds.
RFID data loggers are placed inside a box can measure the temperature of the product and on the box for measuring ambient temperature. The data is available immediately at the delivery to be checked
on a mobile RFID reader and afterwards stored in the traceability systems.
All across the food supply chain, companies are scrambling to improve traceability. Be it the continuing product recalls, the pending food safety regulations, or the lawsuits that recalls and regulations sometimes encourage, supply chain players want better traceability. RFID has emerged as one of the most promising automatic identification technologies to meet the need for improved traceability.
How RFID Differs From Other Automatic ID Technologies
Unlike laser scanners and camera-based, omni-directional code readers, RFID does not use an integrated light to decode data encoded into a printed code pattern. Instead, RFID uses tags at the item level with an Electronic Product Code (EPC) containing product information and serialization data. The EPC is embedded in a tiny microchip attached to a small antenna and adhered to a paper tag.
Two-way RFID readers wirelessly transmit a high frequency or an ultra-high frequency (UHF) radio signal that encodes and decodes tag data. As it relies on radio frequency technology, RFID does not require direct line-of-sight or close proximity to read the tag's EPC. It can also identify multiple objects simultaneously in a single read almost instantaneously.
While RFID is not as prevalent as laser- and camera-based AIDC solutions, the technology enables retailers to improve the efficiency of receiving processes, increase inventory accuracy, enable real-time visibility, and monitor shrinkage more closely throughout their operations. In today's environment, based on existing infrastructure and technologies, hybrid systems, with both bar codes and RF tags exist, and the technologies complement one another.
The tagging of individual stock keeping units (SKUs) (in addition to the tagging of pallets and cases) as a complementary AIDC technology to laser scanners and camera-based image readers adds a layer of information encoded into the item in real time, according to a recent SICK white paper.
In a DC, automated data capture (which includes RFID, bar code scanning and voice picking) delivers similar efficiencies to processes beyond inventory tracking such as receiving, put-away, picking and shipping.
Source: SICK Inc.
For More Information:
Acteos, acteos.com
Barcoding Inc., barcodinginc.com
East Coast Warehouse & Distribution, eastcoastwarehouse.com
Honeywell, honeywellaidc.com
Infratab Inc., infratabinc
Material Handling Institute, mhi.org
Mitsubishi Caterpillar Forklift America Inc., mcfa.com
PINC Solutions, pincsolutions.com
Rehrig Pacific Co., rehrigpacific.com
SICK, sick.com/us
TempTRIP, temptrip.com
Companies in this article