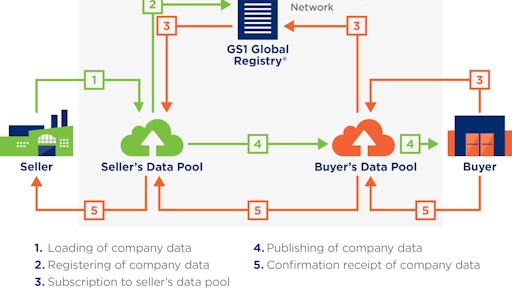 Today, meeting the demand for accurate and consistent information for consumers, trading partners and regulators is essential for success. Consumers are expecting to have complete and trustworthy product information available at their fingertips, trading partners are looking to enhance operational and supply chain efficiencies, and regulatory compliance now requires accurate, real-time traceability information from field to shelf.
Though these challenges can be daunting for large and complex organizations, the good news is that data synchronization provides a standardized way for food industry trading partners to ensure their product attributes are accurate, complete and up-to-date—and this continues to evolve with the needs of industry.
The Global Data Synchronization Network (GDSN) has been enabling trading partners to globally exchange product information in an automatic and efficient way for more than a decade. The GDSN is part of the GS1 System of Standards—the most widely-used supply chain standards in the world. The system enables a common language to identify, capture and share product information, ensuring better data quality and greater efficiencies.
With the GDSN, food manufacturers, distributors, retailers and operators have access to the same continuously refreshed data. The role of GDSN is to help ensure the most accurate product data is shared between trading partners in an efficient approach, and connects the physical flow of goods and services to the flow of information.
Currently, information such as package measurements, nutrients, ingredients, allergens and whether the food is gluten-free, Kosher, Halal, vegan or organic for 579,000 food items is synchronized in the network in the U.S., and the number of items continues to grow every day.
GDSN major release set for 2016
Since the early 2000s, food manufacturers and their trading partners have relied on the GDSN as a single source of reliable data. Beginning May 6, 2016, the GDSN will be restructured and streamlined to keep pace with today's business environment. The changes are termed a "Level 3 Major Release," which signifies a complete version change (from 2.8 to 3.1) and is non-backward compatible—users cannot use the previous version once the major release takes place.
The 3.1 release is designed to respond to market needs to support regulatory compliance requirements, provide product information for business-to-consumer purposes and increase speed-to-market capabilities. The change will severely impact the foodservice and retail grocery industries, as there are numerous enhancements planned for the manner in which food and beverage product information is shared. To name just a few changes, there will be product attribute deletions, some attributes will now be mandatory instead of optional, and there will be a restructuring of message formats.
So how can you prepare for these major enhancements and ensure your business is not impacted during the transition? Here are some helpful do's and don'ts from the our experts:
Don't wait. With less than a year to go until the transition takes place, there's not much time - for those in the data world that is bordering on the 11th hour. As the old adage goes "Prior planning prevents poor performance." Organizations can eliminate major hiccups and inconsistencies by knowing more about what's changing and why. GS1 US offers opportunities to learn more about the major release, including webinars and online learning tools. A complete listing is available at www.gs1us.org/gdsnmajorrelease.
Additionally, the GDSN team has already been busy preparing the various new standard documents associated with the major release. They are available on the GS1 website in a section outlining all GDSN v3.1 Major Release standards. Additionally, GDSN posts helpful information tools on an implementation-oriented website, which provides resources on the business value of the GDSN and how to manage the change. Watch for GDSN to release helpful information like this throughout the year ahead to facilitate a smooth transition for all trading partners.
Gather all stakeholders to develop an organization-wide plan. Professionals in the field of information technology, data management and data synchronization will most likely be at the forefront of the GDSN major release. However, it is beneficial for supply chain management, food safety and sales roles to be aware of the coming changes too. If it has not already been discussed internally, now is the time to formulate a plan to prepare for the transition based on your company's specific data needs.
Business processes internally and between trading partners may need to be changed prior to May 6, during the transition and after it is implemented. Beginning on May 6, 2016, GDSN will turn off the current version (2.8) and begin transitioning to the new version (3.1). During the transition time, the network will be inaccessible for an estimated five or six days. Business needs to continue as usual during the transition, so discuss with your trading partners now how you will exchange product data and handle new item setups during the transition.
Do set aside a budget. Determining a budget for the major release will vary by company, but standards experts estimate that the transition will cost a fraction of the initial costs experienced when the company first implemented GDSN. The budget should cover tasks such as data mapping, changes to the IT structure, changes to business processes for collecting data and other setup tasks in accordance with the new standards.
Don't do it alone. GS1-certified data pools are already preparing for the GDSN major release transition. Contact your representative or select a data pool now - companies will be affected in different ways based on their size or their current GDSN usage. They will have impact documents ready for your review and can delve into each of the changes to evaluate how far you have to go to be ready for the transition.
If you are just beginning to establish GDSN in your organization, a list of certified data pools is available on the GS1 website. Certified data pools comply with GS1 Standards. All of the data pools have been certified as capable to process GDSN v3.1 messages.
The GDSN major release will significantly change to the way data is shared throughout the entire food industry—and it is less than one year away. Ensure your organization understands and leverages the new features of GDSN v3.1 and take the necessary steps to prepare for a successful and seamless transition.
GS1 US Attribute Explorer Offers Standardized Attribute Definitions
A new GS1 US online tool will address industry demand for standardized product attribute definitions and help businesses better serve the information needs of their trading partners and customers. GS1 US Attribute Explorer, a centralized, web-based repository of more than 2,700 product attribute definitions and 3,600 code list values will enable industries to streamline the exchange of product data by providing one source for GS1 standardized terms.
GS1 US Attribute Explorer provides retailers, marketplaces, suppliers, brand owners, and manufacturers with access to standardized definitions for attributes such as brand, ingredients, allergens and other types of product information that have already been defined in the GS1 Global Data Dictionary and through GS1 US industry initiatives.
Users can view a list of standardized attributes or search attributes by name or description. They can also ascertain whether an attribute is defined in standards or industry guidelines, identify the attributes for a given product category, and determine which attributes are required by demand-side partners or government regulations. The attributes and code list values contained in the tool include Global Data Synchronization Network (GDSN) standards and more.
GS1 US Attribute Explorer is publicly available and has been supported by multiple industry stakeholders.

To simplify the creation and ongoing management of the underlying data model framework of Attribute Explorer, GS1 US has aligned with 1WorldSync. The two organizations will use the same foundational data model for their respective attribute management offerings, removing duplicative efforts and simplifying the continuous engagement of industry. GS1 US will continue to address standardization, harmonization and rationalization of attributes, in addition to liaising with the Global Standards Management Process (GSMP) with all industry partners.
As part of the ongoing development of GS1 US Attribute Explorer, GS1 US will collaborate with all industry partners and collect industry feedback to help identify any gaps in the information provided and potential opportunities to improve the tool. All users, including other data pools, are encouraged to provide feedback by contacting AEfeedback@gs1us.org.