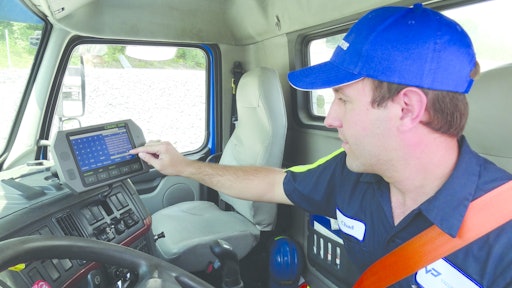 Fleet managers have a lot on their plate—a bevy of industry regulations, driver shortages, and budgets that are continually stretched to the maximum. When it comes to the foodservice side of the business, managing a fleet becomes even more complicated with refrigerated equipment, time- and temperature-sensitive product, and a less forgiving supply chain when exceptions occur.
Papa John's is the third-largest pizza take-out and delivery chain in the U.S., with roughly 2,600+ establishments domestically, which are served by 10 distribution centers operated by PJ Foodservice, the parent company of Papa John's. The demands on its fleet are among the toughest in the industry.
Delivering a perfect pie
Like many fleet managers, Eric Hartman, senior director of logistics for Papa John's, is faced with a number of federal transportation regulations that are in various stages of implementation. Not only are the regulations far-reaching in their impact on an organization, the constant changes and delays have made it incredibly difficult to plan and prepare for their inevitable implementation.
The federal Hours of Service (HOS) rule is one example. It's been amended several times and the latest version is scheduled to take effect on July 1, 2013. However, there's a good chance it will be delayed due to several challenges currently winding their way through the courts.
"Although we really don't know if the new HOS rule will take effect on July 1, the 34-hour restart change definitely has the potential to tighten capacity in the marketplace and drive up rates," says Hartman.
The change also threatens to make the driver shortage problem more acute. "We're looking at different strategies for dealing with the driver shortage," acknowledges Hartman. So too is the American Trucking Associations (ATA), which has proposed research on a graduated commercial driver's license as one way to help mitigate the shortage of drivers in the industry. The idea is to target potential drivers in the 18-25 year-old range who could undergo more extensive training and help fill the labor pool.
The Federal Motor Carrier Safety Administration's (FMCSA) Compliance, Safety, Accountability (CSA) program is another regulation that is being rolled out in phases. Although the trucking community, in general, supports the goal of CSA, there are some aspects that have come under fire. One of those is the lack of accountability when there is a crash.
There are also some challenges with how CSA classifies fleets, according to Hartman. "We're somewhat unique because in one respect we're an over the road carrier, yet we're also a very urban delivery carrier." The absence of a classification that accurately captures a fleet operation like Papa John's "puts us in a position of less strength when it comes to reporting and comparisons." Nonetheless, Hartman believes CSA is helping those in the industry "make more informed decisions regarding performance and safety, and that's a very good thing."
Papa John's is unique in other ways. Hartman suggests his fleet's drivers may have one of the hardest jobs in the transportation industry. "Not only are they driving, but they're unloading freight by hand and there are typically 10 to 15 stops on a route. It's physically demanding and it pulls the driver away from home for 36 to 40 hours at a time." The driving demands are equally rigorous. "Our drivers encounter very difficult parking situations in urban environments, like strip malls. Or, sometimes they're driving to truck stops out in the middle of Wyoming, for instance, and fighting severe weather. And that's the easy part, because once they get there, they're stocking and delivering with their hands and a handtruck anywhere from 100 to 400 pieces or cases of product. Then they're counting it for accuracy, because we may only go there two times a week. Afterwards, they're responsible for cleaning up after themselves as well."
It's a challenge to keep and maintain excellent drivers, concedes Hartman. "So we do our best to accommodate their personal needs while maintaining our business needs." Compensation packages are important, but there's more than just a paycheck in the mix. "We offer standard pay plus incentive pay and reward positive behavior, consistent attendance, a clean driving record, accuracy, and customer interaction, which all provide ways for our drivers to make more money. It lends itself to greater stability in our organization and helps with recruiting drivers."
On the equipment side, Papa John's fleet includes customized 48-food trailers designed with a sidegate. Although rental equipment is used on occasion, Papa John's keeps backup equipment at the distribution centers and maintains its tractors and trailers to assure its network is running smoothly. "If a liftgate on a truck breaks down in Salt Lake City, for instance, we have limited options. We may have to ask the driver to hand unload the contents of the truck to the ground then into the store, which increases the stop time at each location significantly."
Over the past five years, Papa John's has introduced a variety of software and technology tools into its operation, which ultimately results in every customer getting a perfect pizza pie.
In 2007, Papa John's began deploying Manhattan Associates' transportation management system (TMS). "We started with inbound, managing the carriers, load tenderings, electronic RFPs," recounts Hartman. "About the same time, we moved into centralized inventory and demand planning. Then in 2009, we deployed outbound TMS and dynamic routing. Today, we're rolling out Manhattan's Supply Chain Intelligence solution. The reason we took this approach is that Papa John's is a very disciplined organization. We adhere to a philosophy of 'crawl, walk, run.' And the final part—Supply Chain Intelligence—is allowing us to run."
Hartman describes Manhattan's fleet solutions as the "brains" of his operation, while the "eyes" are credited to Isotrak's telematics solutions. "Isotrack enhances our ability to see where our tractors are and make sure we're following routes sequentially and not making stops we shouldn't be making. Manhattan's fleet solutions are sort of behind the scenes allowing us to track all of this and ultimately put it into various reports. Providing visibility into both areas of our operation helps us to be a lot more proactive when issues arise at the distribution centers. It could be something as simple as a truck getting in late because of ice on the road, which means it may get out late the next morning. We can now call the customers and alert them to a delay, and also plan our labor better at the distribution center. These tools allow us to continue to drive efficiency and improvement throughout our operations in a number of areas."
He adds that, "A lot of folks talk about Big Data today. What we have now allows us to cull the Big Data quite easily and put it into a simple to understand format that becomes actionable data, which we can turn around and deliver to our distribution centers as well as to our corporate teams. It's a phenomenal place to be in and it's been really great."
Support from the IT side
The delays in getting federal rules rolled out impacts multiple parties in the supply chain, including the software and technology providers who are trying to manufacture equipment and code software that meets the yet to be determined requirements.
"The biggest issue is the uncertainty that this has created in the marketplace," says Owen Smith, senior vice president, product strategy, at Cadec. "It makes it hard for the fleet managers to prepare for something that may or may not happen, and it makes it hard on the software side too. For us, the question is, 'Do we code to a spec that may be implemented, or may be changed?' That same uncertainty affects us."
Like Papa John's Hartman, Smith believes the HOS rule will negatively impact the existing driver shortage problem. Furthermore, it could be felt more severely in certain parts of the country, he cautions. Cadec's solutions are designed to help fleet managers deal with the latest changes to the HOS rule, such as the restart provision, "by determining for them when the restarts are supposed to happen, and when a driver becomes 'legally' available," says Smith.
The FMCSA's rules regarding electronic onboard recorders (EOBR) are yet another example of a key piece of transportation legislation that continues to be delayed, Smith adds. The EOBR rule 395.16 missed a 2012 deadline, and now the FMCSA is looking to issue a proposed rule in March. It's likely that the agency will miss this self-imposed deadline too, however. In fact, some industry analysts estimate that a final EOBR rule may not be published until mid to late 2014, or even later.
That hasn't stopped proactive fleet managers and software and technology providers from moving the industry forward, though. "There's been a trend towards mobile devices rather than fixed screen displays," Smith explains. For starters, more drivers are carrying their own smartphones on the road, while more companies are issuing them to their employees. There's an opportunity to multipurpose the devices, he says, but there are obstacles. If a driver is not using a manual logbook, he must present a roadside inspector with a display device containing the log. This becomes a problem if the driver leaves the smartphone at his last stop, or drops and breaks it. The best scenario is to have a computer installed inside the cab that's always logging miles, eliminating the reliance on smartphones or other devices.
Other providers are adapting their solutions to the industry's ongoing move towards mobility. In January, Blue Tree Systems released a portable version of its R:COM in-cab terminal. The newest version is a one piece plug-and-play device that is temporarily mounted on the dash of a vehicle and plugged directly into the vehicle diagnostics. The permanently attached antenna makes it easy to install and transfer this version of the R:COM to other vehicles.
This latest product enhancement takes flexibility to a new level for the fleet manager. "Job management, turn-by-turn navigation and two-way communication with leased vehicles can now be conducted in exactly the same manner as it is with regular drivers/vehicles," states Mark Whitney, product development manager at Blue Tree Systems, in a press release. "Fleets keep the Portable system on hand for precisely these situations, ensuring that the addition of a last minute owner-operator or leased vehicle occurs seamlessly. Thanks to the R:COM In-Cab Portable device, adding drivers and vehicles at short notice is no longer a major communication and operational nightmare."
There are other improvements that providers are looking to make to their solutions in order to help drivers make decisions "hands free and in real time," says Cadec's Smith, who clarifies that "real time" itself differs when it comes to various software and technology providers and their offerings.
"Some products in the marketplace claim to deliver information in real time, when there's actually a 20 minute delay. With Cadec, 'real time' means real time. If there was an opportunity 20 minutes ago and you missed it, you don't get that opportunity back. So when it comes to software, what may have been good enough a few years ago is no longer the case. We're seeing fleets become more challenged because of fewer drivers in the pool, more compliance requirements, so you really need to increase that business intelligence to squeeze more dollars out of the supply chain," he says.
Shifting the data mining responsibility to the software and technology solutions and freeing up fleet managers' time to better concentrate on actionable parts of their job is the focus, Smith says. "That means the ability to be more efficient with their assets, both equipment and drivers, and doing it in real time to improve customer satisfaction and their overall operations."
When it comes to foodservice, Cadec aims to give companies a more complete view of the cold chain as they enhance their products and services in 2013. Historically, "we have focused on the in-transit piece of the supply chain—once a trailer is coupled to a tractor, we have custody of that temperature data until we deliver it to its destination. But, that's not really a 360-degree view of the cold chain," says Smith. "During the course of this year, we plan to build a true cold chain solution with partners that have the other pieces of that temperature data, such as the temperature of the product inbound to the warehouse, the temperature inside the warehouse, during staging, once it was loaded onto the trailer, et cetera, and marrying it up with what Cadec already has available. For the foodservice provider, it's about taking cold chain data from disparate databases, broadening it, and presenting it in one actionable control panel or dashboard."
In addition, Cadec is working on "coupling the telematics world with the mobility world for a seamless user perspective," Smith says. "Right now, if you look at the telematics market, people can use a telematics product that uses a mobile device display, and then you can buy software for the mobile device that does things like POD, scanning and so on."
Cadec has been a little different, explains Smith. About seven years ago, the company really began concentrating on a process that focused on creating one user interface. "We know that we can't be insular, and of course not everyone is going to want to buy our products, so again through partnership we want to bring that seamless environment where it all looks the same to the driver, it all acts the same, they're not going from one application to another application," says Smith. "Through the use of intelligent workflows, between ourselves and our partners, we'll bring a seamless user experience to the driver. So simplicity, productivity of the driver, seamless data integration on the backend, and a conversion of the technologies in the foodservice—conversion is a theme for us in 2013."
Indeed, mobility is increasingly on the minds of fleet managers, affirms Mike Mulqueen, senior director, product management at Manhattan Associates, especially as capabilities become more robust and price becomes more affordable.
"Low cost communications networks that offer really strong coverage are one example," says Mulqueen. "Before it was just satellite, but now cellular coverage is very good and the cost for data is fairly inexpensive." In addition, the mobile devices themselves have become more affordable and ruggedized. They can also be customized to provide pick-up and delivery applications, information on damages, and so on, which eliminate paperwork. "It's as simple as transmitting data back to the dispatcher and/or the enterprise," says Mulqueen. The addition of geographic information systems (GIS) and dynamic content to the fleet manager's toolbox is also delivering impressive results, Mulqueen points out.
Recently, one of Australia's biggest baking companies, Goodman Fielder, implemented a suite of planning, mapping, routing, scheduling and optimization solutions from MapMechanics. The suite includes a GIS solution, called GeoConcept, which the company used to optimize delivery routes for its driver/contractors.
"We wanted to make delivery routes more sustainable for our contractors—to ensure that they had an optimal mix of larger and smaller customers, and were using the right vehicle types. But, we simply didn't have the time or necessary information to make informed judgments. We needed the right tools to help us make strong commercial decisions," remarks Paul March, Goodman Fielder's national supply chain business analyst.
The company used GeoConcept to map traffic flows, rebalance territories and even out the distribution load among its contractors. Overall, the results have been a "quantum leap" in helping the company control costs, says March. "We've been able to optimize the number of trucks, we've reduced mileage and fuel costs, and we've provided more sustainable earnings for the independent contractors who do our deliveries, reinforcing their commitment to our business. Everybody wins."
A Solar Powered Alternative for Fleets
Diesel fuel is one of the major costs associated with fleet operations. Not only are the direct costs felt at the pump, the cost of complying with emissions regulations and no-idling laws along with diesel engine maintenance costs also add to the bottom line.
At the Food Marketing Institute (FMI) and Grocery Manufacturers Association (GMA) Joint Industry Supply Chain Conference in early February, Jeff Flath, president and CEO of eNow, Inc., joined Bryan Hansel, CEO of Smith Electric Vehicles and Mark Slover, business development manager of Clean Energy Fuels Corp., for a panel presentation on alternative energy for fleet vehicles.
eNow designs, manufactures and sells renewable energy management systems, which aggregate power from inputs such as solar, power from the grid, regenerative brake systems, exhaust recovery systems, and other potential recovery systems currently in development, like shock absorbers, CO2 recovery and wind, and from the alternator itself. eNow's systems manage how the power is produced, stored and used.
According to the company, "Unlike other diesel powered auxiliary units on the market eNow's systems are powered by the sun. Our systems do not use diesel fuel to operate, saving thousands of dollars per year in fuel and maintenance costs and reducing greenhouse gas (C02) dramatically." Furthermore, "eNow's proprietary technology (provisional patents pending) enables us to produce significantly more solar power than the current thin film solar products available. This technology allows us to produce clean renewable energy at a very affordable price to the transportation industry. In most cases, the payback periods are between one and a half to two years."
Companies in this article