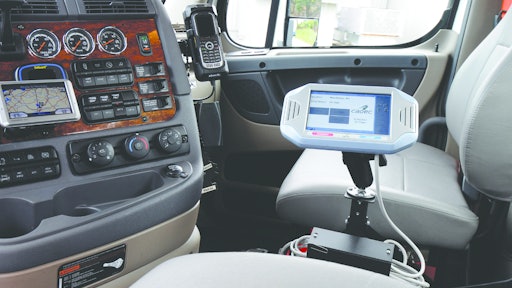 Telematics are playing a bigger role in managing various aspects of food and beverage fleets. At the same time, the proliferation of state and federal regulations are continuing to impact the transportation sector. For this reason, tools like telematics and electronic on-board recorders (EOBRs) are being used to help fleets and fleet operators stay compliant and manage their workload.
The impact of rules and regulations
The Moving Ahead for Progress in the 21st Century (MAP-21) legislation, which President Obama signed into law July 6, 2012, is one of the latest regulations driving the increased use of telematics and EOBRs in the transportation sector. MAP-21 now requires all commercial vehicles drivers involved in interstate commerce to report Hours-of-Service (HOS) via EOBRs.
Meanwhile, last year the Federal Motor Carrier Safety Administration (FMCSA) specified in the federal regulations (49 CFR 395.16) that in addition to the Hours-of-Service, every commercial driver must also record the name of the driver, duty status, date and time, location of their vehicle, distance traveled, and the USDOT number of the motor carrier. Not surprisingly, one of the biggest benefits of utilizing an EOBR is the elimination of paper logbooks and the ability to accurately capture a range of information.
"Companies certainly struggle with that," says Mark Sargent, director of solutions engineering of Aliso Viejo, California-based Telogis. Maintaining compliance with trucking regulations is "a huge administrative nightmare and companies have to sift through tremendous amounts of manually processed data—sometimes it's written, sometimes it has to be faxed in." Telematics tools "come into play and can automate that kind of information, so it makes that administration burden much simpler to get through," he states. Electronic logs also make the auditing process much easier.
Another regulation significantly affecting the transportation sector is the Comprehensive Safety Analysis (CSA) 2010, a program administered by the FMCSA designed to improve truck safety and reduce accidents by tracking and evaluating carriers.
CSA's Safety Measurement System (SMS) calculates the preceding two years of trucking violations and crash data, and determines a safety score. The information used to calculate a safety score includes crash reports, roadside inspection reports and violations discovered during interventions.
Jim Angel, product manager, safety and compliance solutions for Minnetonka, Minnesota-based PeopleNet, says about CSA: "I think it's one of the best systems that we've come up with as far as monitoring and rating carriers and their performance. But, there are still a few bugs in it and I think that's going to continue to drive telematics solutions as well."
In addition, FMCSA's 396.11 Driver Vehicle Inspection Report (DVIR) is a regulation that requires drivers to create a report on their vehicle's equipment, which goes hand in hand with the prior regulations that were mentioned.
Telogis provides drivers with a handy checklist they can use to simplify safety inspections and document them electronically when completed.
"We have Telogis Workforce, which is part of our Telogis Mobility Suite, and it's specifically designed to automate and electronically capture HOS as well as the DVIR piece," says Sargent.
When it comes to the impact of HOS, telematics tools can seamlessly manage a driver's drive time by automatically capturing that information. Recently, a driver's HOS has been reduced from 82 working hours to 70 hours in order to decrease excessively long work hours and lessen the risk of fatigue-related accidents. Utilizing a telematics system is not only helpful from a compliance perspective, but also when planning and scheduling drivers.
Staying ahead of the curve
Telematics tools have unique benefits for food and beverage fleets, particularly when it comes to optimizing fleet efficiency.
According to Owen Smith, senior vice president of sales and marketing for Manchester, New Hampshire-based Cadec, telematics solutions help drive shrinkage out of foodservice deliveries and ensures the safe delivery of perishable goods.
Cadec's TempTracker keeps track of the temperature from various locations within the trailer and visibly records the information onto the EOBR. Their system also warns the driver if the temperature goes above or below the set temperature range, allowing the driver to rectify the situation in a timely manner.
Another way Cadec is helping to increase visibility is with their PowerVue solution. PowerVue gives fleet managers and drivers visibility into elements such as transportation of goods, driver behavior and delivery information. In September, Cadec integrated its solution with TMS Systems' TMWSuite in order to increase efficiency and productivity.
"We designed PowerVue with integration in mind, to make it easier for our customers to select best-of-breed components and put together their dream system," states Pete Allen, CEO of Cadec, in a press release.
Cadec can also help reduce idling time and improve and streamline the delivery process with their DeliverTracker application, which can give customers a 50 percent improvement on the delivery process.
For its part, PeopleNet recently combined their Automated Workflow solution with McLeod's LoadMaster Enterprise to enhance visibility into the driver's route by monitoring their fuel stops.
Finally, Telogis Fleet solution combines various features to give a comprehensive look into a food or beverage company's fleet. It offers robust mapping software and advanced routing options along with over 50 automated reports on the vehicles and drivers.
"Companies are looking to take advantage of optimizing their route before the trucks even leave the depot," says Sargent. "We've got a plan versus actual report that compares optimized routes ahead of time with what the driver actually followed to get to each one of those delivery stops; we found that to be very successful in the food and beverage industries specifically."
Untapped opportunities
Although telematics offers many benefits and there has been a high level of early adoption, many smaller fleet operators haven't yet made the investment.
"They might have a five truck fleet and all the members of the family are driving trucks, but honestly it doesn't mean that they couldn't improve their operations," explains PeopleNet's Angel.
Furthermore, while telematics are a key compliance tool, they can also increase the value and sustainability aspect of a fleet significantly by reducing the depreciation on a vehicle.
"If we're doing better with fuel consumption by reducing idling time and we maintain these vehicles, you'll increase the sustainability of your entire fleet and it's going to be a measurable value as well," says Telogis' Sargent.
Lastly, another trend worth noting is how telematics are helping improve the overall experience for drivers. For example, PeopleNet is creating a more user-friendly system by moving away from a text-based menu system.
"We're moving to an application icon (interface) that can be used on a touch screen," says PeopleNet's Angel. The move towards an app-based interface is helping boost driver acceptance of the device, he adds.
Another development related to telematics is the convergence of transportation technologies that focus on the operational needs of the driver. For instance, capturing proof of delivery, barcode or signature information as well as temperature tracking can all be merged onto one platform.
Companies in this article