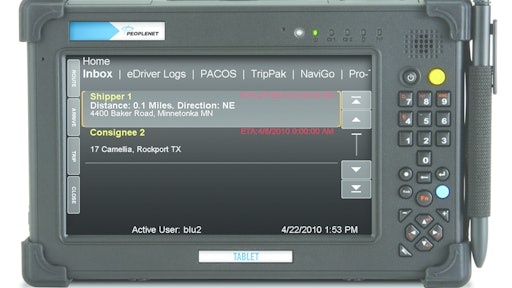 You might think of today's routing and onboard systems as ubiquitous CCTV systems that continually follow and monitor the movements of your fleet of drivers and trucks. When routing and dispatch systems integrate and communicate with onboard communications and computing systems, the real-time data collected can inform powerfully efficient business decisions that contribute significantly to the bottom line.
The availability of real-time data allows logistics managers to respond to any unexpected situation that otherwise would impede the execution of the most efficiently developed routing plan. Knowledge is power, so the adage goes. But the power of that knowledge can be achieved only if the data is acted upon immediately—and today's technology providers have the magic to make that happen.
Routing On Steroids
A mere five years ago, routing and onboard solutions were primarily discrete systems without the technological ability to communicate with each other, reports James Stevenson, vice president of Appian Logistics in Oklahoma City. "One of the biggest features our customers are pushing for now is to have these systems integrate and communicate with each other to provide enhanced visibility throughout the entire organization regarding the plan, which can be updated and revised continually based on what is actually happening on the route in real time."
Now companies can generate, in real time, highly granular KPIs and other metrics specific to their operations. Today's integrated systems can report things like fast starts, sudden braking, miles-per-gallon consumption, actual drive and stop times and unscheduled stops. Systems can customize reports by customer, by day of the week, and by examining how many times a logistics company is servicing a customer vs. how many times the company should be servicing that customer, reports Stevenson.
"We can show each stop, how many cases were delivered, and how long it took the driver to complete the delivery. We can also show the relationship between sales and service frequency and what the KPIs are for on-time delivery performance for a given customer—and what the cost is to serve any given customer."
At Roadnet Technologies Inc. (Formerly UPS Logistics Technologies), the focus is on how to help food logistics companies optimize their routes while increasing the bottom line, says Cyndi Brandt, vice president of marketing at the Baltimore-based company. "We do this by reducing the cost to deliver using our Roadnet daily routing tool that helps customers optimize their customer service levels while decreasing the total number of miles driven."
The company's latest product —MobileCast—is a complementary application to Roadnet. "MobileCast is our real-time dispatch and tracking solution using GPS that informs logistics managers where their driver is supposed to be and where he or she actually is located in real time," explains Brandt.
A routing plan is only as good as how closely it is monitored and acted upon in real time in order to achieve predetermined goals. "Your plan might have you running 1,000 miles a week," continues Brandt. "But if some of your drivers are making unscheduled stops, you might discover that only at the end of the year when you learn you actually ran 100,000 miles rather than the planned 52,000 miles. Our comprehensive suite of real-time reporting shows you the metrics in terms of what you are supposed to do versus what you actually did."
Roadnet also reports on location delivery cost. "I might be selling a customer $200 worth of product, with my gross profit of $50, but it's costing me $75 to deliver," says Brandt. "I might then want to examine this from a strategic standpoint, by using one of our strategic products in order to regroup some customers so they are all on the same route for a particular day."
Onboard Integration
Leading communications and computing packages easily integrate with key routing systems. These packages typically provide driver-friendly touch screens that display to the driver a list of required activities for a particular route. Drivers can also interact with the onboard system to input information based on the parameters of their respective companies.
"Companies we work with typically have already chosen a routing and dispatch provider for their route planning needs. But without an onboard system like ours, you are only halfway there," says Doug Frank, vice president of business development for Cadec Global Inc. in Manchester, NH. "The goal is to have companies go paperless so drivers don't have to spend a lot of time keeping track of their daily activities on various pieces of paper."
Cadec's PowerVue transportation management software platform is an SaaS model built on service-oriented architecture (SOA). "This product offers a flexible platform allowing our routing and dispatch partners to consume the services they require from us via the Web and SOA technology," says Frank.
One of the functions of PowerVue allows companies to feed information relative to how much time a driver spent at a particular location and why they might have spent more time than the original plan called for. "They can use that information to become much more efficient in their delivery process," Frank says. The program also provides Hours of Service compliance information.
PeopleNet works with leading routing systems providers to integrate its onboard system. Most routing solutions provide a plan to optimize things like how a truck should be loaded and routed, in what order stock should be taken, how long each stop should take, how long between one stop and the next, and how many miles are between those stops, explains Randy Boyles, vice president of tailored solutions for the Minnetonka, MN-based company.
While a routing system creates a plan for the most efficient delivery of goods, that plan only describes what should be done—but it does not record what actually is done, explains Boyles. "What we do is feed that routing plan into PeopleNet so our system can report what actually happened throughout the route. For instance, it's possible that some of the plan's original assumptions were incorrect relative to the actual real-world experience, so you have the opportunity to fine-tune your plan to achieve higher efficiencies."
Using its tailored workflow approach, PeopleNet can present the activities a driver must perform in a manner consistent with company-specific driver process.
Driver input into the onboard system—relative to activities performed or delays encountered – is transmitted to the routing system so comparisons can be made against the plan and actual activities. "The data can also be used to compare drivers against each other to identify the most efficient drivers in order to achieve fleet optimization that gets the most from your people and equipment," explains Boyles.
Driver Focus
TZA's software package, ProTrack Drivers, is designed to manage driver productivity, explains Andy Recard, director of labor management for the Long Grove, IL-based company. The solution interfaces with routing packages, onboard systems, and time and attendance systems. ProTrack synthesizes data from routing and onboard systems, giving transportation managers true, single-stop visibility relative to how their fleets and drivers are operating. "We can show drivers throughout the day how they are performing and how they are doing week-to-date," says Recard. "We can also provide management with detail and summary-level reports about performance, utilization, cost to serve and issues in the field."
TZA works with drivers and transportation management to define a standardized process for a route driver to deliver to customers. Then an engineered standard is developed through direct observation, while working with drivers en route as they deliver to customers, to determine the amount of time required to deliver, Recard explains. "Instead of using generic time-per-case or time-per-pallet at each stop, we can look very specifically at the order content and calculate a dynamic stop time. We send this information to the routing application so it can truly optimize the route."
Asset Utilization
TMW Systems has an asset utilization mindset and a financial performance design approach to optimal routing, explains Monica Truelsch, director of marketing for the Beachwood, OH-based company. "The food industry traditionally has very narrow margins. So we provide visibility into the various cost components such as administration, network operating expenses, and overhead involved in managing a fleet profitably."
Most food producers, grocery stores, and food packagers don't have the technology required to improve the overall cost control and efficiency of their operations, Truelsch says. "They are charged with fulfilling orders from the corporate ERP system and somewhere along the way they have to account for their expenses while trying to minimize costs. TMW has found a niche for fleets in the food industry to achieve efficient and cost-effective transportation operations and maximum asset utilization so they can operate profitably. So a specific tool like the TMW dispatch and operations software can help food companies track costs and identify cost-savings opportunities."
She emphasizes that it is critical to integrate the business activities of the fleet and the distribution process to look for new opportunities to increase productivity and reduce overall operating costs.
Companies in this article