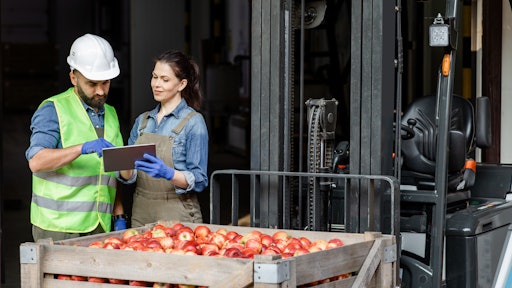 Prostock-studio AdobeStock_478730977
Over the years, the two problems impacting food and convenience distributors have been thin margins and customers unaware of their complete product catalog.
Take for example, when a customer spots dairy products on the truck meant for another customer. The customer's response is, "I didn't know you sold dairy."
This customer had been buying from that company for years.
When a customer buys a product from a distributor repeatedly, there's a high degree of inertia to continue buying from that same distributor. Most buyers have no set cadence for reevaluating which products they get from which distributors. The only things that can shake them out of that inertia to move to a different distributor are if:
1. The service is dramatically better (at a similar price), or
2. The price is dramatically better (at a similar level of service).
In a competitive market, it's hard to dramatically undercut an incumbent on price, especially when it comes to food products, where margins are already paper thin. Service level is really the only way a distributor can differentiate itself. When a distributor rep comes to their customer with a better price and/or better service for a particular product or category, it's a service to them because they probably wouldn't shop around without that rep being proactive.
From the above example, the rep realized he hadn't been proactive about bringing up dairy products. Not only had he never brought up dairy, but he also didn't even consider that dairy products were a need for this customer and that they were buying those products elsewhere.
Now, you might think this rep wasn't doing a good job. But is that the case? His behavior was representative of the average sales rep.
You may think, "our reps know everything about their customers." If that's the case, it may be wise to shadow them for a day.
Let's contrast this with a rep in the field armed with an artificial intelligence (AI)-powered mobile app that proactively showed him products customers should be buying (based on similar customers) but weren't. On one trip alone, the rep identified two customers purchasing products from a competitor because they didn't know his company carried them. He pointed this out and made a note to send them a quote. Both customers were happy to have the conversation and thanked the rep for bringing it up. Consolidating distributors was a service to them: fewer delivery trucks meant decreased delivery costs.
AI can give food distributors a boost
Food and convenience distribution is a complex business, and even the most talented sales rep can struggle to make up for the thin margins inherent in the industry. If you equip your reps with AI-powered software, however, you can simplify the job and set them up to succeed, improving the bottom line in the process. Here are four ways AI can help the food distribution business:
1. You can close wallet share gaps in a hurry.
Do you know which of your customers are underspending in specific categories? If you don't, AI-powered software can figure that out for you. Let's say, for instance, a customer buys much less bread than other similar customers. AI will flag the customer and surface a recommendation for the rep to talk to that customer.
Do you know which of your customers are underspending in specific categories?
AI finds similarities across the customer base that humans can't recognize. By analyzing all of a distributor's data, AI can underscore which customers should be purchasing products based on customers similar to who are buying them.
It eliminates the guesswork for a rep and puts them on a clearer path regarding what to talk to their customers about.
Some sales reps are hesitant to probe customers about an AI-recommended category, convinced it wouldn't be relevant to the customer. The result? The customer was surprised to learn the distributor sold that product category and was open to receiving a quote and considering switching.
After all, distributors' customers are happy to consolidate their purchases so they can lower delivery costs, reduce procurement costs and take advantage of volume discounts.
2. New reps can acclimate quickly, and veteran reps won't get burned out.
Well over half of supply chain leaders say that hiring and retaining talent is their biggest challenge right now. Sales reps are particularly challenging hires because there may be few candidates who are experts in a particular area of food and convenience distribution.
AI-powered sales software allows you to expand the scope of the search to include anyone with general sales talent or potential. It doesn't matter if they come from selling insurance, cleaning supplies, or propane and propane accessories. As long as they have a knack for service, all they have to do is take the AI's targeted sales recommendation and run with it. And current reps will appreciate having tedious tasks like following up on quotes automated for them.
Salespeople want to sell, and AI tools let them do just that. Instead of digging through Excel spreadsheets and reports to figure out who to sell to and which product to talk about, AI sales tools surface these details.
3. You'll find plenty of hidden sales opportunities.
The right AI-powered tool will notice when one of your customers starts slipping away. It's hard to see patterns in customers' buying habits as humans, but AI has no problem doing so. If a customer buys certain dairy products five times a month in the summer, three times a month in the spring and two times a month in the winter, a rep won't notice.
But AI will realize it right away and alert you when a customer breaks a pattern. You can proactively ask about it to understand if they've started using a competitor (and you can win them back). Maybe there's something happening on their end and they haven't noticed.
4. Your customer engagement will skyrocket.
If your field reps visit customers without a game plan, they miss an opportunity for meaningful engagement. Today's customers want more than a rep who shows up and takes their orders. They want a consultant who can help them grow their business, make strategic recommendations and know their business needs inside and out. And they'll only feel that way if your rep can offer personalized service.
AI-powered tools will help cut to the chase, avoiding broad, repetitive questions and zeroing in on their unique needs. They'll be able to make tailored product suggestions, stay on top of their customers' supply levels, and ultimately become consultants rather than mere order-takers. It all goes back to service: Customers appreciate being served more than being sold to.
Don't leave customers feeling hungry
When it comes to sales, service should be more than a snack; it should be an entire five-course meal. By adopting AI technology, your food and convenience distribution company can quickly earn loyal customers in a challenging market. Don't wait for them to spy a milk crate in your delivery truck to seize big sales opportunities.