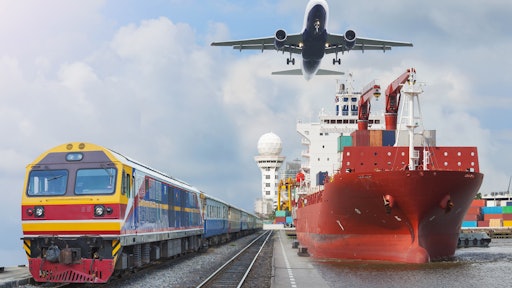 Sanit AdobeStock_328722787
While the pandemic wasn't the first instance that destabilized the supply chain, it certainly put supply chain volatility – shipping delays, jacked-up operational costs, inaccurate forecasting, and poor customer experience – on global display. In 2020 alone, worldwide supply chain disruptions triggered $4 trillion in lost revenue throughout the United States and Europe. Two years later, around 60% of business owners were still attributing significant revenue losses to supply chain issues.
Sea-Intelligence attests the maritime supply chain isn't any less prone to disruption. As recently as early June, unionized labor strikes effectively shut down ports in southern California – which alone account for 40% of U.S. containerized imports – and are now impacting Asian cargo flows to the entire West Coast.
Despite significant investment in visibility tools, many solutions have yet to alleviate shippers' pain points in meaningful ways. Rather, valuable time is still spent chasing false positives because visibility is only as good as the data that feeds it.
Stakeholders now need to focus their investment and resources on improving data quality and need to recognize the significance of vertical artificial intelligence (AI) solutions and exception management, an approach that focuses on acting specifically on what matters.
Still a way to go on data quality
A number of shippers describe an environment that is underwhelming, citing a lack of progress on historic pain points, notably, accurate container terminal milestones and poor insights into modal handoffs and transshipment points.
Inputting data manually is, of course, a task of gargantuan proportions. Therefore, stakeholders will need to embrace digital transformation efforts in order to make a significant dent in the quality of the data needed to dictate timely freight activities – upon which time collecting, updating, and sharing data will become far easier and more streamlined.
The more quality data available, the more reliable visibility a shipping operator will have.
Thankfully, helpful initiatives have begun taking shape. In March 2022, the Biden administration, alongside the Department of Transportation ramped up the Freight Logistics Optimization Works (FLOW) program tasked with helping the growing list of company participants pool and exchange anonymized supply and demand data to inject greater resiliency into the supply chain.
Once their data meets sufficient standards of quality and availability, organizations need to then leverage the appropriate technologies to filter the information and apply exception management accordingly, to get an accurate, real-time outlook of their shipments that pose legitimate risks.
Herein lies the inherent value of vertical AI.
Understanding vertical AI companies and general visibility providers
There's a crucial distinction between what vertical AI companies and general visibility providers can offer.
Vertical AI companies focus on providing specialized AI solutions tailored to specific industries, such as ocean freight. In contrast, general visibility providers offer broader visibility solutions across various industries. The distinction lies in the depth of industry expertise, domain-specific algorithms, and tailored functionalities that vertical AI companies bring to the table.
Vertical AI companies bring domain-specific expertise to exception management in ocean freight. They leverage AI algorithms to analyze vast amounts of data, including vessel movements, weather patterns, and historical records, to identify reasons for delay, minimize disruptions, and proactively address challenges unique to ocean freight. According to Index Ventures, vertical AI is the natural phase of evolution after vertical Software-as-a-Service (SaaS).
Specifically, vertical AI brings three major advantages:
The first is granular insights – deep insights breaking down the complexities of vessel behavior, port operations, and overall supply chain dynamics. With it, shipping operators are able to execute their logistics decisions optimally.
Second, vertical AI companies can develop domain-specific algorithms – those that consider factors like vessel behavior patterns, historical data, and industry-specific variables to enable highly accurate predictions and efficient exception handling. This allows operators to know the exact reason for a postponed arrival time such as a rollover, a transshipment delay, late departure, a short transshipment buffer, a misallocated vessel, or incorrect transit times provided by the carrier.
Tailored functionalities are the cherry on top. Designed to cater specifically to the needs of that industry, vertical AI solutions in ocean freight offer functionalities like real-time tracking of vessel positions, port congestion alerts, and automated delay reason analysis.
This is similarly applicable to the world of generative AI, where models are commoditized and proprietary data and vertical knowledge is key.
What are the benefits of exception management?
Simply put, it's the doing — the actions taken by companies to improve their supply chain operations, proactively address issues, and drive innovation — that ultimately delivers business value.
Exception management is a more focused and efficient approach to visibility that allows businesses to focus on shipments that are not meeting expectations. This can help businesses save money, improve on-time arrival rates and reduce the risk of disruptions.
There are several benefits of exception management in ocean freight as outlined by Gartner, including reduced costs by helping businesses identify and respond to potential problems early. This can help to prevent costly delays and disruptions. Exception management also improves delivery times by providing real-time visibility into shipments and automating workflows. Finally, it helps businesses gain increased visibility into their supply chains, helping them make better decisions and improve their overall performance.
Shipping out
It's clear now, in 2023, that visibility is a must. But it's also being hyper-commoditized and is becoming table stakes.
Both shippers and logistics service providers (LSPs) need to take a two-pronged approach: On one hand, push to create a more open ecosystem and push for better underlying data quality. On the other hand, organizations should adopt vertical AI solutions to automate and optimize exception management in order to get better and more predictable results.