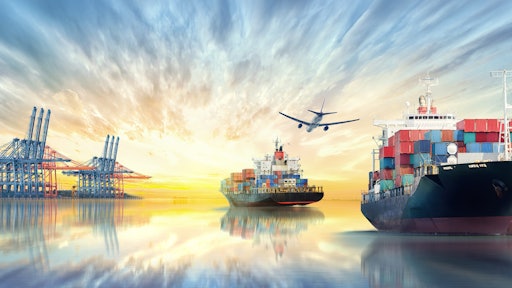 enanuchit - stock.adobe.com
People know and love South Florida for its sunny, warm weather. But, there's another side of to this story, one that local businesses are keenly aware of – the manifest threat of natural disaster.
With so many logistics firms based in South Florida, especially companies specializing in refrigerated foods, it begs the question: What is the formula for success in such a business environment?
Many in the industry will say a big part of the equation is proximity to the lucrative and growing markets of the Caribbean, the United States and beyond.
But, what truly counts is smart planning, the ability to adapt and the use of new technologies
Of course, Mother Nature doesn't account for all disasters. In addition to sustaining snowstorms, hurricanes and California fires, these three key survival tools also come to play in managing through manmade disasters. Civil and labor unrest, cyberattacks, piracy, utility failures, terrorism and other "critical events" are among the panoply of potential catastrophes that can take a stress a business to the breaking point if not managed right.
Smart planning
Using extreme weather as a model, each incident, large or small, provides a lesson for supply chains to be better prepared for the next. This includes scenario mapping, inventory tracking, and close collaboration with peers, customers, suppliers and vendors.
In the Florida market, the first step in preparing for the coming hurricane season is blow the dust off that old maxim that states, it's a question of when, not if. And, then get to work.
Constant monitoring of conditions and continual risk analysis become the basic tools in minimizing operational impact. There is no single rule of thumb to know the degree to which a critical event may or may not affect your operation, which is why preparation is key. But we do know is there is no margin for error on the cold supply food chain.
Adaptability
In the face of a storm, natural or otherwise, the right decisions have to be made – be it re-routing product in transit, slowing or halting the movement of cargo to and from seaports, or knowing when to hunker down and just ride it out.
A few months ago, a storm heading straight at South Florida showed all the telltale signs of becoming a major hurricane. In light of this, one steamship line decided the safest thing for them was to halt a sailing for several days.
Doing so saved $80,000 worth of perishable goods by moving it onto another steamship line that was sailing. By identifying the problem and finding a solution, customers were spared a major loss of product, and averted having to file insurance claims.
Successful third-party logistics providers (3PLs) are smart to know that when coupled together, forecasting and adaptability are key to maintaining solid relationships in the food industry, as well as the integrity of the cold supply chain.
Planning and resiliency also go hand in hand. So, as natural disasters and wildfires continue to grow both in frequency and intensity, it further underscores the necessity of having a well-conceived business resilience plan in place.
Now add worldwide pandemics to that list.
No matter the source of the disruption, unexpected shifts in supply and demand call for flexibility among all parties—producers, shippers, retailers and consumers. The Coronavirus disease (COVID-19) crisis has not only revealed major vulnerabilities in the worldwide food system, but its ripple effects have been felt across the entire chain, from farm to refrigerator.
By employing an impact analysis coupled with a comprehensive disaster recovery plan, companies can better respond to such disruptions – while at the same time have a better chance at maintaining continuous business operations and protecting product and assets.
At the end of the day – and the beginning of the day for that matter – it is always immensely important to have an expert logistics provider on your side offering consistently smart and creative solutions – not excuses.
Technology
Smarts come with experience. It also comes as a result of a logistics provider that is using the latest innovations in technology.
The wave of the future for industries across all business sectors is artificial intelligence (AI). Within the specialized food distribution arena, this is particularly exciting because of the role AI is going to play in preparing for natural and manmade disasters.
Again, in dealing with hurricanes, analysts today will look at "spaghetti models," those computer models that show potential tropical cyclone paths going back 10-20 years for historic outcomes on path and intensity. But, by putting AI to work on managing shipments through a hurricane zone, we expect to see exponential improvements in accuracy and reliably – giving us better insight into how we respond to impending disaster.
Even with the current level of technology, 3PL firms today use sophisticated software to closely monitor and document every step along the supply chain. This gives customers unprecedented access to what's happening to their product from pick-up to drop-off. It also serves to streamline, forecast and simplify the supply chain process for faster, uninterrupted service.
In addition, many companies and retailers are presently improving their competitive advantage by introducing "robo tasks" in warehousing, transportation and inventory management.
Down the road, automated driverless trucks will use AI to "think" of alternate routing options away from historically or potentially active trouble spots. With a full load of consumer goods in tow, trucks with AI capability will also be able to determine if a warehouse in a high-alert zone is no longer receiving at this time, or whether they should drive slower or unload at a different location.
As we progress toward this more automated world of AI, hopefully predictive information on natural disasters will help buyers, food distribution companies, and logistic vendors not just make delivery more intelligent, but help maintain the freshness of product across the entire cold supply chain and naturally help to support customer satisfaction.
Even during good times, strong relationships with a 3PL are vital in managing supply chain risks, costs and performance. These relationships become even more important when major unexpected disruptions threaten your business, profits and long-term success.
Partner with a smart and intuitive provider that can quickly adapt by using technology, experience and everyday smarts. These are the ingredients that will help you meet the challenges, natural and otherwise, of any storm that may come your way.