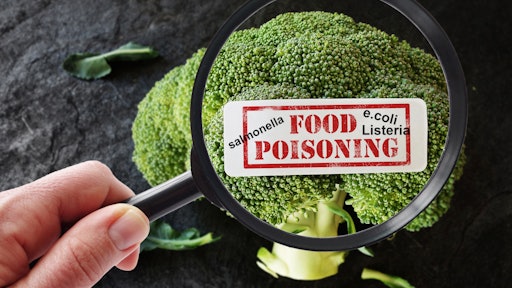 Getty Images
Mixed reality specialist, Luminous Group, has launched a new software which will drastically reduce food hygiene risk.
The first of its kind, traXR will help prevent outbreaks of pathogens in food manufacturing plants by using spatial mapping to identify high risk areas where dangerous bacteria, such as salmonella and listeria could be present.
TraXR, has the ability to combine multiple information sources, including areas where people work, airflows on the property, and previous risk assessments, with a digital map of the factory floor to determine high risk areas where pathogens are likely to develop.
This information is then presented in real time through a mixed reality headset, where the user can track and add information whilst walking the factory floor.
Ben Bennett, founder of Luminous Group, said: "We're delighted to bring TraXR to the market. Coming from a surveying background ourselves, we were able to combine our expertise in building mapping and cross reality technology to deliver a solution which provides invaluable data tracking and efficiencies.
"The technology can mitigate the risk of costly shut downs. It provides a clearer process in monitoring and tracking pathogens, allowing users to act quickly if a pathogen is identified but more importantly proactively and accurately preventing them from occurring.
"Our software will allow you to take all that information in as you walk around, capture swab locations and images and then create a risk assessment and digital audit trail of the process something that is mandated in many countries."
To commercialise traXR, Newcastle-based Luminous was successful in raising in excess of £400,000 which was secured from the North East Venture Fund, which is supported by the European Regional Development Fund and managed by Mercia Asset Management. The additional capital enabled the company to develop the product, bolster the management team, and make a number of critical new technical hires.
TraXR is currently being trialled at one of the world's biggest food manufacturers' sites and Luminous is planning to roll out the technology as a separate product which will be available to other food manufacturers in the summer.