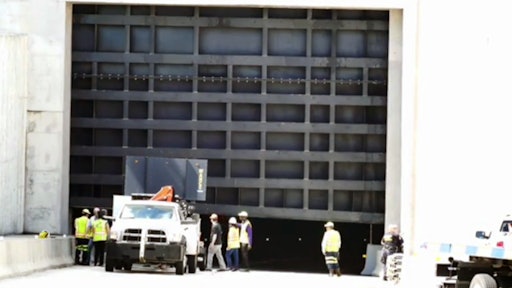 For the first time since it opened two years ago, the PortMiami Tunnel closed its watertight gates Wednesday afternoon as a precaution against a tidal flood from Hurricane Matthew.
The planned closure of the new underwater link between the MacArthur Causeway and PortMiami may be the most dramatic step yet for a county government preparing for a glancing blow from a fierce storm expected to directly threaten Florida cities north of the Miami area.
Jacksonville International Airport cancelled about 90 arrivals and 90 departures for Friday Friday flights, according to spokeswoman Debbie Jones as she told the Jacksonville Business Journal.
The ports of Jacksonville and Fernandina closed after a Coast Guard mandate, as of Thursday at 8 a.m. Jacksonville Port Authority terminals closed Thursday at 3 p.m.
Crowley Maritime Corp. is experiencing disruptions with its Puerto Rico service, according to a statement on its website. The port of Jacksonville operation was open until 2 p.m on Thursday. Its Port Everglades operations is closed to all inbound and outbound traffic.
Their offices are both closed Friday.
"Safety is Crowley's No. 1 core value and as such, we are taking all appropriate steps to ensure the safety of Crowley personnel, including our mariners, vessels and your cargo," said the company in its statement. "Vessels are being directed to either remain in port or take routes that would steer them clear of the storm."
South Carolina National Guard soldiers and airmen were activated Oct. 4 following the state of emergency declared by Gov. Nikki Haley. South Carolina had more than 1,900 Guard personnel on duty as of this morning, according to figures compiled by the National Guard Bureau.
Multiple sources were used for this story: The Miami Hareld; Jacksonville Business Journal; and the U.S. Department of Defense.