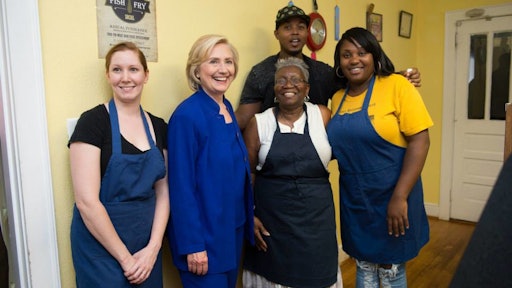 Hillary Clinton showed her most robust support yet for the national effort to raise pay for fast food workers, speaking by phone Sunday morning to more than 1,200 workers and organizers from the Fight For 15 movement gathered in Detroit, according to buzzfeed.com.
"We need you out there leading the fight against those who would rip away Americans' right to organize, to collective bargaining," she said over loudspeakers to a convention center ballroom filled with mostly African American cooks and cashiers.
Fast food workers traveled from across the country, mainly by bus, to the convention, now in its third year, according to organizers from the Service Employees International Union. SEIU President Mary Kay Henry said confidence among the movement was at an all-time high, given a string of recent victories Clinton also cited in her speech.
"We need more cities and states to follow the lead of Los Angeles, St. Louis and New York," Clinton said, referring to rulings by city legislatures to raise their local minimum wages to $15, and Governor Cuomo's convening of a wage board to raise the hourly minimum for fast food workers in New York state.
To read more, click HERE.