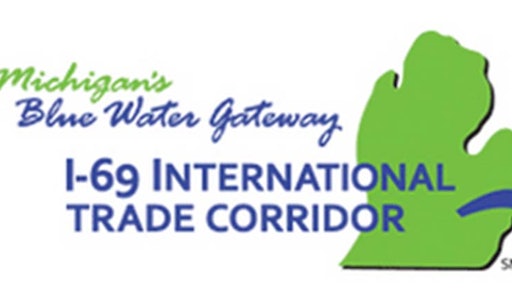 The I-69 Thumb Region's logistics and distribution market is growing rapidly according to a recent study by The Corradino Group. The Kentucky project management company researches areas of potential growth in public and private sectors. The results of a study conducted this year in partnership with the economic organization IHS Global Insight revealed that the I-69 Thumb Region's commodities traffic will see a 35 percent increase in tonnage and a 63 percent increase in the value of inbound and outbound freight by 2030. This indicates an increase in business transportation traffic valued at $48.2 billion.
Two-thirds of the total regional freight market is made up of commodities such as transportation equipment, food and farm products, consumer items for retail distribution and electrical equipment. An increase in the transportation of these goods will stimulate the growth of business logistics, specifically the warehousing and distribution of goods.
Concerning the results of their research, the CEO of The Corradino Group, Joe Corradino, stated, "The region's transportation network and the I-69 International Trade Corridor logistics strategy give the I-69 Thumb Region a competitive advantage. We now know where the growth is forecasted so we can use this data to help the region respond and grow their share of the market."
Current data show that the I-69 Thumb Region is in a prime geographic position to serve as a distribution hub for the entire state of Michigan, a large part of the province of Ontario, and major metropolitan areas in neighboring states. The I-69 Thumb Region is within a 5-hour freight travel time to a market that comprises 32 million residents, including cities such as Chicago, Toronto, Buffalo, Sault Ste. Marie, Cincinnati and Indianapolis.
Janice Karcher, vice president of economic development at the Flint & Genesee Chamber of Commerce is excited about the findings.
"This is great news as it's further evidence that the region is growing," said Karcher. "Increased freight tonnage coming through the region will prompt more growth in investment, square footage and most importantly, jobs."
The I-69 Thumb Region's infrastructure has the capacity to support the continued growth of distribution. It is home to major multi-modal sites and industrial parks, offering high quality and high value acreage and buildings. Options for distribution include:
Flint's Bishop International Airport
Access to major freeways. I-69, I-75, I-475, US-23 and I-94
The Blue Water Bridge, connecting Port Huron to Sarnia, Ontario, Canada with water ports nearby
Multiple rail providers, including CSX and Canadian National.
The area currently supports a population of over 860,000 residents and a labor force of more than 395,000. Nine percent of the state's population and over 8 percent of the state's workforce live in the region. A partnership between the economic development organizations from each of the region's seven counties provides a number of benefits through collaborative planning and implementation, and the Flint & Genesee Chamber of Commerce is taking a leadership role in planning and marketing.
Contact Janice Karcher at jkarcher@flintandgenesee.org for more information.