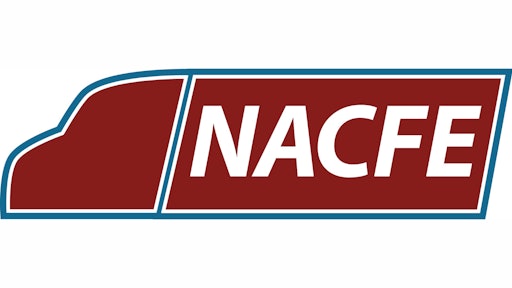 Fleets operating 41,000 tractors and 130,000 trailers achieved fuel savings of $7,200 per year per truck by adopting a variety of new technologies, according to a new study released by the North American Council for Freight Efficiency.
Since 2011 NACFE has conducted its Annual Fuel Efficiency Benchmark Study, a report of 10 of the largest most innovative fleets in terms of using products and practices to improve fuel efficiency. The studied fleets, which represent 2.5 percent of all the trucks on the road and include regional and long haul carriers who haul dry goods and refrigerated cargo.
The 2014 study revealed that the average purchased adoption rate of fuel-saving technologies has increased from 31 percent to 50 percent since 2003. As a result, these fleets are achieving 6.77 mpg on average, an 8 percent increase since 2011.
The study looks at 66 fuel efficiency technologies in six categories: idle reduction, chassis, practices, tires/wheels, tractor aerodynamics and trailer aerodynamics. Fleets that participated in the study shared their implementation experiences and best practices for using the various technologies. The study offers insights for other fleets considering adding these products or practices in the future.
Fleets are almost universally specifying aerodynamic tractors, bumpers and mirrors as well as setting engine parameters for fuel efficiency. Other technologies with high adoption rates include: full height roof air fairings, minimizing 5th wheel height, synthetic transmission oil, limiting speed and training drivers for fuel economy.
Technologies that are being used frequently by fleets include:
Tractor chassis skirts – partial 40 percent, up from 27 percent in 2012
Fixed 5th wheel with minimum gap 51 percent, up from 38 percent in 2012
Specified weight reduction on tractors 54 percent, up from 44 percent in 2012
Specified weight reduction on trailers 60 percent, up from 50 percent in 2012
Spec'ing dead axles 14 percent up from 10 percent, in 2012
Move to automated transmissions 20 percent, up from 0 percent in 2012
"The study is extremely valuable because it is based on technologies that are currently available and being used by fleets in their operations today. Real-world data shows that fleets are increasing their adoption rates of these technologies and seeing measurable improvements in fuel economy," says Mike Roeth, NACFE executive director.
He added, "These technologies present an enormous opportunity for improved freight efficiency since there are about 1.5 million tractor-trailers on the road in North America consuming 26 billion gallons of diesel fuel." For every 1 percent reduction in fuel use, 260 million gallons of fuel ($1 billion) per year are saved.
"While all these technologies have costs associated with them, the fleets we studied saw a payback in three years. We anticipate this payback will improve going forward as more fleets adopt these technologies. This should bring economies of scale to producing them and lower the initial purchase price," Roeth said.
For the full report go to www.nacfe.org.