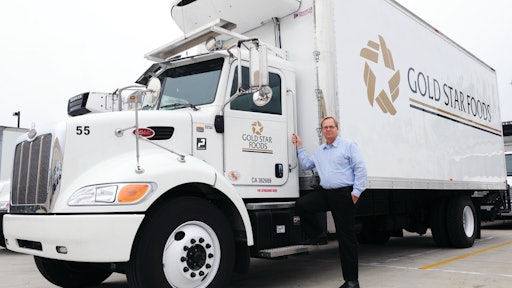 Two years ago, First Lady Michelle Obama launched the Let's Move campaign, a comprehensive effort focused on improving the health of the nation's children. One component of the campaign involves the meals that children receive at school. Considering that over 31 million children participate in the National School Lunch Program and another 11 million participate in the National School Breakfast Program, the effort to include more fresh fruit and vegetables in school children's meals is having a major impact on schools and their foodservice providers.
An A+ for Gold Star Foods
Gold Star Foods is a foodservice company whose clients include several of the country's largest school districts—Los Angeles Unified School District, and the state of Arizona's Mesa Public Schools.
"We've definitely gotten more involved with fresh fruits and vegetables because of this mandate," confirms Greg Johnson, CFO for Gold Star Foods. Although the Let's Move campaign is rolling out in phases, many school districts have begun adopting the guidelines relating to children's lunches before the requirements become mandatory.
Although most agree that the goal is laudable, the impact of the campaign is being felt throughout the supply chain.
Compared to restaurants, which typically have ample storage for large amounts of food, an average school cafeteria is often pressed for space, explains Johnson. "At one end of the spectrum are school districts that have all their meals prepared in a commissary type of situation, which are then distributed to individual schools. At the opposite end are schools that make everything on site. However, most schools fall somewhere in between these two models."
That means that many schools are highly reliant on their foodservice provider to deliver the food they need, when they need it. The addition of more perishable foods to the mix makes frequent deliveries even more necessary.
Not only are schools dependent upon a foodservice provider's transportation abilities, the accounting aspect is also very important, says Johnson.
"This particular business is very unique in the foodservice industry because school lunch programs are highly subsidized by the federal government," he says. For instance, each year the federal government provides commodity products, like cheese, to schools throughout the U.S., which can use it directly or divert it to a manufacturer, who will then use it in a food product, such as a cheese pizza.
According to Johnson, it can become very complicated to keep track of these commodities, and what's more, it's such a critical piece of information for schools.
"Obviously, the school districts are concerned about the accuracy of this information because it's their product, and if they don't get what they're entitled to they are losing money." In addition, some foodservice providers aren't able to offer an inventory tracking service to their customers, and for those that do, not all of them can do it as well as Gold Star Foods, says Johnson.
Managing costs has become an even bigger issue for school districts with the pending implementation of the Let's Move campaign, Johnson says, because the federal government is only partially funding the program. It's estimated that schools will have to pay about 26 cents more per meal to comply with the new guidelines, but the federal government is only kicking in about 6 cents of that additional cost.
"Schools are really getting pinched financially," Johnson emphasizes.
To better assist their school district customers with the new requirements, Gold Star Foods also invested in their own operations. For starters, the company built a new 117,000 square foot warehouse in Ontario, California, which it moved into last year. C&L Refrigeration designed and built the facility, which features a state-of-the-art refrigeration control system; ultra low-noise and energy efficient air units; and 100 percent steel piping to maximize reliability. The entire facility was also designed above the required California Title 24 Energy Efficiency Standards, which allowed Gold Star to qualify for a sizeable rebate incentive from their local utility company.
In addition, Gold Star Foods turned to PACCAR Leasing (PacLease), and its local PacLease franchise, Rush Truck Leasing, in Fontana, California, for new trucks to use in its delivery fleet.
"We decided to go with a third-party, full-service lease because we don't have the resources to maintain all the trucks and reefers," says Johnson. PacLease also helps with regulatory compliance issues, he adds, which have become particularly onerous in California.
While attractive lease terms were naturally important to Gold Star Foods, it was Rush Truck Leasing's unique approach to customer-oriented maintenance that helped convince the company's executives that PacLease was the right provider for the job.
"Rush Truck Leasing developed an on-site maintenance plan that would proactively keep downtime to a minimum," says Johnson. "They made specification recommendations that maximized our productivity. Plus, the service and lease sales teams really took a much more collaborative approach in developing a full-service leasing plan for our company. They took a much more entrepreneurial approach that wasn't just about the sale. It's that out-of-the-box thinking that clearly impressed us."
The important role a foodservice provider plays in supporting a school, even a university, is echoed by Betsy Corrigan, associate director, campus dining, for The University Corporation at California State University, Northridge (CSUN).
"We get fresh produce delivered five days a week," says Corrigan. With 23 operating locations on campus, from sit down restaurants with white table cloths to juice bars and coffee houses, each with their own back door, the delivery demands alone can put a foodservice company to the test.
US Foods is CSUN's primary foodservice provider, although other vendors are used as well, Corrigan says. And, while the ability to perform frequent and reliable deliveries is one key aspect, food safety is also high on the list, she says, noting that, "Risk management is very important on our campus."
In the case of a recall, US Foods has a very good process in place, which helps identify if a particular product was purchased and whether it is still in CSUN's inventory. The company also uses an email alert system to communicate with its customers, says Corrigan.
Meanwhile, rising food prices are quickly emerging as one of the biggest challenges, she points out, which puts pressure on both foodservice providers and schools to continually focus on efficient operations, especially with the addition of more fresh fruits and vegetables to the supply chain.
For Merrill Gardens, which operates 56 senior residence communities in 9 states, working with a quality foodservice provider that utilizes the latest technology is imperative, according to Geoff R. Davies, the company's vice president of dining services.
"We have partnered with Sysco for more than 10 years," says Davies. Sysco offers state-of-the-art facilities for storage and product movement, along with test kitchens that Merrill Gardens uses "on many an occasion," he says. In addition, Sysco's trucks are equipped with GPS, which allows Merrill Gardens' chefs to use the Sysco Market ordering platform to access delivery times. The trucks also have three compartments to accommodate dry, chilled, and frozen products. Routing software is also used to optimize the trucks' routes for better fuel efficiency.
When it comes to orders, Sysco is able to achieve 99.7 percent order accuracy, adds Davies.
Supporting the supply chain
For every successful foodservice provider, food manufacturer, or grocery chain, there's an equally impressive transportation, warehouse/distribution, and software and IT system in the background that makes it all possible.
And, when it comes to fresh fruits and vegetables, the objective is to take steps out of the supply chain in order to extend shelf life for the customer, says David Mader, principal solutions consultant for Manhattan Associates.
For example, in the case of a warehouse that's supplying a grocery chain, "from the time the product is ready for pick up until it reaches the store shelf, it could be anywhere from 10 to 14 days on average, and that's a long time, especially when we're talking about perishables," says Mader.
The question, of course, is "How can I cut days out of the supply chain?" he says. "The first step involves buying patterns. Typically, the product has been bought in bulk, like truckloads of bananas. However, there's a trend towards buying less quantities, but more frequently, maybe 4 or 5 times a week."
That requires changes in the transportation piece of the supply chain, which must not only handle more frequent deliveries, but make sure costs are kept in check along the way, he continues.
Next is the distribution part. "Ultimately, you're going to have to get product through your DC in a day or two; not receive it, put it away, and accumulate a six- or seven-day turn at your DC. That means you need to think about whether you're going to cross-dock it through a DC, or maybe use a regional DC to flow product through."
Given the advantages, particularly for perishable goods, the flow model is one that Mader says has been steadily getting more attention in the food and grocery sector. "We're definitely seeing a push this way. A lot more customers have been talking to us about this over the past 12 to 18 months," says Mader.
"If you can take a day or more out of inventory, reduce labor costs at the DC, and have more product available that also happens to be fresher, then you can free up a lot more working capital," he adds. The trick is to coordinate changes to the purchasing, transportation, and distribution functions so they happen simultaneously, which is why Manhattan Associates has remained focused on providing an integrated transportation/warehousing platform that makes the flow model possible, says Mader.
One solution that specifically addresses the needs of the food industry is Manhattan Associates' Total Cost to Serve software, which allows users to see how costs are incurred and allocated by item for each supply chain location, resulting in better sourcing, routing, and fulfillment decisions. Additionally, the software offers a unique predictive ability to estimate costs before purchase orders are approved.
Intelleflex, a provider of on-demand visibility solutions, is also concentrating on food safety and helping to maintain the integrity of perishable products.
"The number of recalls and the growing volume of imported food, combined with the requirements of the Food Safety Modernization Act, are causing the entire cold chain to rethink its approach to food safety," says Kevin Payne, senior director of marketing. "Intelleflex is finding that growers, distributors, and retailers alike are increasingly interested in using new technology to monitor and manage the condition of products throughout the cold chain and to improve track and trace capabilities. Pallet-level temperature monitoring can provide significant benefits by reducing spoilage and identifying at-risk products as they move from the grower to the retailer."
Better cold chain monitoring and management also goes straight to the bottom line. By some estimates, up to one-third of cold chain shipments do not sell at full value because of transportation and logistics inefficiencies.
According to Payne, "Growers, packers, shippers, and retail grocers face increasing costs due to lack of proper temperature controls throughout the cold chain and the resulting increase in shrink. This risk manifests itself in decreased margins and profitability, as well as increased costs for insurance and financing. By using on-demand temperature monitoring to reduce shrink and proactively prevent losses, cold chain companies can not only increase margins, but also potentially further reduce costs by reducing insurance risks and interest rates on financing."
In early April, Intelleflex introduced several new products to its portfolio. The CMR-6100 is described as "the first fully integrated cellular-enabled, GPS-equipped multi-protocol RFID reader with support for the ISO Class 3 battery assisted passive and EPCglobal C1G2 passive standards." Intelleflex also launched its ZEST Data Services, "a cloud-based repository for aggregating, warehousing, and sharing information across the supply chain, which also facilitates on-demand access to actionable data for improved supply chain operations to provide a complete picture of data spanning the entire supply chain."
For Cadec Global, a provider of enterprise-class fleet management solutions, the cold chain is one of the most important parts of the company's business, says CEO Jon Bernstein. The company has a history of providing tools that play an important role in the food supply chain, including electronic driver logs, which Cadec developed with FritoLay in the early 1980s. Today, "there are probably over one million trucks with on-board computers," says Bernstein.
While on-board computers are common, temperature tracking on trucks is much less ubiquitous, he notes. As more companies look to mitigate risk, though, temperature tracking is starting to become more popular.
"A lot of customers, whether they are a school system, restaurant franchise, or hospital, use private inspectors to monitor the cold chain. Often times, the transportation company is required to produce a report showing that proper temperatures were maintained during transit," says Bernstein.
With the on-board computer as the core of a truck's intelligence network, Cadec's next step is to "connect seamlessly back to the enterprise," Bernstein explains. "Many companies have large fleets with legacy trucks and they are looking for one system that can interact with all of their adjacent systems. They want a robust, open architecture, and ours is the newest and most open in the industry. Our product is also very configurable, which makes it easier to deliver tailored solutions to the customer."
Top Challenges Facing Temperature-Controlled Shippers
Shippers of temperature-controlled products are dealing with a host of issues, according to a recent survey conducted by RWI Transportation, an asset-based logistics company that provides regional and national truckload, LTL, expedited, and refrigerated warehousing services for refrigerated and dry products.
The top three, however, are capacity, maintaining appropriate temperatures, and rates, in that order.
Specifically, 41 percent of shipper respondents identified capacity as their top challenge, with 92 percent saying they are "impacted" by capacity and 37 percent rating the impact as "significant to extreme." Furthermore, 76 percent indicated that they experienced issues with lack of capacity during peak seasons.
"This is not surprising, since the truckload industry lost about 20 percent of its capacity since late 2006," notes RWI Transportation.
Others in the industry also place capacity at the top of their list of concerns. Vince Harcourt, sales director at Scotlynn USA, states: "U.S. economic growth, starting in late 2009 until now, has caused an increased demand for truck capacity. Decreased (Class 8) tractor sales, meanwhile, have created a shortage of available power. This factor can be attributed to banks tightening the availability of credit in the post-recession economy. A nationwide driver shortage has caused excess available equipment to sit idle. This trend will continue as the economy improves with more drivers leaving the industry for other career fields."
As if this weren't enough, "Diesel prices (a motor carrier's largest expense) are at their highest level since 2008," says Harcourt. "When we combine these factors together simple economics dictate why transportation costs are on the rise. Decreasing supply plus increasing demand equals higher prices and a lower quality of service."
When queried about the strategies to increase available capacity, shipper respondents to the RWI Transportation study suggested: Find new carriers (27 percent); Better planning (22 percent); Long-term contracts or commit to carriers (13 percent); and Use asset-based carriers/3PLs (6 percent).
Yet, "Carriers are not adding to their fleets," counters RWI Transportation. "Almost all new truck purchases are to replace old equipment." In fact, a study by Transport Capital Partners finds that only 3 percent of companies are planning to augment their fleets by 16 percent or more.
The second most pressing issue involves controlling and monitoring proper temperature. "The primary reason for rejecting shipments is for temperature variances that are too warm, as 42 percent of respondents indicate," states RWI Transportation. "Rejections for too cool of temperature variance was the third most given reason for rejecting shipments at 23 percent. That is a full 65 percent of respondents indicating they reject shipments due to temperature variances."
In addition, "The cost of not maintaining appropriate temperatures goes beyond the cost of the rejected product. There are a lot of hidden costs—including time checking the load, inspecting it to see if it's salvageable, moving it to inspect, and bringing it back. The biggest cost is the effect on the shipper's relationship with its customer, which could result in the shipper losing the account."
Rates were the third-ranked concern for shippers of temperature-controlled products, with 74 percent of respondents saying that fuel costs are having a significant impact on their organizations. Fuel costs fluctuated greatly in 2011, as RWI Transportation notes in the study, and it wouldn't be surprising if this year turned out the same.
Companies in this article