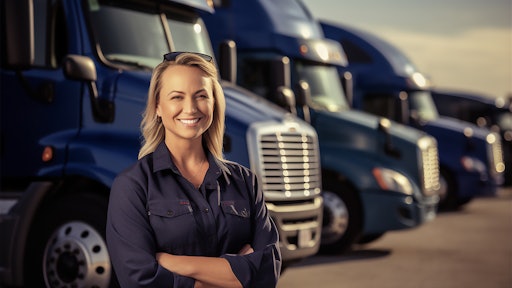 Jandrie Lombard AdobeStock_590727029
The 2023 Women in Trucking (WIT) Index survey found a substantial number of women in leadership roles. In fact, approximately 31.6% of women are in C-Suite/executive positions, 36.9% are in supervisory leadership roles, and 28.4% serve on boards of directors. In addition, the WIT Index found that among the participants 12.1% of all professional drivers are women.
A majority of respondents (51.8%) have for-hire fleets or private fleets as part of the organization's operations. Of those respondents representing organizations with fleet assets, 41% were reporting on behalf of motor carriers of various types (full truckload, less-than-truckload, refrigerated, flatbed, expedited and liquid) and 10.8% were reporting on behalf of manufacturers, retailers, distributors, and other company types with private fleets. Another 14.2% of respondents were reporting on behalf of intermediary companies, including third-party logistics companies, truck brokers, and intermodal marketing companies (IMCs).
From PR Web:
A significant number of respondents represent major companies involved in transportation with more than 10,000 employees (14.2% of respondents) or large companies with 1,000 to 4,999 employees (13.4% of respondents).
However, small and medium-sized companies also are well-represented in the 2023

WIT

Index. In fact, 23.1% have less than 50 employees and another 33.8% have 50 to 499 employees.
Want to help celebrate and honor those female leaders' achievements? Nominations for Food Logistics' and Supply & Demand Chain Executive's Women in Supply Chain award close July 14.