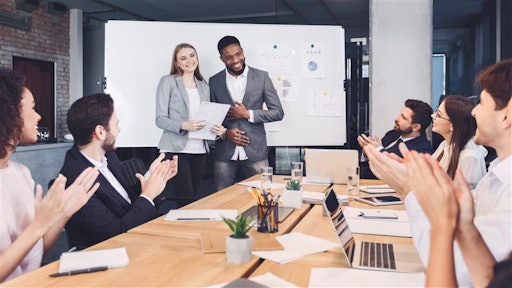 Prostock-studio - stock.adobe.com
With the labor shortage in the food industry as challenging as ever, implementing a successful diversity, equity and inclusion (DEI) initiative that prioritizes inclusivity and respectful communication is imperative for hiring and retaining team members. Study after study confirms the value of diverse and inclusive workplace cultures. LRN's recent Benchmark of Ethical Culture confirms that the most ethical companies outperform their peers by up to 40% in key business metrics, including employee loyalty, customer satisfaction, innovation and growth.
A company's DEI goals must align with the organization's stated values, which should be seen visibly on the company's website, reinforced frequently with messaging and demonstrated through leadership actions both internally and externally. Otherwise, DEI initiatives can be perceived by employees to be disingenuous. Still, obstacles may arise when developing effective DEI programs.
Looking to build a stronger, more encompassing DEI strategy? Here are five concrete considerations for your food logistics organization.
Promote employee awareness—it's paramount
Increasing employee awareness by celebrating diversity, supporting equitable systems and practicing inclusion are vital to a DEI program's success. Employees must also be encouraged to question their own internal biases and assess their own behavior for potential assumptions and microaggressions. This requires an intentional effort to train employees in this area and provide opportunities for additional dialogue. One-and-done style training programs are not sufficient if you're genuinely looking to build a culture of respect, fairness and belonging that permeates the organization.
If you are a logistics leader and are wondering where to start, here are a few considerations when examining the present state of your DEI training program:
● Is it easy to digest and understand?
● Is the content high quality?
● Does it reflect your company's values?
● Does it keep the conversation going?
● Are employees invited to share their personal experiences and speak up regarding misconduct?
Show them how it's done
Leaders need to lead by example. They are responsible for holding themselves accountable to DEI goals and making decisions consistent with core values. All too often, leaders neglect to support DEI initiatives on an ongoing basis with time, energy and resources, which can send the message to employees that these goals are unimportant. If leaders take the extra step to enforce their DEI initiatives, their teams will follow suit. Companies that successfully achieve their DEI goals will have leaders that actively engage in these efforts and create ongoing visibility for DEI initiatives.
Here are a few considerations when bolstering tone from the top:
● Have internal audiences been considered, including where and how they work?
● Have DEI goals been shared with the entire organization?
● Are DEI communications from senior leaders ongoing?
● Are leaders aware of and transparent about their own personal experiences related to bias, discrimination, and inequity?
● Are new experiences and opportunities presented to the organization supporting DEI goals?
Create a plan for organizational justice
Developing a strong sense of organizational justice is critical. Organizational justice is how standards of conduct are applied consistently throughout the organization, to all individuals (regardless of role or seniority) and employees have confidence in reporting and investigative processes. Companies must take a serious look at all organizational systems and structures to uncover biases and barriers.
This includes:
● Examining policies for bias and dated language
● Addressing language, technologies, and workplace design that limit accessibility and inclusion
● Avoiding double standards, or failure to lead by example, wherein high-ranking or high-performing individuals are given a pass for behavior not tolerated by others
Creating positive organizational justice perceptions starts at the very beginning of the employment relationship. In hiring candidates for logistics, ensure that touchpoints signal your core values and that interviewers themselves reflect the same diversity you're aiming to see in your organization. If potential hires don't see themselves represented in hiring committees or can't find evidence of values alignment, they may walk away.
Here are a few considerations when refining organizational justice:
● Are administrative systems, structures and language free of bias and inequity?
● Is everyone held to the same standards of conduct, regardless of their role or seniority?
● Do leaders pause to ask for feedback, provide employees with a chance to speak and listen to what people say?
● Do employees feel safe speaking up about misconduct or unethical behavior when it occurs?
Listen to feedback and learn from it
Companies claim they listen to their employees when they give feedback, but do they hear them? A great company will consider any criticism they receive from their employees, whether constructive or otherwise. It's worth asking your staff if your current DEI initiatives are proving useful. If not, it's time to rework them. But, if staff feel that they are heard, it helps. It will strengthen employee loyalty too because without your team, you have no company.
Here are a few considerations on what to look for when asking for feedback:
● Do employees feel that all voices are heard and represented?
● Is there a strong sense of inclusion and belonging?
● Was the initiative successful in elevating DEI in the organization?
● What else can we include as we build on our DEI initiative?
Track your progress and be accountable
How can you know if you are improving if you don't track progress? The most successful DEI programs will have clearly defined DEI goals and metrics in place to assess progress. Doing this will make it easier to assess which programs and activities work best for your company. It might take a few tries to develop the kind of program that will make a difference, but getting started is a significant step in the right direction.
Here are a few considerations for measuring DEI progress:
● Do we have clearly defined DEI goals and defined metrics for assessing progress?
● Do we know how our organization scores today in the area of DEI?
● Is there an established process for re-assessing our progress?
● Is DEI progress being shared with the broader organization?
Engaging team members with more holistic DEI initiatives can help across a variety of business metrics, as LRN research shows. Certain products may expire, but the relationship with your employees won't if you have a great DEI imitative in place.