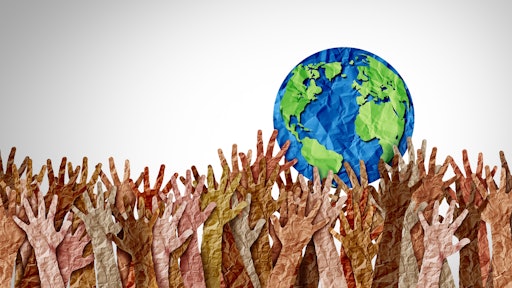 freshidea AdobeStock_412291509.
As if you need any reason at all to attend our upcoming Women in Supply Chain Forum, here are Top 5 reasons to help you get that registration going.
1. Grow. Learn. Connect.
The Women in Supply Chain Forum is a platform for female logistics leaders to connect in person to share ideas, their journey, their challenges and their opportunities and grow as a professional in the logistics space. And what better way to grow and learn than to do that in a room filled with like-minded individuals?!
2. You're a Past or Present Women in Supply Chain Winner.
Are you a winner of this year's Women in Supply Chain award? Or, are you a past winner? If you answered yes to one or both, then yes, you need to be in attendance. On Day 2, we'll be honoring all present and past Women in Supply Chain winners in a special ceremony, along with a few words from our overall winner, Lisa Morales-Hellebo, CEO and founder of REFASHIOND Ventures and REFASHIOND OS and co-founder of The Worldwide Supply Chain Federation.
And for those in the Food Logistics' audience, who haven't been able to participate in the Women in Supply Chain award, this Forum is for you too! It's open to all supply chain sectors.
3. You're Newer to the Industry and Want to Learn More.
What better way to learn more about the supply chain and logistics space then to sit in on educational sessions led by some of the industry's top female leaders.
Sarah Barnes-Humphrey, owner of Let's Talk Supply Chain podcast, will kick off the event with a discussion on the overall landscape of women in supply chain and logistics.
Ellen Voie, founder of Women in Trucking; Rebecca Brewster, president and COO of American Transportation Research Institute (ATRI); and Lindsey Trent, president and Co-Founder of Next Generation Trucking will come together to discuss how to alleviate the truck driver shortage.
Kathy Fulton, executive director, American Logistics Aid Network (ALAN), and Stephany Lapierre, CEO of Tealbook, will detail how to overcome today's supply chain disruptions.
And, Courtney Muller, president of Manifest and chief corporate development officer at Connectiv, will detail the ins and outs of women in workforce.
4. You're a Male Wanting to Support Your Female Counterparts
Guess what? We'd love to have you. Did you know that 75 men nominated their female counterparts in this year's Women in Supply Chain award? That's up from just 28 when we first launched this award in 2020.
So, yes, men, please join us. Please be a part of our conversation and continue to support each other.
5. Help Celebrate the Work That Women Do.
Last year, women comprised 41% of the supply chain workforce, up from 39% in 2020, according to Gartner, Inc., but only accounted for 15% of executive level roles, down from 17% in 2020. Women also make up 47% of the nation's workforce but only account for 6% of commercial truck drivers.
While the supply chain industry is excelling at incorporating more women in the supply chain, there's still more work to be done. But that doesn't mean we shouldn't celebrate the work done thus far.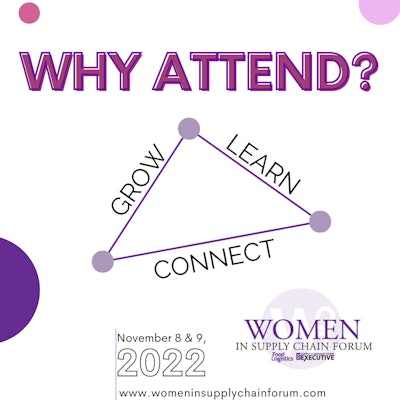 There's so many wonderful women, as panelists and as attendees, doing really spectacular things in their companies. Let's celebrate that… together!
Convinced? Hope so. Looking forward to seeing you in Atlanta Nov. 8-9. Register at https://www.womeninsupplychainforum.com/.