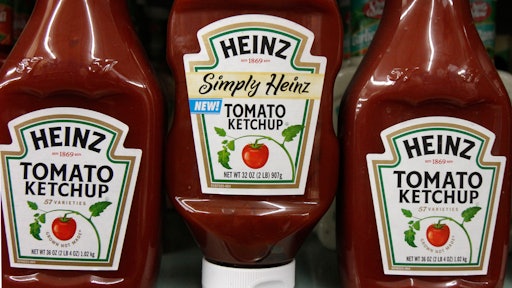 Pittsburgh: H.J. Heinz' first-quarter net income slipped 6 percent as it shuttered plants, but the company still topped Wall Street expectations thanks to sales in emerging markets.
The world's largest ketchup maker stuck to a 2012 adjusted earnings outlook that falls below Wall Street expectations and shares dipped 1 percent before the market opened Tuesday.
Heinz is streamlining operations to make manufacturing more efficient and digging deeper into emerging to boost sales.
Heinz earned $226.1 million, or 70 cents per share, for the period ended July 27. That's down from $240.4 million, or 75 cents per share, a year ago.
Removing costs from closing four factories as well as other initiatives, earnings were 78 cents per share.
That edged out the 76 cents per share expected by analysts polled by FactSet.
Revenue rose 15 percent to $2.85 billion from $2.48 billion thanks to the growth that Heinz saw in emerging markets, as well as acquisitions and better sales.
Wall Street forecast revenue of $2.79 billion.
The Pittsburgh company still does the bulk of its business domestically. But it has come to rely on its business in emerging markets like China, India, Russia and Brazil.
Emerging markets comprised 23 percent of the quarter's sales, up from 18 percent in the prior-year period.
"Our strategy to accelerate growth in emerging markets organically and through acquisitions in countries with fast-growing populations helped Heinz deliver strong top-line growth and solid operating results despite the economic downturn in developed markets," says president and CEO William Johnson.
Heinz acquired the Quero brand in Brazil in April and Chinese soy sauce maker Foodstar in November. The buyouts boosted quarterly sales by 4.6 percent.
Revenue was also driven by strong sales of some top brands, such as T.G.I. Friday's frozen meals and Classico pasta sauces in North America and its namesake products worldwide. Sales of Complan nutritional beverages did well in India, while ABC brand sauces showed strength in Indonesia.
Higher prices mostly in the US, U.K. and Latin America drove organic sales up 3.1 percent, despite increased commodity costs. Volume dipped 0.7 percent, with strength in emerging markets, the U.K., Canada, Japan and Europe offset by weakness in Australia and the US.
In May Heinz said it was raising prices and cutting jobs to boost profit. The company plans to shed up to 1,000 jobs globally in fiscal 2012.
Heinz still expects fiscal 2012 earnings of $3.24 to $3.32 per share. The guidance does not include one-time costs related to plant closings, job cuts improving operations.
Analysts expect earnings of $3.35 per share for the fiscal year.
Heinz said sales should rise between 7 and 8 percent on a constant currency basis.
For the second quarter, Heinz anticipates earnings will be flat or slightly higher than its earnings of 78 cents per share in the year-ago period.
Analysts forecast quarterly earnings of 85 cents per share.
Shares fell 54 cents to $51.51 in electronic trading Tuesday.