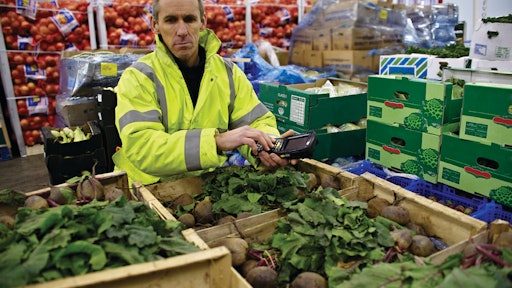 Mobile computing in the supply chain can extend from the port and marine terminals all the way to the storefront and everywhere in between, including the warehouse and distribution center. The never-ending need for timely information to respond to customer and internal demands has made mobile computing a requisite tool for companies who compete on supply chain excellence.
Getting more mobile
The rapid rate at which technology continues to advance combined with business drivers such as e-commerce and its impact on fulfillment are pushing companies to become more mobile, acknowledges Mike Wills, vice president of North America sales for Psion.
"Anybody who wants to be a scale-based competitor in the food and beverage distribution sector has already made some level of investment in automating their drivers, their delivery teams, and their distribution nodes at least with the first generation of technology. For tier one players, especially the large snack food and beverage companies with global brands, these companies are on their second and third generation of mobile computing technology."
Some of the functions include proof of delivery and inventory reconciliation, "many of which are executed with screen-based apps, especially proof of delivery where you have the driver or delivery team scanning in and out, performing on-site reconciliation, and managing inventory that may be returning due to a back-haul type of scenario," he explains.
"The devices allow the driver to capture the signature, or in essence the proof of title transfer, right there on the spot. The newest generation of devices also includes cameras, which makes it possible for near-immediate reconciliation of damaged inventory. Unlike before, dealers, distributors, and customers don't have to wait for long periods of time for claims and reconciliations to work their way through the invoicing process," says Wills.
Cash (collection) is king
Undoubtedly, "shortening the cycle from delivery working capital to cash collection is key; that's a huge business driver," says Wills.
"Not that long ago, when companies were operating in a paper-based environment, they went for days and even weeks from reconciliation of inventory transfer to the start of the billing cycle. Then with the first generation of devices, they used batch terminals, where the drivers were scanning the inventory that was transferring and they would literally have to wait until the end of the shift when they got back to the warehouse to download the data. That meant companies were waiting an entire business day or more, but today they're down to minutes. The reduced billing cycle has translated to lower DSOs (days sales outstanding), and it costs companies a lot less from an interest carrying expense to operate this way," says Wills.
Out in the cold
Not only are the latest generation of devices impacting the business processes of companies, they devices themselves are venturing into more extreme environments. For food and beverage companies, that typically means cold storage facilities.
Cold air, frost, and condensation are the challenges to mobile computing devices in the cold storage environment, and not all equipment can perform under these conditions.
Not only that, but workers are usually wearing gloves, which obviously limits dexterity on a keyboard or keypad, explains Steven Lane, Americas Marcom Leader, Honeywell Scanning & Mobility (which recently acquired LXE).
Simply moving a device back and forth between freezing and ambient temperatures is stressful on the equipment, even if it's ruggedized. The LCD screens can fog up, battery life is diminished, and processors may not perform properly.
While standard handheld devices themselves are compromised in a cold environment, the wireless infrastructures too are affected in this setting, Lane adds.
According to LXE's publication, The Cold Hard Facts About Using Mobile Computers in Cold Storage Environments, industrial communication technologies such as Bluetooth and IEEE 802.11-standard wireless networks can be used in cold storage and freezer environments. However, some adjustments may be required to wireless LANs to ensure consistent, quality performance.
Furthermore, access points often need to be installed directly in refrigerated or frozen storage areas to provide coverage there, because thick walls and insulation can block signals from access points outside the cold zone.
The multipath effect is also a real concern for any insulated, cold, or damp environment, especially in cold storage facilities where all of these conditions exist. There are specialized antennas that can be used with common access points to correct for the multipath effect, according to LXE. These types of antennas are highly advantageous for providing wireless LAN connectivity to mobile computers used in cold storage environments.
Adapting to new business drivers
Several important business drivers are shaping the future development of the mobile computing segment. Specifically, they include increased compliance and regulatory requirements, as well as a new generation of technology.
In the food and beverage sector, the compliance and regulatory issues are largely focused on tracking and tracing in the food supply chain, says Lane, and it's opening up new opportunities for mobile technology.
For instance, the Produce Traceability Initiative (PTI) is helping promote standardized traceability across the industry by using GS1 product identification standards. The aim of the voluntary industry association, whose members include grocers, transportation providers, and technology companies, is "supply chain-wide adoption of electronic traceability for every case of produce by the year 2012."
Simply put, mobile technology will make it possible for case level tracking from the farm to the grocers' shelves. It will help companies respond more quickly and accurately to recalls and product withdrawals and will enable real-time access to data from virtually any location.
For Psion, the future means modularity. According to Wills, the customer wants to protect their investment in mobile technology, especially because the devices are built to easily survive harsh environments for 6 to 8 years.
"The customer knows that he will be faced with changing regulations and new technologies over this same period, so they want to avoid a complete, wholesale 'rip and replace' that up until now has been the practice in the industry," says Wills.
"Psion's approach is that we're going to give the customer options—a base device with all the capabilities, but a modular one that will be able to be manipulated to adapt to new demands."
The Omnii was introduced earlier this year as part of Psion's move towards modularity. The device can be flexibly configured for a wide variety of users, uses, and environments. It allows customers to buy what they need today with built-in flexibility to add as they go, which also removes the risk of obsolescence.
Wills adds that the modularity approach will be rolled out to Psion's other product lines, including their vehicle mount terminal line.
"When companies 'rip and replace' with these types of products, it becomes very expensive. But, that's avoidable now."