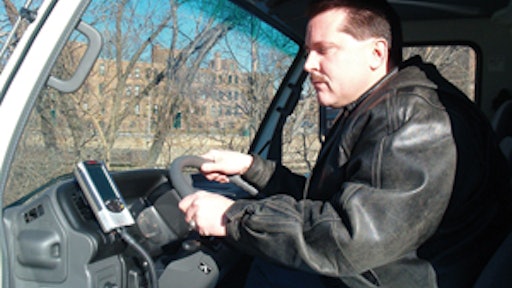 There's probably no product more perishable than fish. Routing and scheduling deliveries to restaurants and groceries presents obvious time-critical challenges, especially when you are delivering perishable items like fresh seafood.
When Morey's Seafood International implemented ESRI's ArcLogistics Route, it decreased its delivery fleet by 18 percent while increasing orders per route by 30 percent. It also decreased its fleet miles traveled by 11 percent.
The program was implemented and supported by Truck Dispatching Innovations. Other providers offer similar software programs providing efficiencies and savings at costs that continue to become more affordable.
With so many options on the market, what should companies ask themselves and their potential providers before making a decision? "What is most critical is making sure you have a routing engine that takes into consideration truck-specific route information because there are only three companies who have really figured out how to do truck routes that include things like weight and length restrictions, and HAZMAT restrictions," suggests Brian McLaughlin, vice president, marketing and product planning at PeopleNet, Chaska, MN.
Ask how data will be delivered across your supply chain and to your driver. "Also ask what types of existing and emerging content is being provided to enhance the routes," continues McLaughlin. "There are many new databases out there delivering weather, construction and traffic updates. All of these real-time variables are critical in determining if a truck should be re-routed."
Also ask how often and how routes are updated, McLaughlin suggests. "There are millions of roads throughout the U.S. and Canada, so ask if the updates are done manually or through a network of people who provide input."
Current technologies are continually be-ing upgraded in scheduling, routing and mapping. Most software providers report clients can expect a return on their investment in just a few months.
Get ready for sprouting technology trends to hit the limelight in 2007, says Ed Siciliano, vice president of sales and marketing for ALK Technologies in Princeton, NJ. "More mass adoption is happening than ever before."
One of these technologies is GPS navigation, which helps companies eliminate expensive out-of-route miles. Beyond financial consideration are the benefits technologies bring to truck operators.
"Today's technologies like turn-by-turn navigation really enhance the driver's experience and satisfaction, which can reduce driver turnover due to high-stress situations," continues Siciliano.
Some software providers specialize in scheduling and routing optimization, while others focus on providing maps with truck-specific information, such as real-time navigational issues like weather conditions, traffic volume and accidents, road and physical restrictions (like low bridges), and HAZMAT restrictions. These function-specific software programs interface with each other, creating the most dynamic and efficient solutions in scheduling and routing available for fleet managers today.
With all the options available on the market, how do companies even begin to understand what their requirements are? "The most critical element is to make sure the solution you choose really matches your needs, because different requirements often require different algorithms to achieve the most efficient solution," advises Terry Bills, transportation industry manager for ESRI in Redlands, CA.
Optimizing Routing, Mapping
ESRI incorporates real-time weather updates into its online, Web-based offerings ––as well as into several of its business partners' solutions. "Companies have the ability to re-route trucks when weather is bad in order to avoid those conditions," Bills says. Another feature the company offers is GIS (geographic information systems) technology, which tracks the location of each truck and the number of miles traveled within each state.
Bills notes: "Increasingly, companies are using GIS for their tariff calculations because trucks have to pay taxes on the number of miles they travel in each state. This can be factored into your routing program so you have multi-criteria routing possibilities." Local restrictions in various jurisdictions can also be factored into route optimization programs.
When planning routes and deliveries in urban areas, time of day and traffic patterns on particular roadways during those times play a significant role, continues Bills. "We are moving in this area, which is one of the more interesting trends for dynamic routing and scheduling. We are completing a project taking these elements into consideration in order to display real-time travel speeds as well as incident data for re-routing."
Another option is geo-fencing. "This provides your driver with the route you want them to follow, with a mileage buffer around that route. If the vehicle deviates from that predetermined route and crosses the geo-fence, an alarm is sent to headquarters," explains Bills. This assures the driver's security as well as that of the vehicle since it can be tracked in the event of theft. "Trucking companies want to know about these situations––especially if the route passes near high-crime areas."
Providers are responding to the demand for truck-specific routing. For example, PC*Miler is ALK Technologies' branded digital truck-specific map, used by 21,000 customers including carriers, shippers and 3PLs. With over 21 years on the market, PC*Miler is considered an industry standard, says Siciliano, adding PC*Miler Web Services is now available via the Internet.
"We include things like weight restrictions, 53-foot routing, low bridge locations and HAZMAT routing. If you don't have this information and route your truck the wrong way, your truck could wind up with its top ripped off from trying to drive under a low bridge," he says. ALK will release PC*Miler Version 21 in April.
PC*Miler is now available with toll information. "Not a trivial undertaking," notes Siciliano. "We had to contact each of the 37 toll authorities in the country, and then we had to find every toll road and every toll barrier (over 1,000). We applied the toll barriers to our map, showing both latitude and longitude." The company then had to calculate every permutation and every possible on/off ramp (14,000) a truck could take, which equates to different toll amounts. "Then we approached all 16 discount authorities like E-Z Pass to calculate the applicable discount." Comparable fuel prices are also displayed on truckers' in-cab screens.
ALK's new CoPilot Truck provides PC*Miler's capabilities in addition to GPS navigation and route guidance technology. "This is the most explosive technology we offer," says Siciliano. "CoPilot runs on a PC, handheld computer, or cell phone, giving drivers truck-sensitive turn-by-turn instructions." The driver has a map to refer to, as well as vocal prompts reporting distance to the next turn. Last year ALK enjoyed 1200 percent growth on this product alone.
High-Tech Windshields
PeopleNet's primary product is People-Net g3. "We interface with route developers, capturing and presenting that data in text-based directions to the driver in the cab," explains McLaughlin.
"In the near future we will do the same through in-cab navigation capabilities that will present the route you're supposed to be following with turn-by-turn directions."
This will be done on a handheld computer or on an enhanced in-cab map display. "Our patented over-the-air programming allows us to update onboard software remotely, without taking trucks off the road."
Data transfer is accomplished within an onboard computer with a screen or other interface, using high-speed/high-bandwidth networks. "Companies know exactly where their driver is and where he is supposed to be according to the route plan," says McLaughlin. "We also provide geo-fencing so the back office knows when a driver is off-route or behind schedule. Clients can provide real-time updates across their supply chain, including the driver, the shipper and the consignee."
In-cab navigation is hitting critical mass, notes McLaughlin. "The time is right now regarding price points. A key enabler is wireless technology, which offers cost-effective delivery of lots of data." Although all systems use satellite-GPS for location tracking, wireless bandwidths with terrestrial networks allow heavy loads of data to communicate more efficiently.
For medium to large fleets, companies can expect annual savings to range from hundreds of thousands to million of dollars using PeopleNet's hardware, reports McLaughlin. "This includes eliminating expensive out-of-route miles and associated driver overtime. Out-of-route miles are reduced by an average of 10 percent, which means savings in fuel as well. When drivers have the right tools in their cabs, they feel better about their jobs, contributing significantly to driver satisfaction and retention."
TruckStops is the routing and scheduling optimization software program developed by MicroAnalytics in Arlington, VA. "We receive requests for GPS functionality as well," says Dan Buttarazzi, director of marketing. "Customers can now take their route information created by TruckStops and send it to a handheld GPS unit. Another trend is tracking drivers through XATA GPS or even cell phones with built-in GPS."
Interfacing with PC*Miler from ALK, TruckStops develops a sequence of routes, including the locations of truck stops, tolls, and gas stations. "Once our clients determine the best sequence of routes and stops through our interface with PC*Miler, they get their turn-by-turn directions, critical information such as where are low bridges and truck-restricted roads," Buttarazzi says.
TruckStops software is installed on office PCs, as well as local and wide-area networks. "That information, interfacing with PC*Miler, will provide fleet operations managers with a printout they can hand to their drivers," Buttarazzi says.
This means calculating what is being delivered to each stop, truck capacity and time required to unload. TruckStops calculates a scheduling and routing solution in a matter of minutes. "So time saved in developing routes is significant," says Buttarazzi. "In terms of customer service, it's invaluable. TruckStops allows you to give an estimated time of arrival within a window of 10 or 15 minutes, rather than the traditional four-hour window."
Companies in this article