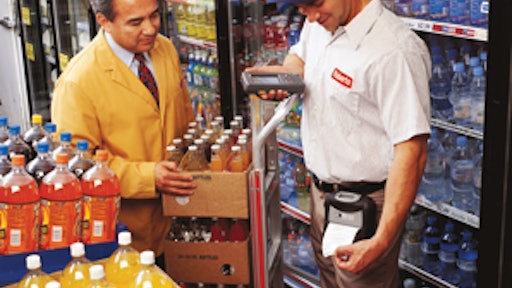 The food industry's mobile workforce has been using batch computers on its delivery routes as far back as 1988, so while mobile computing is not exactly a new concept, there are a number of changes to the mobile computer.
These changes include greater usage trends, new features and new applications that amount to a golden age for handheld computer use on delivery routes across the country.
It's an exciting time, feature wise, for handheld computers. These devices are not only being used to verify shipping addresses and orders, take new orders and scan bar codes, most models are now equipped with a number of systems and features that are designed to increase connectivity and improve the paperwork process. Think of them as high tech Swiss army knives.
"The mobile world is increasing in complexity," says Kevin Mccloskey chief executive officer of MobileAware, a Cranberry, NJ-based company that provides software for managing mobile data solutions. "You have an increase in the number of wide area networks and wireless LANs, in addition to greater bandwidth capability and increased capabilities on the device side."
"Our product has a wide area radio in it," says Jon Rasmussen, industry marketing director for consumer goods for Intermec Technologies, Everett, WA. "It has a local area radio and even blue tooth for talking to the peripherals."
Intermec also manufactures handhelds with built-in two dimensional imagers that can be used for picture taking as well as scanning bar codes. "You can use it to get pictures of damaged goods," says Rasmussen, "and you don't have to line it up, all you have to do is make sure you're shooting at it."
Intermec's handheld has auto focus capability, so that workers can scan more information at longer distances. "You can actually read 50 to 100 mil types of labels out at 50 feet away, or down to very small compressed UPC codes."
GPS Integration
One of the more recent add-ons is GPS technology. Companies like Intermec have offered GPS for some time as an add-on, or peripheral. However, now it's integrated directly into the handheld itself.
"A lot of customers in the private fleet environment really need to be monitoring their drivers," Rasmussen notes. "We've got some smaller handheld computers that are less expensive that give you the GPS and the wide area radio, so they can track vehicles. By adding GPS as part of the direct equation of the handheld scenario, employers can verify route drivers are where they say they are and even determine delivery times."
"There are many types of functionality in a mobile device," agrees Frank Riso, senior director, retail operations, retail industry solutions group for Motorola Inc., Holtsville, NY. "The drivers use a mobile device to tell them what stores are receiving what product and where the product is in their truck, it can also give them directions on how to get to the store."
Today's devices are also becoming more streamlined and less bulky than those of previous years. "The world of PDAs is catching up with the industry," says Riso. "We've designed products to look a lot like PDAs, but we call them EDAs or Enterprise Digital Assistants and they have a bar code scanner built into them. They have one or two radios, depending on how they're being used. Instead of having to carry the large, very rugged devices, these devices have been designed to fit in the pocket."
Multiple Networks Available
With the incorporation of multiple wireless radio networks into handheld computers, task work is becoming more streamlined for the route delivery person. Workers are also becoming more productive.
"In years past when the truck came back to the depot, they would have to physically come inside the depot and plug in the device to upload any data," Riso says. However, many DCs now cover their yards with local area wireless, such as 802.11 A, B or G, which is less costly to transmit over because they are able to use their own enterprise system. Because of this, drivers are able to upload their ending reports at night, right from the truck to the building.
And, because a driver will leave the handheld in the truck to charge overnight, new route information is simply downloaded from the system into the handheld the following morning, for the driver's convenience.
"Once it leaves the yard, it'll switch over automatically to the wide area network," Riso says, "which is basically like your cell phone—it's the same cellular network, just data instead of voice." In fact, many handhelds now have the ability to accept a sim card right out of a cell phone, in order to facilitate phone calls.
Drivers are able to call a customer and let them know they're the next stop, in order to give a restaurant or store a "heads up" and give them a chance to prepare for the delivery. "Many times the receiving guy won't let the driver in if the merchandiser isn't there to take the product out to the floor," says Riso, "because they don't have any space in the back room anymore."
Printers Are Evolving
"What we're seeing is kind of a refresh of the technology," says Marty Johnson, practice leader, mobile workforce for Zebra Technologies Corp., Vernon Hills, IL. "People are moving to the latest handhelds and the latest printers."
And, like the handhelds, printers are becoming somewhat smaller and faster, enabling companies to move away from bulky three-part invoice forms to four inch, direct thermal receipts. Should customers require multiple receipts, because of the speed of printing, these can be printed out very quickly, back to back, cutting down on paperwork time.
Because units are smaller, they can be combined, thanks to the route pad, a unit that allows drivers to integrate the handheld computer and the printer into one piece of equipment worn on a strap, "as opposed to having a handheld on one hip and a printer on the other," says Johnson.
The industry's embrace of direct thermal printing means that the printing of high resolution graphics and logos are possible.
Suppliers such as Zebra are providing pre-printed receipts for companies. This can include multi-colored graphics and logos that are designed to enhance a company's image, while simultaneously presenting information to their customers.
"They're looking at it more as continuing to leverage," says Johnson, "and build their brand equity by using the capability of the printer and the media." Companies are also getting receipts pre-printed with all applicable terms and conditions on the reverse side of the roll.
The types of media that today's printers use is also less expensive. Mission Foods is saving approximately $30,000 annually over the older forms that it previously used.
J.J. Taylor Cos. Inc., a Jupiter, FL-based beverage distributor that delivers more than 23 million cases of beer annually, had recognized the limitations of its legacy mobile printers and wanted its route delivery people to have printers with more advanced capabilities.
The distributor turned to Zebra, who provided it with Bluetooth-enabled thermal printers. "With Bluetooth, you don't have to worry about cables breaking," says Johnson. "You don't have to worry about pins breaking or people connecting it incorrectly."
"Drivers like the Bluetooth connectivity better because the cord isn't dangling everywhere," says CV Eaton, J.J. Taylor's manager of information services. "Plus, we don't have to worry about replacing cables."
The use of Bluetooth also makes the driver's day a whole lot easier, since the safety concern that cables might get tangled up or caught on various items in the vehicle is completely eliminated.
Affordability Driving Sales
Prices for mobile computer technology have been going down over the last few years, driving up the usage of handhelds— thanks in part to companies like Motorola, which are hard at work developing lower cost versions of the handhelds.
"The challenge we hope to meet," says Motorola's Riso, "is to make these devices so affordable that everyone in the industry has their own unique device—something that would be in the $300 to $400 range as opposed to the $1,000 range today."
Additionally, the communications fees for using handhelds have been dropping as well. "It used to be priced per megabyte of communication," says Intermec's Rasmussen. "You'd pay a fee for voice communications and you'd pay a fee for data communications and everybody looked at it and said it was too expensive."
According to Rasmussen, those prices are coming down as carriers have been developing higher speed radios as well as telecommunications protocols like SMS (Short Message Service), which allows users to send packets
in-between voice communications.
Along with the affordability of the devices themselves, companies need to look at the many savings advantages provided by handhelds. Thanks to advances in the communications tools now embedded within the devices, efficiency levels among delivery route workers are higher, enabling them to make more deliveries each day. They also provide for a greater level of accuracy, thereby cutting down on incorrect orders and product returns.
"We lose millions of dollars annually with misplaced product, wrong deliveries and dishonest associates," notes Motorola's Riso. "If we were all perfect, we wouldn't need them, but we're not. The devices help us with the functions that we're supposed to do."