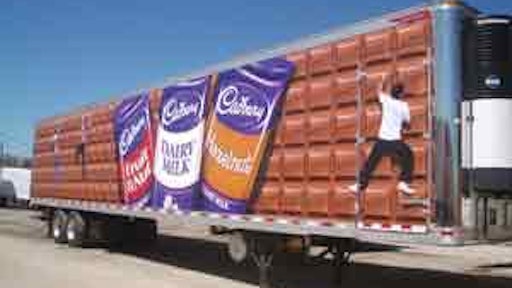 Trucks are everywhere, and they're moving through dense areas of population as they transport food and beverage products from warehouses to retail outlets.
This is nothing new, but what's covering the trucks is.
The past decade has seen an explosion in graphic advertisements adorning the outside of these vehicles: huge, bright explosions of color that beg for consumer attention as they motor past people on the road. These rolling ads are often wrapped around trucks in ingenious fashion, delighting ob-servers in their complexity and design.
"Companies that have their own trucks and trailers are outdoor advertising entities," says Shelley Smith, president of Epic Media Group, an El Segundo, CA-based marketing and media company that has been helping to brand fleets with advertising campaigns for years. "Fleets offer the unique opportunity to advertise virtually for free."
"Today it is getting harder to reach customers through traditional advertising," says Thomas Moore, executive director of the National Private Truck Council, Alexandria, VA. "Audience viewership is in massive decline, which is attributable to hundreds of new cable stations, TiVO, commercial-free radio and the Internet."
"Our customers report that it has become a real challenge for the advertising departments to deal with the high cost of reaching traditional media audiences, which shrink daily," Smith says. "However, the consumer audience in traffic is growing every day."
Indeed, according to experts, people are spending more time in traffic than ever before. Commute times in the U.S. have increased in the last decade upwards of 250 percent. Studies conducted by the Traffic Audit Bureau indicate that the average fleet vehicle is seen by at least 60,000 people, that's present and prospective customers, every single day.
Recently, 3M, a St. Paul, MN-based supplier of vinyl film to the fleet graphics industry, measured the advertising effectiveness of fleet graphics for Cadbury-Schweppes Co. by utilizing GPS units to track 10 trucks moving through two major metropolitan areas. The study, which ran for three months, involved the correlation of truck routes against zip codes and demographic data, to deliver the most accurate measurements of message effectiveness.
Rolling Billboards Work
The study found that fleet graphics generate a huge number of viewings. In the case of the Cadbury-Schweppes study, it was discovered that each truck averaged a six million prime daily effective circulation. According to the American Trucking Association, a single intra-city truck with graphics on it is able to generate up to 16 million "visual impressions" per year.
"Rolling billboards," the NPTC's Moore says, "attract more attention and reach. They are similar to stationary billboards in respect to size and location; however, they're positioned right in front of the target audience."
Such billboards are more advantageous than traditional billboards, because they also offer viewership from the front, sides and rear of the vehicle.
"You can do the sides, the back and then there are even full wraps," notes Robin Strauss, business development manager for 3M's Graphics Market Center. "There are even some wraps that include the top of the truck, because if you're driving a beverage truck downtown, people from the tall buildings will be able to see what's on top."
What's more, viewers remember the ads they see on trucks. A study by the ad agency RYP & Becker Group revealed that 97 percent of survey respondents recalled an ad on a particular truck and 98 percent of the same respondents felt the ad created a positive image of the advertiser.
The in-depth types of information available today to companies through market research allows them to fine tune their fleet advertising.
"We just had a report on Jack In The Box," says Smith. "It justifies why fleet time works for them over other mediums."
This kind of information is allowing them to hone in on their customers and learn how many times they eat at Jack In The Box, what kind of cars they drive and much more. This knowledge allows advertisers to actually optimize the truck routes that their fleet advertising appears on as well as the best messages to put forth, in order to target viewers more effectively.
A Captive Audience
One of the reasons that this form of advertising works so well is that drivers are in a practical sense, a captive audience. There's no TiVO or remote control device in their cars that allows them to change the advertising on trucks that drive past them. They can't turn a page or change the channel or decide to tape it for later viewing. What they see is what they see.
The economics of fleet advertising is also enticing companies that have their own delivery trucks into splashing colorful graphics all over them.
"The cost can range from $3,000 to $5,000 and it's up there for five years," says Kathy Cartan of Motive Media Fleet Graphics, a Canadian provider of truck graphics. "It's big and it's bold and people can't miss it."
"The cost—if you would compare the cost of wrapping a truck to a billboard ad—makes this the most effective means of advertising," notes 3M's Strauss. "You're looking at anywhere from fifty cents to a dollar per impression. If you look at billboards, it's more than $3.50 per impression. Television is $23.00 per impression."
Epic's Smith agrees. "Approximately 1.5 million people see one truck in one month. Advertising and marketing departments pay approximately $10,000 to buy those same eyeballs by purchasing media space on billboards and approximately $45,000 to buy that many eyeballs on prime time TV."
She says that the cost to use the available space on a company's trucks will cost around $197 a month per truck, including the cost of producing the ad, which the other figures don't take into account.
Conversely, she says: "A single $10,000 monthly billboard purchase would pay to outfit 50 trucks with advertising messages and a single monthly TV purchase of $45,000 would pay to outfit a whopping 228 trucks with advertising messages."
Graphics systems such as her company's KWIK Zip Graphics System, which is in essence a frame mounted on the sides of fleet vehicles that the graphics fit into, allow trucking companies to recoup much, if not all of the cost of their advertising.
This is due to a number of factors, including the fact that the sides of her customers' vehicles are being protected from the usual sort of damage that delivery vehicles are subjected to from day one.
"When it's time to sell their vehicle, our customers are telling us: 'we're getting $1,500 or $2,000 dollars back at resale time because the trailer sides are totally new.'"
In addition, with systems such as the one that Smith's company offers, there is no need to scrape the old decals off, which she estimates can save companies up to $2,000 at the time the ad campaign is over.
"Now you have $4,000 dollars in your pocket. That more than pays for the cost of the program."
Vinyl Film Options
The increasing refinement of the vinyl film medium is allowing fleet managers to cover their trucks with graphics that have different life spans. Vinyl film companies such as 3M have learned how to develop product that lasts for many years.
"You can do a permanent wrap," says Motive Media's Cartan, "which will be on there for the life of the trailer."
The industry has also created vinyl for short term applications, allowing trucking companies to potentially outsource the sides of their trailers for advertising programs of different lengths, utilizing vinyl film that lasts one year, two years, or longer.
"They come off easily," Cartan adds. "Then you can just put a brand new message up there."
"If they're doing a short term campaign for a new product," says 3M's Strauss, "we can sell them material that can be removed after six to twelve months." Her company also offers warranties designed to cover the graphics, to insure that they last the pre-determined amount of time they're designed to.
Companies can also opt for special types of vinyl material that produce varying types of effects. One, called "Rear Reflective film," actually illuminates at night when headlights shine on it. "So instead of having the red and silver tape that goes along the sides of the trailers," Cartan explains, "the whole of the trailer will illuminate. It's better for safety."
The graphic creation process begins when a graphics provider digitally prints out the design on a huge four foot by eight foot piece of self-adhesive vinyl. Then a liquid laminate or second piece of clear vinyl film goes over the top of it to provide protection and scratch resistance for the image.
The resulting masterpiece is then applied to the sides of a truck with squee-gees and heat guns. The application process takes about 15 hours, depending on the complexity of the graphics. "We can prepare everything before the trailer comes in and reduce the downtime on the trailer," says Motive Media's Cartan. "When the trailer comes in, we're ready to go."
What makes for a good fleet graphic design? Cartan says simplicity is key, as well as bright colors. "You've got about five seconds to get the message to them, so it's got to be big and bold."
However it's done, the experts agree that fleet advertising is working wonders for its practitioners. "Some private fleets have reported sales increases of 10 percent," says the NPTC's Moore.
Epic's Smith agrees. "Our customers report that their fleet ad campaigns have directly contributed to a substantial growth in both sales and market share, in addition to increasing product visibility.