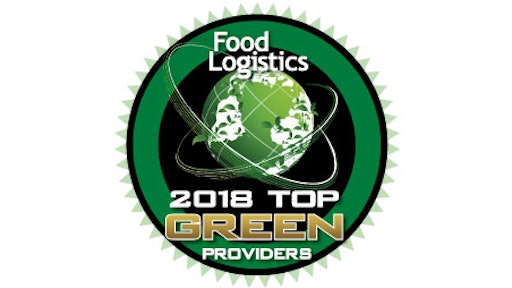 The green initiative continues to be a driving force for companies everywhere. In the food and beverage industry, being an active player in the sustainability game is crucial when it comes to reducing the food chain's carbon footprint and preserve the thin profit margins.
Food Logistics' annual Top Green Providers list showcases companies that have found new ways to promote sustainability throughout their operations and to their customers.
This year's list consists of technology companies, 3PLs, cold storage providers, transportation providers and many others who have stepped up to the plate to become leaders in supporting a more sustainable global food supply chain.
To see the entire list of all of the 2018 Top Green Providers and their capabilities, please click here. Featured companies are as follows:
Alliance Shippers' commitment to reducing negative impacts on the environment and its own carbon footprint is evident through the addition of new EverGreen refrigeration units to its fleet. The refrigerated trailers are equipped with two-way cellular tracking devices that draw power from the battery source within the refrigeration units, allowing Alliance to always have a GPS location and the ability to turn the refrigeration unit on and off at any time. The company has also invested in solar panels to charge batteries in its trailers, lower fuel consumption and reduce emissions to benefit customers and the planet. By building its fleet of refrigerated trailers with the most current technology, Alliance Shippers is able to move refrigerated goods through the nation's railroad system, reducing CO2 output by 67 percent.
Americold
Americold has been adding and expanding facilities so that it can offer more capacity to customers. By consolidating temp-controlled storage requirements in larger facilities, efficient power resource utilization is maximized so customers can claim their sustainability efforts as part of their supply chain. Since 2010, Americold has saved more than 435 million kWh of electricity.
Cass Information Systems provides solutions that utilize technology to obtain cost and processing efficiencies for its customers. Its solutions help customers reach their supply chain goals by accelerating the amount of electronic interchange between customers, freight carriers and Cass. This results in reducing paper transactions such as shipping documents, billing, payment transactions and information delivery. Cass is able to accomplish this without sacrificing controls and accuracy. The company uses centralized business intelligence to manage the supply chain, which provides further positive environmental impact for its customers.
DSC Logistics has made a commitment to sustainability and the goals of its customers to have a positive impact on the planet. The company aims to eliminate waste and cost in the supply chain for all customers. In addition, DSC has adopted practices that promote the responsible use of resources throughout the entire company and align its efforts with sustainability initiatives. The company has several sustainability programs that include an emissions reduction initiative, network redesign and collaborative shipping and transportation consolidation. Through multi-customer and single customer consolidation services, DSC has reached a 12 percent reduction in carbon emissions for 2017.
Elite Transit Solutions
Elite Transit Solutions is modernizing the food industry by addressing environmental impacts it says can no longer be ignored. To achieve this, the company looked toward automation, automating 80 percent of tasks related to day-to-day freight logistics. This technology increases the speed and effectiveness of communications throughout all parts of the supply chain, minimizing human errors and creating sought after efficiencies. On average, driver wait time was reduced from 45 minutes to only 7 minutes. Minimizing this time has created an environmental impact for the company by lowering fossil fuel consumption and cutting down on harmful CO2 emissions.
ESI Design Services
ESI Group, comprised of ESI Design Services and ESI Constructors is a proven leader in sustainability, with more than 25 years of experience designing and constructing temperature-controlled food facilities nationwide. ESI has achieved LEED certification for cold-storage facilities and often pushes the boundaries set by the Green Building Certification Institute through credit interpretation rulings and pilot credits. ESI ensures it's meeting client goals by offering a systematic way of validating a building's systems operation. ESI works with operations and maintenance staff to establish a benchmark for energy use and occupant comfort and actively pursues new technology and techniques that aid in a cost efficient and sustainable building. With its design and construction services, ESI helps clients engineer facilities that recognize the importance of the environment and the project's functional and economic demands. ESI's methods go beyond best construction practices and include analysis and facilitation of operation and maintenance procedures. ESI's construction service allows customers a guaranteed maximum price early on in project development that combines responsibility for design, budgeting and construction into one firm, helping the company build a reputation on capability and trust factors that has clients calling back to them over the years.
FGI Universal
FGI Universal relies heavily on the world's oceans, so therefore believes it is not only its social responsibility but duty to protect the natural landscape that makes global trade possible. Because plastic and other foreign materials are continuously dumped into the water, FGI donates a portion of the proceeds from every order to ocean cleanup. The commodity trading company also continues to advocate for bodies of water by providing financial support for the removal of outdated dams that are responsible for reducing river levels and altering oceanic water temperatures.
FST Logistics continues to build alliances with customers that help stress the importance of going green. Its growing sustainability efforts include participation in programs like EPA's Smartway, Green Power Partnerships, RECS and Green Spot Columbus. These programs require concerted efforts to submit information to measure progress and impact on sustainability. Outside of sponsored efforts, FST also has participated in internal programs for many years. The company sponsors a trash pick-up throughout the city, pushes recycling efforts in break rooms and warehouses, recycles fuel to heat its maintenance shop and has installed motion sensor lighting in its warehouses.
iGPS Logistics is a leading force in sustainability within the food and beverage industry. Its plastic pallets are 100-percent recyclable and include RFID track-and-trace technology, making it so they are rarely lost. iGPS plastic pallets also contribute to lowering the amount of deforestation and are 35 percent lighter than wooden ones, resulting in less fuel used for transportation, as well as lower production of greenhouse gases and other pollutants. An independent lifecycle analysis found the company's pooled plastic pallets have less environmental impact than both pooled multi-use wood and one-way single-use pallets.
Kane Is Able is committed to reducing pollution and congestion with smarter trucks and delivery methods. Its Collaborative Distribution Program utilizes a Tier 1 warehouse management system (WMS) and transportation management system (TMS) to efficiently handle the shipments of middle-market consumer goods manufacturers so customers can receive fewer, larger shipments. Re-use is a major part of Kane's operations, and any material that has potential to be recycled will stay out of a landfill. The company's recycling program has generated over 62 tons of paper, 200 tons of plastic, 13,000 tons of cardboard and 102 tons of cans and bottles.
Knichel Logistics is proud to participate in the SmartWay Transport Partnership, a program that aims to reduce transportation-related emissions. By partnering with SmartWay certified carriers, Knichel ensures that it gives shippers sustainable options for their products. Knichel Logistics is focused on working with carriers that have optimal operational environmental performance levels. The company also moves a substantial amount of freight via rail, knowing that it is one of the most fuel-efficient modes of transportation. To further its sustainability efforts, Knichel's office environment is entirely digital. Energy efficient lighting is used in all spaces, and employees have taken part in ensuring that all applicable waste materials are recycled.
Nature's Frequencies
Nature's Frequencies' Food Freshness Card is helping to reduce shrink and spoilage in the world's supermarkets by keeping food fresher for longer periods of time. Since implementing the cards, supermarkets have decreased shrink by upwards of 30 percent. Because measuring results is difficult, Nature's Frequencies continues to focus on companies that use software to scan when they dispose or repurpose items to track waste and spoilage. The company's patented technology was named the "Best New Food Safety Solution in 2017" at the United Fresh Produce Association and continues to see growth in its sustainable practices.
NSF International is a tactical partner for food and beverage companies that want to set and achieve sustainability goals. An innovator in the food and beverage industry, its unique positioning at the intersection of food safety and sustainability enables the company to provide critical services in a competitive market. NSF engages with companies to diagnose performance and impact, design strategies and programs, and deliver sustainability solutions that build supply chain resiliency, operational efficiency and brand reputation. Through its partnership with the Canadian Roundtable on Sustainable Beef, the company developed oversight protocols, audit manuals and program management materials for a new sustainable beef standard. NSF'S TraQtion software also enables food companies to harness the power of big data, providing a single collaborative platform for tracking, analyzing and reporting sustainability, food quality and compliance. The software's algorithm ensures the correct supplier and facility information is captured, based on operation type, region and commodity, enabling powerful trending and analytics capabilities.
RLS Logistics continues to take steps toward a sustainable future with its most recent solar field expansion at its Newfield Logistics Center. The solar system is expected to generate 100 percent of the power needed for this 255,000-square-foot facility, with a corresponding reduction in greenhouse gas emissions (200 tons per year) equivalent to taking 40 cars off the road or avoiding 70 tons of landfill waste each year. Additionally, RLS Logistics uses LED lights and sustainable packaging equipment throughout its facilities. The logistics provider also continues to encourage clients in its e-commerce business to use sustainable, recyclable shipping containers, which has enhanced its client's sustainability efforts.
Spoiler Alert helps the food industry reduce waste and recover value from unsold inventory. In doing so, it offers a software solution that enables companies to capture granular insights into food recovery and waste diversion efforts, identify improvement areas and track diversion efforts. The company also offers an online portal that communicates the availability of food product in real time to donation outlets, discount buying networks and organic recycling programs. The platform tracks and measures the volume and financial value of unsold inventory that flows through it, so far facilitating the distribution of over $5 million in food inventory to outlets. One of Spoiler Alert's goals is to reduce the amount of food going to landfills.
Total Distribution Inc
Total Distribution encounters a significant amount of packaging materials intended for disposal. Even though the company has few options for preventing the material from coming to its site, Total Distribution realized it can make a difference in where those materials end up. The company has extended its efforts into extensive pallet, cardboard, metal and plastic recycling to help divert the waste that is created daily in its facilities from ending up in landfills. Total Distribution is making progress by creating social value and strives to operate in more sustainable ways.
Transportation Insight has established business practices that reduce environmental impact through customized enterprise logistics solutions anchored in a robust suite of services. By combining its improvement methodology for the end-to-end supply chain with a proprietary freight audit and payment system that collects up to 200 data points from each freight invoice, underpinning a comprehensive supply chain analysis, Transportation Insights helps clients implement, monitor and maintain practices that reduce vehicle miles, air pollution emissions and energy consumption.
VersaCold Logistics Services
VersaCold Logistics Services is committed to improving sustainability measures to achieve greater environmental responsibility in all aspects of its operations. As part of this mission, the company has made significant investments to reduce its environmental impacts, which include: the installation of a rainwater and defrost condensation collection system and reduced flow faucets, replacement of standard efficiency motors with premium efficiency motors, and implementation of a comprehensive recycling program and employee education. VersaCold believes environmental management enhances competitive strength while benefiting its employees and customers by contributing to the overall environmental and economic well-being of the community it serves.
Viking Cold Solutions' low-temperature thermal energy storage uses an environmentally-safe phase change material that can reduce energy costs by 35 percent. The company's intelligent controls can detect periods of high energy costs and will turn off conventional refrigeration equipment while the PCM stores 85 percent of all heat infiltration to maintain temperature stability and reduce energy consumption for extended periods of time. The technology has been implemented at retail, commercial and government facilities across the United States, Central America and the Caribbean, with plans of further installation on four continents. Viking Cold's technology provides on its own and can be paired with solar or other renewables to store off-grid generated energy in an environmentally-friendly way, helping create a smaller carbon footprint for the entire cold chain.
WSI
WSI is dedicated to monitoring the food industry's ever-changing regulations and requirements. The logistics company ensures that customers understand and are compliant with all requirements for food-grade storage and distribution. Additionally, it works to ensure that it facilitates the use of sustainable and efficient solutions for storage, packaging and shipping. WSI uses TL/LTL consolidation when possible to keep environmental impact to a minimum and is able to track the performance of food logistics services and make adjustments as necessary.
Companies in this article