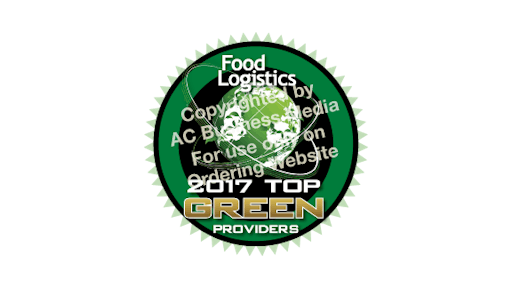 Sustainability continues to be a driving force for nearly every type of business today. For companies in the food and beverage sector, taking an active role in promoting sustainability throughout their operations is crucial considering the urgency to reduce the food chain's carbon footprint and preserve the already thin profit margins.
Food Logistics' annual Top Green Providers list offers logistics professionals a guide to the providers, manufacturers and software and technology companies that have found new ways to promote sustainability throughout their operations and those of their customers.
This year's list consists of transportation providers, 3PLs, cold storage providers, technology companies, pallet manufacturers and many others who have stepped to the front to become the leaders in supporting a more sustainable global food supply chain.
To see the entire list of all of the 2017 Top Green Providers and their capabilities, please click here.
The following are expanded profiles of some of the companies on the 2017 Top Green Provider list:
Alliance Shippers Inc. continues to invest in state of the art refrigerated trailers and technology, with a fleet of more than 2,100 trailers providing customers with energy efficient protective service via rail intermodal and highway. Alliance Shipper's OEMs are encouraged to use products and components in the construction and maintenance of their trailers that reduce air pollutants associated with freight transportation, including low rolling resistance tires for greater fuel economy while on the highway. Their refrigerated fleet provides the food and beverage industry with cost effective capacity and a cleaner air alternative operating in rail intermodal service at service levels comparable to single driver trucks operating in an over-the-road environment.
Alliance Shippers is able to calculate fuel usage and reduction in carbon footprint by commodity type, temperature and customer from date of pick-up to delivery. They have full authority control via satellite and can monitor temperature settings, fuel level/burn rates and load security in-transit. The logistic provider's data downloads allow them to demonstrate cost and environmental considerations of customer shipping practices for purposes of economy and reduction to fuel and carbon emissions to the atmosphere.
Alliance Shippers has been EPA Smartway Certified since inception of the program. Currently, they are installing solar panels on the roof of their trailers to reduce fuel consumption while recharging engine batteries. And most recently, they installed energy efficient LED lighting at their New Jersey, Illinois and Kansas facilities, with an estimated reduction in electricity use up to 50 percent. In addition, Alliance Shippers offers a companywide emphasis on recycling, reduced paper use and EDI to facilitate cleaner air and conserve resources.
Americold
Refrigerated and frozen storage and transportation is essential for providing year-round consumable options. It's an expensive service, yet Americold continues to evolve services and procedures to ensure that are a responsible choice for supply chain solutions. Since 2010, Americold has saved more than 320m kWh/264lbs of CO2, with their lighting, materials and refrigeration equipment choices.
Americold's central system monitors power consumption and temperature levels, and should something trigger an out of tolerance alert, they are able to investigate and adjust extremely quickly to ensure they're always running as efficiently as possible. Additionally, Americold belongs to every utility companies' demand response program offered in the United States. Should a brown out alert be triggered, Americold is able to do their part and draw down power requirements to keep the lights on elsewhere.
In 2017, Americold will add metrics to measure the percentage of waste diverted away from landfills, with the goal of significant land fill diversion rates in the coming years.
ASSA ABLOY Entrance Systems
Today more than ever, transporters of temperature sensitive food supplies are employing solutions to protect their cargo. The ASSA ABLOY RR200 M is the world's first high performance door designed to secure critical mobile environments from the influence of ambient conditions while providing greater security, safety and convenience to delivery workers. It does this by operating frequently, automatically, and at a high rate of speed to minimize air exchange across the opening while allowing only authorized traffic to pass. By minimizing air exchange through automation, reefer run-time is significantly reduced and temperatures are more stable. This provides a safe environment for drivers while keeping out unauthorized persons, a safe environment for the food in tightly maintaining cargo temperatures, and a cleaner planet by significantly reducing fossil fuel consumption in the cold chain.
Users are able to measure the impact on temperature control directly through their telematics solutions, on maintenance reduction by the run time of the reefer units, and on fuel usage by monthly fuel expense figures. One formal study was conducted to model a typical broadline distributor delivery route while tightly controlling all variables to quantify the direct impact of the ASSA ABLOY RR200 M. This was executed with ambient temperatures around 55°F and relative humidity around 50 percent. The results showed a reduction in fuel consumption and reefer run-time by about 40 percent, and temperatures continually stayed within the danger zone.
Sustainability is a core component of DSC Logistics' supply chain strategy. DSC focuses on three areas, which include: logistics center management, transportation management services, and supply chain network modeling and design.
DSC implements several large scale projects on a network-wide basis every year, related to both building and operations. They track performance on key metrics, including electricity, water and waste tonnage. In regards to transportation management, DSC is certified as both a logistics provider and a carrier partner in the SmartWay Transport Partnership, a collaborative effort with the EPA. Additionally, they have consolidated shipping and implemented a strict "no idle" policy. By consolidating multiple shipments with a single destination onto a shared truck, they can reduce trucks on the road and miles traveled, while also reducing costs for participants in the program. DSC's expertise in the area of supply chain network modeling and design has the greatest impact on their customers' carbon footprints. Through the design and implementation of more efficient supply chain networks, large carbon footprint reductions have been realized with a number of strategic partners.
DSC set baseline measurements in 2011 on five metrics—electricity, natural gas, water, propane and recycling—across its 40-plus locations, and added waste tonnage to its metrics dashboard in 2015. Each logistics center reports its measurements on a monthly basis, and results are tracked throughout the network. DSC's metric tracking enables them to keep a close eye on the performance of each location, identify the most promising pilot projects for network-wide rollout, and set holistic goals for consistent reduction of the entire company's carbon footprint. Each year, they set goals for further reduction in these areas.
Elite Transit Solutions, LLC
By creating best in class, propriety automation within our software and S&OP, Elite Transit Solutions, LLC is able to reduce the time drivers are idling by dispatching in 7 minutes versus the industry average of 45 minutes, which enables less CO2 emissions into the air. By creating forward changes, ETS has been able to dictate the market and create plans for drivers, enabling the most logistically sound choices, concluding in minimal deadhead miles, thus using less gas and pollution. By channeling such efficiencies, they are able to make sure all shipments, especially in the food and beverage channel are delivered seamlessly with minimal adverse effects on the environment.
ETS developed Corrective Action Plans (CAPs), generated and reviewed weekly, to hold all parties accountable and provide visibility of improvements to customers and carriers. ETS is able to drill down, analyze problems and create solutions to further enhance sustainability. Creating effective strategies, and implementing call to actions to both carrier and customer partners enables success and consistency.
Aside from creating automation based solutions to omit unnecessary CO emissions, ETS has committed to being paperless. All employee training is completed electronically, the days of training manuals and paper filled binders are gone. All notes, updates, quotes, RFP's, etc., are produced and recorded via computer and/or tablet. All documents are filed and saved within our server, further enhancing our company wide goals of sustainability and green initiatives, across the board.
ESI Design Services
ESI Group is a proven leader in sustainability, with an integrated approach to the design and delivery of temperature controlled food distribution and processing facilities nationwide. Their design-build team has 25-plus year's expertise in designing and constructing sustainable buildings. ESI has been successful in achieving LEED certification for cold storage facilities even when the U.S. Green Building Council didn't have a specific program for these types of industrial facilities. Certifying cold storage facilities is a complex process, and ESI often expands the boundaries set by the Green Building Certification Institute (GBCI). Through credit interpretation rulings and pilot credits, ESI always pushes the GBCI standards for LEED.
LEED helps to provide a framework to articulate sustainability goals, but also validates those goals in a quantitative fashion. These evolving LEED benchmarks must meet green code compliance. Data needs to be reliable and accurate, and ESI integrates with green industry partners for quantitative analysis with advanced energy modeling. ESI pushes subcontractors and design partners in the direction of innovation. Through air quality measurements and anonymous staff surveys, ESI designs a sustainable building that not only performs well, but meets the required goals and is comfortable for its occupants.
Eighty percent of ESI's work is with repeat clients. This creates a natural feedback loop for long-term performance analysis at an operational level. Measuring and monitoring for building performance is critical, and experience has taught ESI to seek the right mix of stakeholders to keep directives actionable. Whether reaching for a green certification or not, ESI actively pursues new technology and techniques that aid in a cost efficient and sustainable building. Their methods go beyond best construction practices and include analysis and facilitation of operation and maintenance procedures. These strategies are tailored to individual client objectives and are designed to exceed baseline water and energy needs. ESI's entire building approach leads to a resource-efficient and environmentally-friendly structure that controls life-cycle costs.
Many of FST Logistics' customers have sustainability efforts as a major part of their cultures and include clauses in their contracts to be a partner with them to practice and perpetuate initiatives that will contribute to the overall industry. FST continued to add and enhance their initiatives in 2016-17 by increasing their purchase of RECS (Renewable Energy Credits) from 1.2 million recs to 1.5 million recs. Overall, this increases their reusable resources to account for 25 percent of the power needed to run their temp-controlled warehouses. FST also is a partner in two EPA programs, SmartWay for transportation, and more recently, the Green Power Partnership, associated more with warehousing.
Within the last 12 months, FST also has increased its compressed natural gas truck fleet by an additional five 100 percent CNG powered units, moving the total to eight CNG and eight dual fuel units. Their recycling efforts of cardboard and warehousing materials continues to climb, adding an additional 2 tons in the past 12 months from a total of 23 tons to 25 tons. Additionally, FST continues to add under trailer skirts to their trailer fleet, with 60 percent of the fleet having them as compared to 30 percent at this time last year. These efforts, along with those that FST has practiced for many years (paper products instead of plastic, motion sensors for lighting, quick charge forklifts, recycled oil for heating, planting of gardens and foliage on our facilities, sponsoring litter pick up on our streets) will continue to move them forward in sustainability partnerships with their customers.
full circle catering
In the past year, full circle catering has added more sustainable practices, including finding a local source for eggs that offers a reuse program for cartons, using milk distributed in glass bottles, buying local farm fresh butter in bulk, as well as keeping goods sourced locally over 80 percent.
full circle catering consistently provides the Shenandoah Valley area with locally sourced and handmade foods. Their sustainability practices include working one-on-one with farms that are their neighbors to grow them the basic foods; buying with a no packaging or reusable packing motto; growing their own organic herbs and garnishes; offering a weekly meal service with even higher (new in 2017) quality recycled BPA free containers with a reuse program; and encouraging recycling, composting, buying, shopping and eating locally within their community and staff.
Kane Is Able is committed to reducing pollution and congestion with smarter trucks and delivery methods. The company has been at the forefront of the collaborative distribution model, essentially getting products to market faster and cheaper. Through its Lean practices, Kane Is Able has taken hundreds of thousands of dollars out of our customers' supply chains in areas such as demurrage and contract packaging.
Kane Is Able captures its effectiveness in collaborative distribution by understanding the costs between LTL and TL. For Lean projects, they track all data and results.
Kenco
In 2015, Kenco completed lighting upgrades at three facilities: Allenton, Pennsylvania; Portage, Michigan; and Chattanooga, Tennessee. The lighting systems are anticipated to produce an annual savings of more than $227,000. Kenco also installed air dryers in one facility's restroom, reducing towel usage and saving $2,100 annually, as well as installed low flush and hands-free values on commodes and urinals, saving 52,000 gallons and $1,150 yearly.
Additionally, Kenco has employed new sustainability dashboards. The dashboards bring together an array of data to conveniently display progress on key sustainability metrics. The dashboards track usage of electricity, natural gas and water; monitor labor costs; and measure the output of both landfill waste and recyclable materials. Baseline data on each metric is monitored to set goals toward lowering costs, reducing energy use, and producing less waste in customer warehouses managed by Kenco.
Sustainability efforts by Kenco also include: recycling of materials such as glass, paper, metal, plastic, textiles, corrugate, plastic stretch wrapping film and electronics; using LEED certified buildings and LEED/USGBC design guidelines for new facility construction; energy conservation using modern technology (LED lighting, skylights, lighting controls and improved HVAC systems); utilizing hybrid automobiles in company fleet; using green power, regenerative braking and high efficiency high frequency automatic battery chargers; ongoing alternative fuel use; solar panel installations to produce alternative energy that offsets power consumption and reduces costs; conducting network optimizations to reduce transportation and labor redundancy waste; training drivers on progressive shifting techniques; and using all-electric auxiliary power units to reduce idle time and fuel consumption.
Nature's Frequencies
A commercial kitchen or restaurant throws away anywhere from 3 to 7 percent of their purchases due to spoilage. A supermarket can throw away 4 to 6 percent due to spoilage and incur unhappy customers as the products they purchased spoiled rapidly. A significant reduction of the produce spoilage can be achieved with the implementation of the Food Freshness Card by Nature's Frequencies. Whether it is eliminating all spoilage in a commercial facility or cutting a super markets waste in half, the use of the Food Freshness Card is extremely easy to implement and cost effective.
A case study at Bridgewater State University administered by Sodexo quantified actual savings, estimating on average, approximately $500 per month or 3 percent of purchases were thrown away due to spoilage. After installation of 36 Food Freshness Cards, spoilage instantly went to $0 and remained there during the three month test period, totaling more than $1,500 in savings.
The Food Freshness Card is not a gas, is non-invasive, never touches the produce and is be able to reduce spoilage at any point in the food chain. Starting from the farm, packaging, pallet or container to the distributor and the retailer or in the home, the addition of the Food Freshness Card can naturally extend the life of just about all fruit, vegetables and breads (excluding bananas).
Penske Logistics, LLC a wholly owned subsidiary of Penske Truck Leasing, provides dedicated contract carriage, warehousing and distribution center management, transportation management, lead logistics, and a full range of customized supply chain management and logistics solutions. Serving customers in North America, South America, Europe and Asia, Penske helps its food and beverage customers solve the unique challenges associated with their products (e.g. milk, bread, eggs, etc.) from product pickup through delivery. Penske's specialized food and beverage services include: temperature controlled supply chain (uninterrupted cold chain for both fleet and warehousing), flexible vendor pickups and just-in-time delivery, sophisticated equipment tracking, an understanding of store and vendor requirements, and delivery coordination between vendors, distribution centers and stores. By helping to reduce miles and time, Penske optimizes the food and beverage supply chain and helps its customers solve supply and delivery challenges. Penske utilizes transportation management systems (TMS) and warehouse management systems (WMS) to improve warehouse operations and labor planning.
In addition to the transportation efficiencies, Penske implements various best practices to ensure the safe handling of perishable goods including employee training in sanitary practices, equipment cleaning, temperature control, disclosure of prior cargo hauled in vehicles, physical security of facilities, shipment monitoring and communications planning, pulling perishable items out of traditional distribution channels, adopting a rapid-replenishment approach, using cross-docks and smaller warehouses and trucks for more frequent delivery.
PLM Trailer Leasing
PLM is committed to helping customers reduce greenhouse gas emissions through a holistic approach in refrigerated transport. With the razor thin margins of food distribution, it is difficult for companies to commit to going green unless there is a quick upside for the conversion. There is much to consider when going green—infrastructure cost enhancements, hybrid unit cost, electricity and diesel cost, safety, warehouse/driver training and carbon footprint output just to name a few. PLM's approach to helping customers consider the use of hybrid refrigeration units is by walking them through a process of evaluation of existing technologies, personalized fleet life cycle management matrix, and on-site evaluations with results driven through comprehensive modeling tools and data analysis. PLM helps customers to evaluate a true ROI that they can make the decision to go green to reduce their carbon footprint while driving significant cost out of operations.
PLM uses actual data provided by the customer and from PLM's own ColdLink telematics solution that provides information to include fuel burn, diesel usage, electrical usage and distribution behaviors to translate into optimal quantifiable carbon footprint reduction. PLM has a national network of professionals that work with customers locally to deploy the tools and accomplish the field studies to review total operational impact to deliver quantifiable results. They have documented results as much as an 84 percent carbon footprint reduction, with an added benefit of driving out up to 80 percent of the cost of fueling a refrigerated trailer within an operation. PLM helps companies that go green also make green (dollars) while they are working towards their sustainability goals. PLM shows how sustainability pays.
In addition, PLM is an active member of EPA's SmartWay program that helps companies deploy aerodynamic trailer technologies to qualify for the different levels of certification to drive carbon footprint out of the road miles of the tractor. PLM does go the added step beyond this government program in that engage the carbon footprint of the diesel engine of the refrigerated trailer by taking a total assessment of the company's current circumstances, from spec and design, unit operation and hybrid technologies, to help them become more sustainable.
RLS Logistics continues to lead efforts for sustainability through their expanded our solar program. Additionally, the logistics provider encourages clients in their e-commerce business unit to use sustainable recyclable shipping containers, which has enhanced their client's sustainability efforts, as well as RLS Logistics.
RLS Logistics has developed dashboards from their power company, which detail carbon foot print comparisons.
Romark Logistics is a pioneer in reducing its carbon footprint thus benefiting the customers they serve. Their facilities have implemented solar initiatives, LED lighting upgrades, baler and compactor use, recycling programs, chemical reduced pest control management, paperless invoicing and employee incentives to reduce non-driving emissions.
Romark Logistics measures their energy initiatives through several internal tracking programs on the solar panel side. They also track energy consumption at their facilities pre- and post-installation of solar and LED materials to measure savings. In addition, Romark implements internal KPI programs to track their sustainable footprint throughout the country.
Ryder
Ryder plays an important role in increasing the sustainability of transportation and logistics. Because transportation and logistics are the circulatory system of the economy, making supply chains more sustainable results in the efficient flow of goods and materials, as well as a reduction in energy consumption and greenhouse gas emissions. Everything Ryder does, from optimizing logistics networks to deploying advanced fuel vehicles in fleets, is about making their customers' food and beverage supply chain operations more efficient. This efficiency also has environmental benefits.
The area where Ryder has seen the biggest impact is in helping companies deploy natural gas vehicles (NGV) into their fleets. In fact, they are the industry leader in natural gas vehicle solutions for the commercial transportation industry. Ryder has made the upfront investment in vehicles, maintenance and fueling infrastructure to help other businesses deploy NGV technology into their fleets. Today the company has achieved 100 million miles with its NGV fleet operations, eliminating more than 35,269 269 MTCO2e (metric tons of carbon dioxide equivalent) of greenhouse gas emissions. Ryder also has replaced approximately 15.4 million gallons of diesel fuel with lower emission domestically produced natural gas. Ryder currently has 22 NGV maintenance facilities with more than 5,500 NGV trained maintenance and support personnel.
In addition, some of the same supply chain strategies they employ for customers to reduce risk also have sustainable benefits. For example, when they design a regional or near-sourced distribution center network, Ryder helps reduce transportation miles and carbon emissions, but also the risk of a global supply chain disruption. Another example is incorporating alternative energy solutions like natural gas that will function even in the event of power loss or fuel supply disruption. Their RydeSmart telematics solution also helps customers improve vehicle operations and lower fuel costs, which result in reduced emissions. RydeSmart can help fleet managers achieve a 10-to-15 percent reduction in fuel consumption through improved routing and reduction of unnecessary idle time. In warehouses, Ryder is continually looking at reducing energy consumption and waste by using efficient lighting and material handling equipment, as well as through packaging material recycling program. They also are able to give customers carbon footprint data on the parts of their supply chain operations they manage as a supplement to the standard transportation data they provide.
Viking Cold Solutions, Inc. provides passive Thermal Energy Storage (TES) solutions for the commercial freezer space that can run for efficiency, load shifting or peak demand reduction, meaning customers can decide how they want to use their energy, and when they want to buy it. By complementing an existing refrigeration systems with their passive thermal cells containing Phase Change Material and advanced controls, Viking Cold Solutions is enabling greater refrigeration efficiency and 24/7 temperature monitoring. Viking Cold has saved clients over 7,974 MWh, reduced carbon footprint by 4,400 metric tons, and prevented millions of dollars of product loss. Their TES solutions have been recommended into California's Energy Efficiency Incentive Program after an independent utility study confirmed energy savings of over 30 percent.
Viking Cold Solutions provides daily visibility to the facility energy consumption along with detailed performance reports. This level of visibility provides invaluable predictive capabilities and insight into equipment runtime, and allows the operator to readily recognize potential equipment failures. This information ultimately drives actions for optimal efficiency and greater effective energy usage. The energy management controller provides the intelligence required to leverage the thermal energy benefits from Viking Cold's phase change material, reducing consumption, shifting load and yielding lower costs.
WSI prioritize sustainability for their food and beverage customers by recycling large amounts of their cardboard and dunnage materials, manufacturing dunnage materials for the clients from previously used wood, using recently installed energy-efficient lighting, and increasingly using electric forklifts in our facilities to handle product. Wooden pallets are reused and repurposed frequently, where applicable. Additionally, green landscaping outside of our warehouses is friendly to the environment, helping to reduce the effects of storm water runoff and save costs on overhead by eliminating the need for lawn mowing.
WSI recycle, reuse or repurpose nearly 100 percent of their top three largest facilities' recyclable waste. At their high-volume Chicago facility and large Central Wisconsin facilities, nearly 100 percent of the wooden pallets used for storing product are reused. Mandatory requirements in the offices of each facility result in 100 percent of office paper and cardboard waste being recycled.
WSI employees are actively engaged in community stewardship and volunteer work, including environmental efforts like lake and river clean-ups. Many employees telecommute, saving fuel and reducing pollution and road congestion. WSI also encourages employees to repurpose unused materials, as well. At one of their largest Wisconsin facilities, WSI receives wood in rail cars, which employees have used to build picnic tables and storage sheds, line garages and use as firewood.
Companies in this article