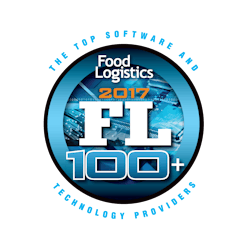 Food Logistics' annual list honors the software and technology providers that ensure a safe, efficient and reliable global food and beverage supply chain. Those who made notable contributions in 2017 are listed below.
To see the entire list of FL100+ providers and their capabilities, please click here.
360data
3GTMS
10-4 Systems
AFS Technologies
Allen Lund Company
Arkieva
BluJay Solutions
CAMS Software Corporation
CaseStack
CASS Information Systems
Demand Management
GPS Insight
Highway 905
Infratab
Interlink Technologies
Intrigo Systems
Johanson Transportation Service (JTS)
Kuebix
LoadDelivered
NECS Inc.
PAR Technology
PeopleNet
PLM Trailer Leasing
ProCat Distribution Technologies
Quintiq
The Raymond Corporation
Ryder System Inc.
SafetyChain Software
Safeway Management Group
Seagull Scientific
Sensitech
Service First Logistics (SFL)
SSI Schaefer
System Logistics
Systems Logic
Technology Group International (TGI)
Testo Solutions USA Inc.
TranSolutions
Transplace
Transportation Insight
Varcode
Velociti Alliance North America
viastore Systems
Voxware