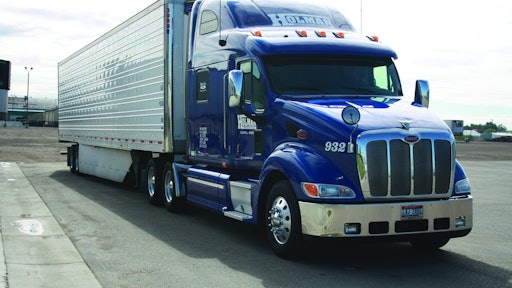 TRANSPORTATION
Technology Drives Sustainability
Technology saves time. Technology saves lives by improving safety. Technology saves overhead costs. But in today's world, protecting our resources and the environment is more critical than ever, making one of technology's greatest assets the ability to save resources—paper, fuel and more.
SmartWay Transport Partnership, an innovative collaboration between the U.S. Environmental Protection Agency (EPA) and the freight industry, is dedicated to increasing energy efficiency and reducing greenhouse gases and air pollution. The organization's collective goal is to reduce 33 to 66 million metric tons of carbon dioxide and up to 200,000 tons of nitrogen oxide per year by 2012.

Many trucking firms in the food sector are doing their part to help the industry meet its goals. By tapping into technology, carriers are conserving fuel, reducing and eliminating paper and improving air quality.
One of the country's largest branded dairy operators, HP Hood LLC handles its own product distribution with more than 350 power units, including 10-wheel straight trucks and tractor-trailer units. The company began demonstrating its industry leadership in sustainability in 2005 when it incrementally installed onboard technology that improved the environmental performance of its freight operations. Today 95 percent percent of Hood's 350-vehicle fleet is equipped with onboard computing and mobile communications systems, with plans for all trucks to be outfitted by next year.
David Crowley, Hood's senior director of environmental health and safety, is spearheading the company's sustainability initiative. He believes technology-driven efficiency and go hand in hand to make the company more competitive and more successful.
Tracking Performance Related To Sustainability
Case in point: Engine monitoring data has helped Hood's Heluva Good division's drivers surpass an incredible 7.0 MPG (despite 2007 and newer engines). The direct store delivery group of 12 six-wheel straight trucks has improved MPG by 26 percent, getting up to 7.3 MPG—exceptional for city deliveries to smaller restaurants and convenience stores. The data showed that super single tires give the division's over-the-road group it ¼ to ½ mile more per gallon of fuel.
These fuel-savings results make it easy to understand why Dairy Management, Inc. (DMI) considers EOBRs one of the nine best practice tools that dairy-processor members should adopt. Hood is way ahead of the curve, using EOBR data such as sudden accelerations and decelerations, overspeed to promote driving habits that generate fuel savings and support safety. Supervisors counsel drivers about how to use progressive shifting to avoid the need for high RPMs and superfluous fuel consumption. Of course, the company recognizes exceptional performance as well.
Automated reports weight six primary indicators and each indicator is graphed to create individual pictures of each driver that are rolled up into a composite of all drivers in each terminal, all of which post rankings. In addition to driver scorecards, these reports highlight driver performance progress and deterioration system-wide. The terminal-level report ranks drivers within the terminal; the company-wide report compares the averages of each terminal with the company average for each indicator. There is also a separate monthly report that tracks each vehicle's historical performance.
Enhancements to the system will help ensure that newer systems, which provide a cleaner, greener environment, are maintained and cycled on a regular basis by automating the tracking of driver compliance with regenerating Diesel Particulate Filters. Advanced diagnostic capabilities generate alerts to fleet managers when drivers need to perform regeneration idling. Not only does this automated process ensure proper maintenance and longevity of vehicle emission systems, but it also allows vehicles to perform in the most environmentally friendly condition.
Integration Steps It Up
Electronic logs is another example where a best environmental practice not only eliminates paper logs, but also saves each Hood driver 15-20 minutes each day, makes recordkeeping more accurate, and ensures compliance with HOS regulations. Auditing equal numbers of paper and electronic logs revealed additional efficiency: paper logs took 1½ weeks, while electronic logs took 1½ hours. The DOT has to love the time-savings.
Hood managers estimate that the integration of geo-fencing, transportation management, and routing software with electronic logs reduces the fleet's paper consumption by an estimated 70-75 percent and improves customer service by 25 percent.
An automated Fuel Tax program has reduced paper consumption associated with this function from 14 bankers' boxes per month to just one per quarter. A perfect example of how cost reduction follows sustainability is how this technology saves preparation time and fees, puts a lid on mailing costs and storage costs (saves $150 per month) to reduce the company's footprint. In addition, an audit of the company's New York fuel-tax purchases revealed a mere .004% discrepancy on electronic reports compared with 4.5 percent for paper reports—over a 1,000 percent improvement.
Integration of geo-fencing, transportation management, and payroll applications has not only eliminated paper payroll forms, but also reduces logistics manager's time in completing payroll information for 11 drivers from eight to nine hours per week to no more than 1½ hours. Multiply the savings for Hood's other 12 terminals, and there's a sizeable productivity boost.
Technology is bringing the industry closer to going paperless, helping to optimize fuel efficiency, and protecting the environment. Data facilitates cost/benefit analyses on routes and deliveries, helping the company ship the right products from the right locations. In some cases, adding a second delivery to a customer may actually save 800 miles. Now there's food for thought.—Brian McLaughlin, chief operating officer, PeopleNet Communications.
Easing Fuel Bill With Trailer Side Skirts
Bob Holman likes skirts on his trailers, and he has good reason to. The side skirts, or fairings, manufactured by Freight Wing and installed on most of the trailers in his fleet, are saving fuel, and proving durable, even through a recent brutal winter.
"Of all the energy-efficient things we've tried, the Freight Wing side skirts are the only ones I can honestly say give us a quick payback—it's just 18 months," says Holman, the owner of Holman Transportation Services, based in Caldwell, ID.
The fuel economy gains come from the installation of Freight Wing side skirts on 72 trailers, and the phasing in of super single tires.
This year, another dozen or so of Holman's trailers will be traded in, and the new units, spec'd with super singles, will be fitted with the side skirts. Before long, all of the carrier's 98 Utility trailers will be equipped with Freight Wing side skirts.
Holman Transportation Services hauls frozen and refrigerated loads, as well as some dry goods, in 53-foot trailers. The fleet runs 96 tractors, all of them Peterbilt 387s. Painted a distinctive blue, the tractors "all look alike," Holman says.
While fuel economy improvements with the side skirts were expected, another virtue turned out to be durability, thanks to the side skirt's construction using a high-grade plastic, and flex mounting system.
"We have had several incidents where cars ran into them and banged them up, and they just basically rebounded back into place," Holman reports. "We had one experience that could have been a disaster if not for Freight Wing. We think the car probably would have gone underneath the trailer." The driver of the passenger car in that episode lost control in slick conditions; the vehicle struck the side skirt on the trailer and bounced away.
"It didn't really damage the Freight Wing side skirt to any extent," Holman says, noting that one strut had to be replaced. "Other than that we just haven't had any damage to speak of," he adds. "They're really maintenance free."
Utility Trailer Sales in Boise, ID, handled the initial installations, and Holman personnel retrofitted some trailers as part of their conversion to super singles, but the bulk of the installations have been done by Utility at the factory.
Remarkable Performance
The performance of the skirts during the recent winter, remarkable for snowfall and just plain bad weather, further impressed Holman.
"That's been a pleasant surprise," he says. "We were worried that ice and snow might build up on the skirts, but it just doesn't. I think the road vibration knocks it off. It doesn't get a chance to build up."
The carrier's operating area extends throughout the Midwest and Southeast. Some routes run into California, which this year began requiring aerodynamic devices such as side skirts and low rolling resistance tires on new trailers. By 2013, any trailer entering the state must have side skirts and fuel-efficient tires, unless fleets enroll for phase-in plans. But those new regulations in the Golden State are not what prompted Holman Transportation to try the Freight Wing side skirts. "We only run about three to four percent of our miles in the state of California," Holman said.
Rather, Holman says, he tried the side skirts simply because "we've always tried to be progressive when it comes to saving fuel." He tried them first on a pair of new trailers in 2009. "After about three months we could see that the mileage and performance were definitely better, and every driver that towed them liked them. We decided then and there we were going to use them on the whole fleet."
MATERIAL HANDLING
Hydrogen Fuel Cells Improve Productivity
United Natural Foods Inc. (UNFI) is the largest wholesale distributor of natural, organic and specialty foods and related products in the United States. In addition to 28 distribution centers in the U.S. and Canada, UNFI provides value-added services to its customers, including marketing and promotional materials, merchandising, category management and store support services. UNFI could not continually exceed customer expectations without the assistance of its lift truck fleet, which the company uses to move product efficiently through its distribution centers as part of its material handling operations.
Through its long-standing commitment to the environment and corporate sustainability initiatives, UNFI researches and identifies sustainable technologies for use in its facilities, including solar panels for the roofs of its distribution centers and energy-efficient lighting. During the past three years, the company has examined ways to reduce its energy consumption, which led it to investigate a new power source for its lift trucks — hydrogen fuel cells. UNFI was interested in the technology as an energy-efficient alternative to the lead-acid batteries that traditionally power the company's lift trucks.
UNFI is a nationwide customer of The Raymond Corp., so it was only natural that Tom Dziki, chief human resources and sustainability officer at UNFI, turned to Raymond and Abel Womack Inc., its authorized Raymond Sales and Service Center for more than 10 years, for an education on hydrogen fuel cell technology.
By working together, the companies identified UNFI's Sarasota, Fla., facility as an ideal site to begin using hydrogen fuel cell-powered lift trucks, and all of UNFI's Raymond trucks in Sarasota were converted to hydrogen fuel cell technology on June 25, 2010. The project required extensive planning and coordination between UNFI, Raymond, Abel Womack and Raymond Handling Consultants, the authorized Raymond Sales & Service Center responsible for serving UNFI's facility in Sarasota.
Embracing New Technology
In 2007, UNFI asked Abel Womack for more information about hydrogen fuel cell technology. UNFI was aware that Raymond had been researching the technology at its headquarters in Greene, NY. Representatives from Abel Womack encouraged Dziki and other UNFI personnel to attend a hydrogen fuel cell seminar Raymond was sponsoring at an industry trade show for them to learn more about the technology.
At the time, UNFI decided to wait for further testing to ensure the viability of the fuel cell technology. As time went on, UNFI continued to work with Raymond for updates on advancements in hydrogen fuel cells. UNFI also began to meet with hydrogen fuel cell manufacturers, and asked Raymond and Abel Womack to consult in the decision-making process about which manufacturer to work with, and how the technology could be implemented.
Representatives from Abel Womack met with UNFI to discuss Raymond's experience with fuel cells and to participate in meetings with hydrogen fuel cell manufacturers to help UNFI identify the most appropriate vendor with whom to work. UNFI selected Plug Power as its manufacturer of choice.
"Raymond tests a variety of fuel cells in its equipment to make sure they provide the necessary performance and power requirements," Dziki says. "When we spoke to the people who were doing the testing at Raymond, I felt very comfortable with the solutions we selected because we knew Plug Power and Raymond had worked together to be sure the lift trucks and the fuel cells would perform the way we needed them to."
Putting Theory Into Practice
As the project came closer to becoming a reality, the next step was to decide how and where the technology should be implemented. With the assistance of Abel Womack, UNFI reviewed its fleet of lift trucks to determine whether it should convert select trucks in an existing facility to hydrogen fuel cells, or take advantage of a planned new distribution center with all the trucks powered by the new technology.
The Sarasota distribution center, newly opened in 2007, quickly became the location of choice to have all its Raymond lift trucks converted to fuel cell power. Not only did it have enough equipment to justify the hydrogen fuel cell infrastructure, but it had a solid local service center in Raymond Handling Consultants. Making the decision even easier for UNFI was the receptiveness of Florida to helping to fund sustainable initiatives for businesses in the state.
"Florida is at the cutting edge of funding renewable energy initiatives," Dziki says. "It really helped us to make the return on investment compelling so we could go ahead with the project."
The Raymond lift trucks in UNFI's Sarasota facility consisted of Model 7400 Reach-Fork trucks, Model 5500 orderpickers, Model 4200 stand-up counterbalanced lift trucks and Model 8400 end rider pallet trucks. Considerations needed to be made for the differences between lead-acid batteries and hydrogen fuel cells, including the size of the battery compartment; how the technology would withstand the temperatures of the Sarasota facility's freezer, cooler and dry storage areas; and whether the fuel cell-powered lift trucks would perform to the same level as their battery-powered counterparts.
On electric lift trucks, battery compartments are designed specifically to accommodate the size and weight of batteries. Fuel cells are larger than lead-acid batteries, so Raymond engineers needed to ensure that the fuel cells would fit in the battery compartments and maintain the required counterweight for each truck.
Significant changes needed to be made to the orderpickers to create a larger battery compartment to accommodate the fuel cell. As a result, Raymond engineered the industry's first hydrogen fuel cell-compatible orderpicker, which features a specially built 21-inch battery box to accommodate a hydrogen fuel cell.
Another consideration was how the hydrogen fuel cells would withstand multiple shifts in the colder temperatures of the facility's freezer, cooler and dry storage areas. Raymond conducted extensive testing of the hydrogen fuel cell in cold temperatures at its Greene facility to ensure performance would not be affected. Raymond also conducted extensive testing on the hydrogen fuel cell-powered lift truck models included in UNFI's fleet to ensure the performance would be as good, if not better, than battery-powered trucks.
Feedback from operators at the UNFI Sarasota facility has been very positive. Raymond's research shows that, as a lead-acid battery is used over the course of a shift, the voltage drops and lift truck performance goes down. With hydrogen fuel cells, voltage delivered by the fuel cell remains constant until the fuel is depleted.
Mike Garstka, operations manager at UNFI, says operators are seeing 10 to 12 hours of continuous use on the pallet trucks.
"That's a significant improvement compared with the five to seven hours of use we were seeing with the batteries," Garstka adds.
Productivity also has increased because of the short time it takes to refuel the lift trucks, compared with changing a battery. In a high-use lift truck, lead-acid batteries typically only last one shift, and the batteries normally take one shift to charge and another to cool down. It also can take up to 20 minutes to remove and replace a battery.
In contrast, hydrogen fuel cells rapidly refuel in a couple of minutes, and a facility can install multiple fuel stations that feed from a central tank.
"Our pallet truck operators are ecstatic they only need to fuel one time at the beginning of their shift," Garstka says.
The trucks also are performing well in cooler temperatures. UNFI has fueling stations on both the cool dock and the dry dock, so the equipment can be kept at its ambient temperature. Hydrogen fuel cells emit water as a byproduct, which UNFI captures using a hose at the refueling stations, and the water is kept in a tank so it can be reused for other purposes.
Support At Every Level
Once Sarasota was chosen as the location for the hydrogen fuel cell project, Abel Womack worked closely with Raymond Handling Consultants to provide an additional level of service and customer support.
Raymond Handling Consultants took delivery of the new equipment and examined it to ensure the fuel cells fit into the battery compartments and the equipment met UNFI's specifications. Raymond Handling Consultants' top priority was to make UNFI's transition to the new equipment as seamless as possible.
"Not only were they changing to newer trucks, but also changing their power source," says Kevin Polomsky, service manager with Raymond Handling Consultants. "We had everything staged at our facility prior to delivering it to the customer, and that helped us to ensure UNFI didn't experience any downtime as we brought in the new equipment and phased out the old."
This seamless transition was the result of several meetings prior to the rollout of the new equipment to provide Raymond Handling Consultants with the information it needed to install the new equipment in a manner that would limit interruptions to UNFI's processes. Raymond Handling Consultants' personnel also underwent extensive training with Plug Power on how to install and maintain the fuel cells.
Positive Results
Since the installation of the hydrogen fuel cell-powered trucks and refueling infrastructure, UNFI has been pleased with the results it has seen.
"We know what our labor and productivity was before we installed the hydrogen fuel cells," Dziki says. "We anticipate increased productivity because the trucks will be running with a full charge the entire shift, and the reduced amount of time spent refueling. We plan to track the changes over time to help us evaluate the return on our investment for possible future installations in other facilities."
UNFI also is pleased with the support provided by Raymond, Abel Womack and Raymond Handling Consultants during the planning and execution of this project.
"We couldn't have done this without Raymond's partnership," Dziki says. "Raymond has been at the forefront of new technologies, and is really a thought leader in hydrogen fuel technology." -- Frank Devlin, fuel cell segment manager, The Raymond Corp.
Companies in this article