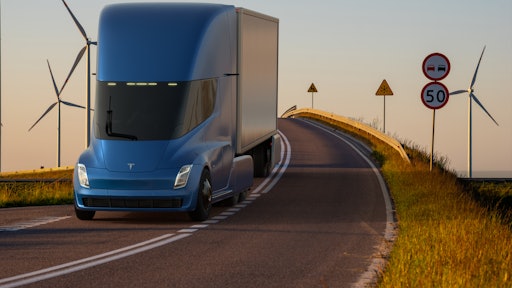 Mike Mareen AdobeStock_381285702_Editorial_Use_Only
A new study from the Environmental Defense Fund (EDF) shows that electric vehicles continue to take up more market share.
"More protective standards are clearly achievable thanks to momentum from historic investments in the Inflation Reduction Act and Bipartisan Infrastructure Law, manufacturer commitments to levels of new zero-emitting vehicle deployment that exceed EPA's projections, and ongoing adoption of California's Advanced Clean Trucks rule by states," says Alice Henderson, director of transportation and clean air policy for EDF. "We also think EPA has a vital opportunity to strengthen the proposed standards for key segments, including new school buses and tractor trailers."
From Environmental Defense Fund:
Medium and heavy-duty trucks move about three-quarters of all cargo in the United States, covering about 3 trillion vehicle miles each year. However, about half that cargo, by weight, is moved less than 100 miles – meaning a significant portion of trips can be completed by an electric vehicle on a single charge.
The cargo capacity of most battery electric heavy-duty vehicles will be at par with diesel vehicles by 2030.
In 2030, the total operating costs of battery electric heavy-duty vehicles will be significantly lower than diesel trucks across all segments of the market due to extensive maintenance and fuel cost savings, with a payback period for upfront costs (which includes charging equipment) of less than three years for all vehicles.
With the tax credits available under the Inflation Reduction Act, the upfront cost of most new battery electric heavy-duty vehicles will be the same amount or cheaper than diesel vehicles, excluding charging equipment.
EPA' s proposed greenhouse gas standards for heavy-duty vehicles will further accelerate the deployment of new zero-emissions trucks.
By the end of 2022, more than 10 million light-duty electric vehicles were sold worldwide – one in every seven cars sold overall.
Americans bought more than 800,000 light-duty electric vehicles in 2022, a 65% increase from 2021.
U.S. sales of electric vehicles reached more than 258,000 in the first quarter of 2023, an almost 45% year-over-year increase.
The United States is projected to have 197 models of electric cars and passenger trucks on the market by the end of 2025, up 5% from the projection in the report.
Worldwide, almost 200 more models of electric medium and heavy-duty vehicles became available for purchase between 2021-2022.