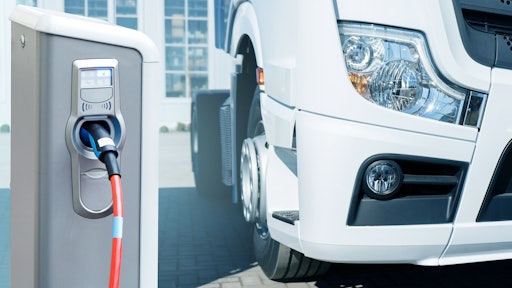 scharfsinn86 AdobeStock_420080513
Electrification is coming for mid-size fleets, but are businesses prepared? Looking ahead to 2023, the pressure is on, but so are incentives to help mitigate costs. Electric vehicle (EV) tax credits bolstered by the Inflation Reduction Act will be up for grabs; the United States will make strides toward its global commitment of 100% zero-emission medium duty truck sales by 2040; and Californians will gear up for the Advanced Clean Truck regulations to kick off, requiring manufacturers to sell an increasing percentage of zero-emission trucks starting in 2024. Immediately following will be Advanced Clean Fleet regulations, which will likely mandate all operating medium-duty trucks to be electric by 2035 and 50% of them by 2031.
All of these milestones underpin the electric commercial vehicle market's growth, expected to reach $848 billion by 2030. In the years to come, businesses must prepare for the inevitable, freeing their fleets from fossil fuels. But without a clear path to electrification, many companies don't know where to start in the crowded and ever-changing industry, how to get up to speed on the unique planning needed for electric trucks or which technology solutions to hone in on.
As fleet managers and vendors start preparing in 2023 to navigate the pressures of quickly-approaching deadlines, they must focus on the following key industry changes to make their move to electric a seamless and successful transition.
Vendors are essential for securing incentives
Fleet managers already know how to shop for trucks, but electrifying them and their operating hubs is where the learning curve lies. Managers need help, and EV vendors have an opportunity to grow into true partners.
The 2031 deadline for California-based companies to replace half of their medium-duty commercial truck fossil-fueled engines makes EV fleet deployments mission-critical and highly sought after. To help businesses meet these requirements, California's Hybrid and Zero-Emission Truck and Bus Voucher Incentive Project (HVIP) provides point-of-sale vouchers to make EVs more affordable.
However, application programs for incentives like HVIP and tax credits as part of the Inflation Reduction Act can be challenging to navigate on your own. That's where vendors can lend a helping hand, guiding customers to source funding programs, complete applications and receive incentives. In order to support customers and be a good partner throughout the voucher process, vendors should continually seek out new and revised funding opportunities to inform potential and current customers of new possibilities and guide them through each step of the application process.
Businesses need EVs to meet zero-emission fleet requirements and share in the ROI, but vendors have to expand their roles to pave the way. They have more experience with incentives, generally having already produced and sold vehicles under those programs, and must use that knowledge to take the onus off of customers. By helping customers with everything from incentives for purchase, to reliable charging infrastructure, to scaling customized EV fleets, vendors can walk hand-in-hand with the businesses at the helm of electrification to make the EV revolution a reality for all.
EV fleets will serve as a recruiting tool
According to the Economic Policy Institute, the shift to all-electric vehicles could create over 150,000 jobs by 2030. But it's not just about creating jobs – it's also about improving the quality of them. For drivers, these vehicles are their office, their sales storefront and their break room. Eight or more hours a day – every day. Imagine how much better their day can be when the truck isn't noisy, vibrating, baking with heat from its engine, and spewing unsafe fumes.
Electric trucks have proven to be key recruiting and retention tools for drivers. It's simply a more comfortable driving experience thanks to regenerative braking, which requires far less physical effort than the truck's foundation brakes. Also, the experience of being told to shut off one's vehicle during a delivery stop is a thing of the past. With help from trained fleet managers on route planning, charging, one-pedal driving, avoiding range anxiety, and safety awareness – drivers find electric trucks and vans are safer and more efficient.
Moving from diesel-powered ICE trucks to electric also provides a healthier experience. The Natural Resources Defense Council (NRDC) found that large amounts of diesel exhaust can accumulate inside truck cabs from the driver's own engine, surrounding trucks and crowded port environments. Inhaling these pollutants for hours at a time has serious health consequences. Once most drivers get in the electric truck – they don't want to return to fossil fuels.
Driver feedback for electric trucks has been through the roof, and managers must consider the business value they can bring. For companies looking to hire drivers in the new year, EV fleets will serve as a core recruiting tool.
Battery and technology innovation will increase weight options
Medium-duty trucks have been long overlooked, even though they're critical to powering the backbone of our economy. However, the restricted payloads and limited configurations of Class 3 lightweight vans can't meet the last-mile delivery needs for many companies.
Given last-mile delivery makes up 53% of total shipping costs, it's important to explore how all classes of EV trucks can work together to build a better supply chain. It is no surprise that the early last-mile EV innovation comes in Class 2 and Class 3 vehicles – they are easier to build and the technology is simpler when the total weight is only marginally higher than a passenger car or pickup truck.
As we move more into 2023, expect battery and technology innovation that increases payloads and driving ranges for Class 4-6 designs carrying 2-6 tons, even up to 200 miles per charge, which is enough for 95% of urban and suburban daily routes. The performance and utility of new medium-duty trucks is now greater than their gasoline and diesel counterparts, opening doors for a swarm of new fleets to go electric. According to the North American Council on Freight Efficiency (NACFE), electric trucks make sense for Class 3 through 6 now, especially in stable daily fleet routes, while the heavier Class 7 and 8 EVs are usable for a smaller percentage of their roles.
Overnight Level 2 charging is not dead yet – or ever
Everyone wants quicker Level 3 chargers, but fail to consider the infrastructure and labor costs that come with 30-minute recharging compared to overnight charging. That's why commercial trucking fleets with routes that return to base every night, which includes most last-mile applications, will opt for Level 2 charging in most cases. Level 3 will be for supplemental charging only, unless the vehicle operation is over 14 hours per day.
Level 2 melds the driver lifestyle and most efficient charging techniques, providing cheaper infrastructure, no labor costs during charging and better battery life. In fact, McKinsey found that Level 2 chargers are considerably more affordable, ranging in cost from $2,500-5,000, while Level 3 chargers cost anywhere from $15,000 to more than $40,000. In addition, spreading out the charging over time with Level 2 can lower infrastructure costs by up to 10 times for things like transformers and upgraded utility feeds.
Faster isn't always better (or cost-effective), which is why 2023 will see Level 2 charging remain the norm for commercial fleet depots.
With the electric medium-duty vehicle market booming and sustainability deadlines looming, companies must keep a pulse on these four key industry trends throughout 2023. By unlocking end-to-end partnerships in light of increased EV funding, creating a healthier and safer driver experience, taking advantage of new battery innovation to carry more weight, and saving time and money with overnight charging – companies can ensure the future of their fleets is a bright one.