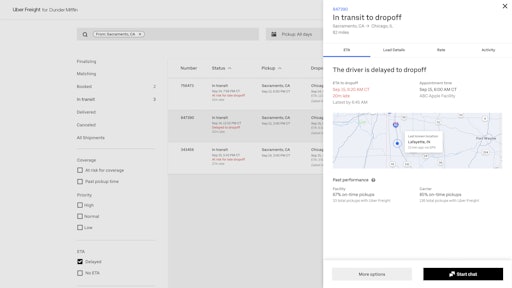 Uber Freight
To remain competitive in a fast-changing economy, shippers are increasingly looking for on-demand access to reliable, cost-competitive freight transportation, with accurate ETA visibility on every shipment. Since the onset of the COVID-19 pandemic, these needs have become even more prominent due to shifts in consumer demand, disruptions to supply chains, and carrier supply shortages.
Existing solutions typically rely on single connections between shippers and carriers, which can be difficult to scale. For shippers with many carrier partners, siloed information can result in higher transportation cost, unreliable service, and significant time spent addressing exceptions—ultimately slowing shippers down when trying to quickly adapt to changes in their supply chains.
Uber Freight is introducing Uber Freight Enterprise and Uber Freight Link, 2 enterprise software solutions that put Uber's technical power directly into the hands of large shippers, providing a central point of control for logistics operations. These products advance and complement shippers' existing TMS and WMS solutions, enabling seamless, efficient end-to-end freight management at enterprise scale.
Uber

Freight Enterprise is an extension of our self-serve shipper platform for SMBs, enabling enterprise shippers to gain end-to-end control of their freight. With

Uber Freight

Enterprise, shippers can source capacity through

Uber Freight's

vast marketplace with powerful controls to adjust coverage and pricing.

Uber Freight

Enterprise also equips large shippers with visibility into truck ETAs, digital access to documentation, and actionable insights to improve their freight operations.

Uber

Freight Link expands the enterprise platform, with innovative execution software for loads outside of the

Uber Freight

network.

Uber Freight

Link enables enterprise shippers to leverage

Uber Freight's

technology and its benefits—one-tap tendering, superior real-time visibility, proactive exception management, and digital documentation—across their full carrier network, instead of relying on 1:1 EDI connections with carrier TMSs.
Each of these products is designed to help eliminate manual processes, improve service, and ultimately reduce costs by tackling 3 core enterprise shipping challenges: streamlining carrier sourcing, automating load execution, and speeding up information sharing between systems and supply chain professionals.
This launch builds on the work Uber Freight has done to automate the highest-friction parts of the supply chain for shippers of all sizes, with world-class operations and technology.
Major shippers have already successfully piloted these products. Uber Freight Enterprise and Uber Freight Link are now available to North America–based shippers.