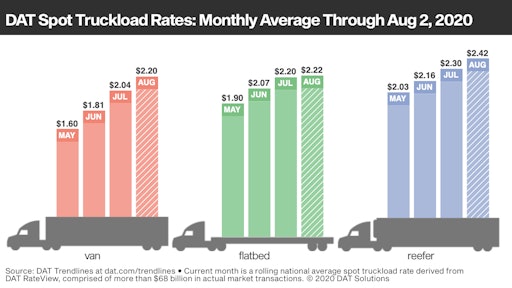 DAT
National average rates for van, refrigerated, and flatbed trucking entered the month of August near their high marks for the year, said DAT Solutions, which operates the industry's largest load board network.
Supply chain disruptions caused by COVID-19 pushed more freight to the spot market at a time when demand for truckload capacity usually declines.
Shippers and freight brokers posted 8.6% more loads during the week ending August 2 while the number of truck posts fell 8.0%.
Load-to-truck ratios increased for all three equipment types week over week, with the van ratio at 5.2 after averaging 4.4 in July. The average reefer ratio last week was 9.0—the highest point in two years—while the flatbed ratio was 30.6, well ahead of 2019. Load-to-truck ratios measure the number of available loads relative to the number of available trucks on the DAT One load board network.
National Average Spot Rates, July
Van: $2.04 per mile, up 24 cents compared to June
Flatbed: $2.20 per mile, up 13 cents
Reefer: $2.30 per mile, up 15 cents
The average spot van rate last month was 10.6% higher compared to July 2019. Van and reefer rates entered August much higher than their July averages at $2.20 a mile for vans and $2.42 for reefers.
Trends to Watch
Rates rise on high-volume van lanes: Average spot van rates increased on 55 of DAT's top 100 lanes by volume compared to the previous week. Volumes on those 100 lanes were only 2% higher week over week, however.
Retail freight keeps DCs busy: Load volumes out of the top 10 fulfillment warehouse markets rose 25% last month as a surge of imports for home improvement and other stay-at-home goods flows through supply chains. This was especially prevalent at Midwest distribution hubs like Joliet, Ill., and Indianapolis. At the lane level, spot van rates from Memphis to Atlanta increased 10 cents to an average of $3.11 per mile last week. That's up 55 cents over the past two weeks.
Storm warnings: Isaias is a reminder of spot market dynamics ahead of, during, and after a major storm. Last week more loads moved out of Florida than normal, with van volume out of Lakeland, Fla., up 20% compared to the week before. The Atlantic hurricane season is off to a fast start, with Isaias being the earliest ninth named storm on record.
Produce preferences: The pandemic is affecting demand for specific types of produce. High volumes of citrus fruits and leafy greens led to tighter capacity in Southern California, especially in the Salinas Valley. Produce volumes for the entire state were up 53% in July compared to June, but the struggling restaurant and foodservice industries continue to drive uncertainty there as well.
Reefer demand is higher in Philadelphia, Elizabeth, N.J., and other northeast port markets that handle imported fruits and vegetables. Elizabeth to Lakeland, Fla., rose 10 cents to an average of $2.04 a mile last week.