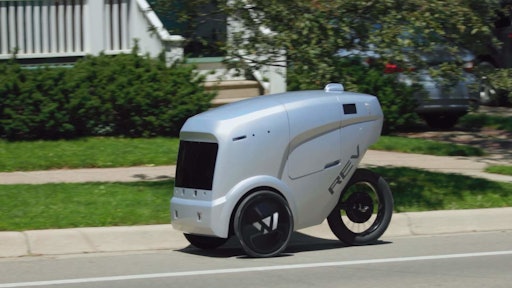 Refraction AI
Refraction AI, robotics startup and creator of the REV-1, a lightweight autonomous delivery robot, announced a new grocery delivery service in partnership with Produce Station in Ann Arbor, Mich. Alongside Refraction's restaurant delivery service, residents within a three-mile radius of the local grocery store can now place orders to be delivered curbside by the REV-1 autonomous robot.
Customers who live within the delivery area can place an autonomous delivery order. After placing the order, the customer receives a text message with a unique code to open the robot when it arrives and delivery updates throughout the process. When the REV-1 arrives at its destination, the customer is notified to meet the robot at the curb and grab their grocery bags by inputting the unique code they received. 
"Our expansion into grocery delivery was a no-brainer during this time when the need for contactless delivery is so strong," said Matthew Johnson-Roberson, co-founder and CEO of Refraction AI. "We're really happy to provide a safer solution for grocery shopping, especially for the at-risk members of our community. Through this partnership with Produce Station, we'll be gathering insight and data to further expand our grocery delivery model." 
Refraction AI has stepped up its safety protocols and adjusted operations amid the pandemic. The company builds on the health advantages of contactless delivery by ensuring its robots are disinfected between each delivery. 
Approximately the size of an electric bicycle, the REV-1 delivery robot is lightweight, nimble and fast enough to operate in the bike lane and on the roadway. Weighing approximately 100 pounds, the vehicle has three wheels and stands approximately 4 feet tall, 4.5 feet long and 30 inches wide. It travels at an average rate of 10 to 15 mph, which is fast enough to deliver in a timely manner, and has the shortest stopping distance of any AV on the road. The inside of the vehicle holds 16 cubic feet or approximately six paper bags of groceries. 
The company's grocery delivery service builds on a growing number of partnerships with local Ann Arbor restaurants.