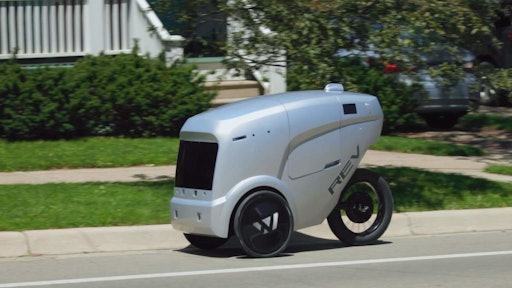 Rev-1
Ann Arbor, Michigan-based company Refraction will begin lunchtime deliveries in the area with its REV-1 robot.
In order to participate in the pilot programs, user must fill out a form to receive instructions on how to place an order for lunchtime delivery.Once an order is placed, customers will then receive a unique code that will be entered into the robot's keypad at curbside pickup. Its interior can hold up to five food delivery bags.
According to All About Ann Arbor, the autonomous can delivery to nearly the entire city, covering a 2.5 mile delivery zone.
"We're thrilled to introduce this one-of-a-kind robot delivery service to the Ann Arbor community, and eventually, to more cities nationwide," Matt Johnson-Roberson, co-founder of Refraction said in a statement. "With rainy and snowy weather just around the corner, we can't wait to show everyone what the REV-1 is capable of. We're all very excited to give people a taste of what's to come in the future of food delivery."
The REV-1 delivery robot stands at 5 feet tall and 4.5 feet long, weighing in at 100 pounds. According to All About Ann Arbor it can drive up to 15 mph and be on the lookout for a driver or a cyclist.
"Not only are we using cutting-edge technology and reducing carbon emissions, but Refraction's robot delivery will help cut our costs," Ji Hye Kim, managing partner of Miss Kim restaurant said in a statement. "Delivery companies charge a significant fee to restaurants, while Refraction only charges 15 to 20 percent. It's really a win-win situation."