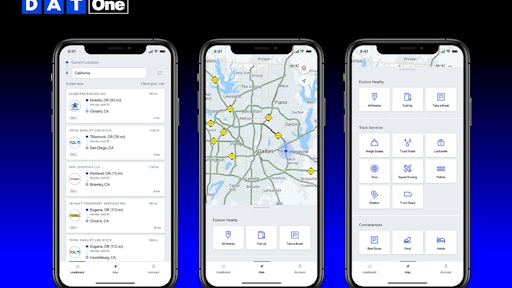 DAT
DAT Solutions has launched a new service that brings together the best trucking tools into one, easy-to-use, mobile app.
DAT One is a free app created to help truck drivers find, book, and deliver loads and makes trip planning simpler. Not only does it provide access to loads on DAT's load board within a 200-mile radius of the driver, it offers a multitude of discounted amenities to enable dock-to-dock support for drivers.
The new app provides access to essential services while on the road, such as parking availability and truck stops, as well as detailed truck maps that enable drivers to plan their routes based on equipment and cargo.
Key features of DAT One:
Truck parking
Detailed truck maps
Favorite truck stops
Fuel prices
Weigh stations
Rest areas
Hotels for truckers
Truck services
Nearby loads and tracking
"We are thrilled to deliver this great new DAT experience to every truck driver at no cost," said Nadya Duke Boone, DAT's Vice President of Product. "This new app is designed to help drivers navigate the uncertainty of the freight market by giving them a single place to find the tools they need most."