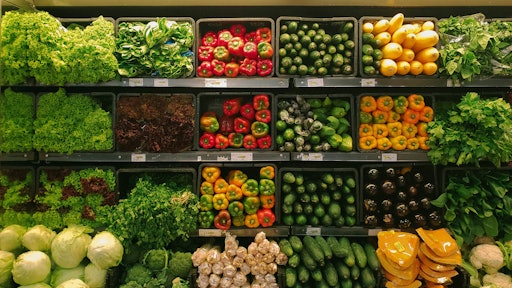 Unsplash
U.S. online grocery sales reached $7.2 billion in June, a 9% increase over May, as 45.6 million households used delivery and pickup services to satisfy a larger portion of their grocery needs, according to the Brick Meets Click/Mercatus Grocery Survey fielded June 24-25, 2020. Additionally, order frequency grew from 1.7 to 1.9 orders per month for active households, illustrating that the role of online grocery continues to expand in an increasing number of households.
The growth of total sales in June was fueled by increased concerns about the coronavirus and additional online fulfillment capacity across the markets:
In June, 44% of all households reported high levels of concern about someone in their household contracting COVID-19, up two percentage points from the previous month. The increase was almost entirely driven by a 9% increase among shoppers in the over-60 age segment since May.
The capacity for online order fulfillment via pickup and home delivery increased as more retailers, especially independents, launched services, as larger chains aggressively worked to offer both delivery and pickup options, and as retailers added labor or improved pick productivities via tech solutions.
"Many grocery retailers have demonstrated amazing agility since the health crisis started, building surge capacity to better meet the astronomical growth in demand for shopping online," explains David Bishop, partner and research lead, Brick Meets Click. "This increase in online grocery capacity has flipped the equation. Today as shoppers have more choice, the increased capacity is now actually enabling the continued growth of online grocery."
The likelihood for a shopper to use a specific online grocery service again within the next 30 days sits at 57% and showed only a small improvement, climbing less than one percentage point from May to June. While any improvement is a positive step in building customer engagement, June's level is still far below the pre-COVID repeat rate that stood at 74% during August 2019, according to earlier Brick Meets Click research.
"As grocers adopt or adapt eCommerce offerings to meet shopper demand, it's imperative that they consider the entire customer journey in order to capture repeat shoppers," said Sylvain Perrier, president and CEO, Mercatus. "When evaluating potential eCommerce platform providers, grocers must assess the complete ecosystem of partners and their capabilities, from digital advertising to picking and fulfillment, and the impact of those relationships. Grocers should look to partners who help them retain shoppers and increase revenue with each of these capabilities, rather than diluting their brand and bottom line at every customer touchpoint."
The June survey also found that interest in receiving an online grocery order (via pickup or home delivery) rebounded slightly, with 32% of all households (active online grocery shoppers or not) being extremely or very likely to use a service within the next 90 days, up two percentage points from May. This interest was strongest among households who used these types of services in June with 57% indicating that they are extremely or very likely to do so as compared to 17% of the non-active households.
"Even though some retailers have seen sales decline within their respective business, the new reality of increased capacity across the market – and related greater choice (or options) for shoppers – means that all grocery retailers will need to accelerate their efforts to make shopping online even more seamless to thrive going forward," states Bishop.