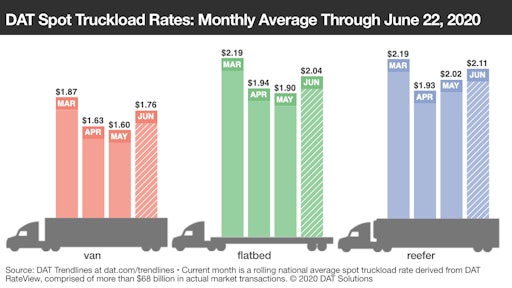 DAT
Demand for dry van capacity on the spot truckload market gained steam during the week ending June 22 as jurisdictions ease shopping restrictions and retailers ship goods ahead of the Fourth of July holiday and close of Q2.
After slowing the previous week, the number of posted loads increased 15.6% and spot van and refrigerated rates recovered their momentum, said DAT Solutions, which operates the industry's largest load board network.
The number of available trucks on the DAT network dipped 3.5% week over week. National average spot van and reefer line-haul rates, which exclude a fuel price adjustment, were higher than where they were before the coronavirus crisis started in February.
National Monthly Average Spot Rates Through June 22
Van: $1.76 per mile, 16 cents higher than the May average
Flatbed: $2.04 per mile, 14 cents higher than May
Reefer: $2.11 per mile, 9 cents higher than May
Those are rolling averages for the month and current rates are trending higher. On June 1, the van spot rate averaged $1.72 a mile, the flatbed rate was $1.98, and the reefer rate was $2.08.
Trendlines
Vans near year-ago levels: After the massive spike in load posts in early March when the pandemic shutdown took hold in the U.S., load posts have returned to season norms and now track closely with 2019 levels. At 3.6 loads per truck, the national average van load-to-truck ratio is ahead of the June 2019 average.
Average rates fell on just 11 of DAT's top 100 van lanes by volume last week. The biggest drop was on the lane from New Orleans to Dallas, where prices had previously spiked due to Tropical Storm Cristobal. Rates were back down 15 cents to $1.68 per mile last week.
Retail markets make gains: Load-to-truck ratios have soared in Memphis, a major market for retail warehousing. Spot van prices rose on several lanes out of Memphis:
Memphis to Atlanta rose 16 cents to an average of $2.40 per mile
Memphis to Indianapolis was up 20 cents to $2.23 a mile
Memphis to Columbus rose 19 cents to $2.14 a mile
Reefers rise seasonally: The national average reefer load-to-truck ratio jumped to 5.4 loads for every truck posted to the DAT network, up from 4.3 the previous week. Volumes were steady as more shipments of domestic produce balance out a reduction in imports from Mexico, Canada, and other markets.
Watermelon and berry seasons are driving up volumes in Florida and southern Georgia, while out West the cherry season in Stockton, Calif., is drawing to a close and shifting to Washington state. According to the Northwest Cherry Growers, the Pacific Northwest cherry season expects to produce close to 20 million 20-pound boxes, which equates to around 625 truckloads per week over the 16-week season ending late August. The Pacific Northwest should provide plenty of opportunities for carriers looking for loads out of Washington and Oregon through the end of July.
COVID-19 Trends to Watch
COVID cases in ag markets: New COVID-19 cases are hitting Texas, Georgia, South Carolina, Arizona, California, and other states where the weather is hot and agricultural production is in full force.
Early peak for reefer rates: The usual mid-July seasonal reefer rate spike will be lower this summer as restaurants and food services industries grapple with reopening and summer travel takes on a very different look.
Port volumes: Lower volumes at major U.S. ports are affecting both the coastal dray and truckload dry van markets. The Port of Los Angeles reported close to 30% fewer containers moved in May compared to the same time last year. Imports dropped 28.4%, while exports were down 37.6%. On the opposite coast at the nation's number-two port, Elizabeth, N.J, container volumes dropped 7.5% in May year over year.