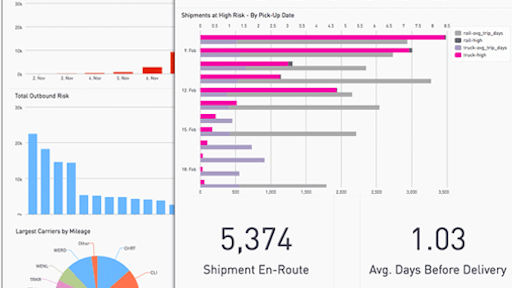 Riskpulse
The cost of reefer shipments is basically business as usual for food and beverage companies; for loads that are temperature-sensitive, reefers are an accepted expense. But what if shippers knew in advance that the temperatures along the entirety of the route would actually keep the freight in the required temperature range? With that information, companies could avoid the higher freight spend on a reefer truck and choose a non-refrigerated truck/dry van, or thermal quilts instead.  
"Ambient temperatures can actually be used as a strategic advantage," said Henry Bonner, chief product officer, Riskpulse. "There's no need to pay additional equipment costs if you know the temperatures along the entire planned route—we saw an opportunity to reduce costs for temperature sensitive shipments. 
"Conversely, temperature data can protect against unseasonal temperatures —if you typically don't use a reefer truck for a particular shipment but see that there will be extreme temperatures along part of your truck's route, you may choose a reefer truck to protect the freight." 
Riskpulse's Sunrise platform was developed with these scenarios in mind. Sunrise considers shipments up to 14 days before pickup and analyzes the temperatures for every 10 miles along the shipment's route and determines whether temperature thresholds will be exceeded or not.  From there, the equipment recommendation is made, and Sunrise provides the expected ambient temperature range along the route. With that information in hand, shippers can plan which loads need reefer transportation, or can be transported using dry van with or without quilts or blankets. 
Sunrise takes into account origin, destination, pickup time, and projected arrival time. It simulates the shipment's lifecycle and intersects it with forecasted conditions. Sunrise scores the risk to each shipment on a scale from 1-25 to indicate low, medium, or high risk, based on the simulation and converts that into an equipment recommendation for each shipment.   
"When you know the range of ambient temperatures a shipment may encounter, you can choose the mode of transportation that is less expensive without sacrificing on-time, in-full delivery," continued Bonner.  "Sunrise is also able to project seasonal budgets for equipment and has been proven to save shippers annually on equipment selection and prevented loads."